Forced to scramble
Anu Dokun '20 opens up about his childhood love of comic books and his relatively newfound passion for football.
This is the story of a young boy who could climb as quickly as he could read. A boy who could play just as well in the band as he could on Friday nights. The story of new friends and new schools. This is the story of Anu Dokun '20.
As a youth growing up on the east coast, the wide-eyed Anu would flip through pages after pages of DC and Marvel comics, fascinated by the juxtaposed dynamic of heroes and villains. His favorite superhero, Batman, parallels the dark and mysterious appearance that Anu presents to the outside world.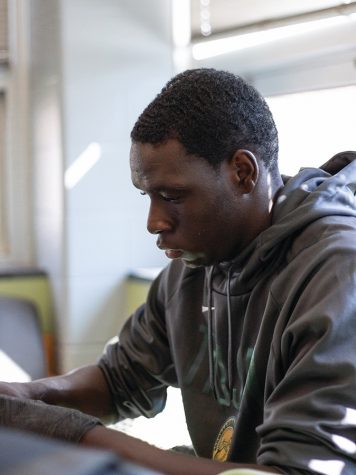 Classmates and teammates may view Anu as soft-spoken and docile, but he wasn't always that way. Moving to three different states in the past ten years has made genuine friendships hard to find, and as a result, it became difficult for Anu to open up when the future seemed so uncertain.
"He was a really bubbly person. He was a very out-there child," said Anu's younger sister Mayowa Dokun '22. "He became more quiet as we moved, though, because we've left people behind."
Anu was a natural athlete growing up but could never establish himself in one sport on any given team. Despite playing basketball and taking tennis lessons, Anu ultimately stopped playing competitive sports by the time he was seven. 
It was during this time that Anu fell in love with reading. Nonfiction, mysteries, graphic novels; the young Anu would fill his brain with any available knowledge he could get his hands on. Tunde estimates Anu was reading 100 books a year by the time he was ten years old.
"He's really into comic books, but before the comic books he was reading everything," Tunde said. "It was nice to discover that you could borrow books from the library and didn't have to buy them," said Tunde, jokingly.
Over the years, Anu's knowledge on a vast array of subjects would grow alongside his stature. Before he entered high school Anu had shot up to six feet tall and was beginning to pack on muscle to his lengthy frame. 
The local high school football coaches started taking notice of the towering bookworm roaming the middle school hallways and began recruiting Anu to play on the JV team. 
Anu, known for his exceptional pass-rush ability and tackling prowess, was once too afraid to even step onto a football field.
"In middle school, I played band; I played the clarinet," Anu said. "I was always kind of scared to play football, especially with older guys."
After his father and the high school coach convinced him to join the football team as an eighth grader, Anu began developing his coordination and technique from his position at defensive end. By his sophomore year, Anu was seeing playing time with the varsity squad. Ironically, the physicality Anu once feared has become his favorite aspect of the game.
"My favorite part is hitting guys," Anu said. "That's the main reason why I picked defensive end, because almost every single play you're going for the quarterback. You're always there to make tackles."
"
My favorite part is hitting guys, that's the main reason why I picked defensive end because almost every single play you're going for the quarterback. You're always there to make tackles."
— Anu Dokun '20
While Anu's ability to make tackles for the Trojans has been well received by his coaches and peers, making personal connections remains an entirely separate obstacle. The green and gold uniform serves as the mask that has allowed Anu to stay involved without being forced to reveal his true personality.
Despite his shyness, Anu's teammates and coaches have been working on breaking down the barrier that has followed Anu since his first move out of North Carolina. Defensive coordinator Tyler Meade reported not hearing Anu speak for the first six weeks of practice, but his teammates and coaches have observed some of his bubbly personality rising to the surface as of late. 
"I think he's opened up a little bit to everyone on the team which is pretty normal," said Ali Alwahdani '20, who plays on the defensive line with Anu. "He's a real funny dude, he's always making other people laugh."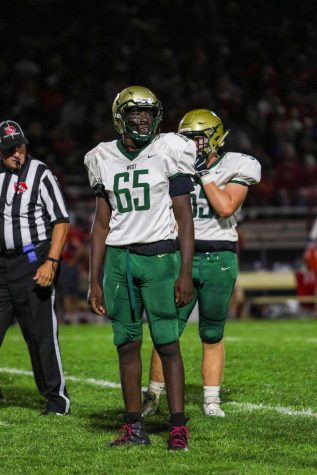 The family-like sense of community that exists within the West High football program has certainly eased the process of transferring for Anu, who leads the team with 6.5 tackles for loss.
"Definitely football helps with making friends. In the summer, you meet them and come to school already sort of established," Anu said. "I was kind of surprised, most people aren't so open. It was definitely really cool that they kind of opened me up."
Regardless of his quiet nature, the football team sees Anu leading the defensive group by season's end. Anu's work ethic and quiet leadership were displayed during offseason workouts, and he was eventually voted one of the six team leaders by his peers despite rarely being vocal on the field. 
"Anu has been a welcomed surprise. He's being able to hold the edge and not let anything get outside of him," Meade said. "He's very physical so it's good to have that presence."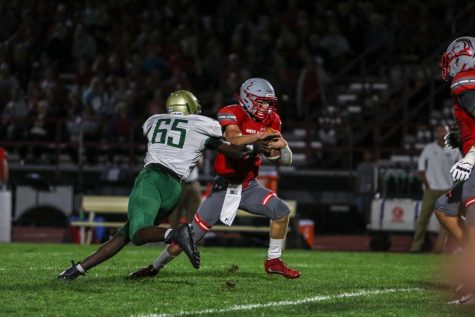 Developing into a capable leader is certainly high on Anu's priority list, but he is also remaining focused on his future career aspirations. Anu has had his sights set on becoming a mechanical engineer for the past couple of years and has enlisted in Mr. Audia's Principles of Engineering class to enhance his problem solving and critical thinking skills.
"For him to be taking an engineering class and doing athletics; obviously he's got good time management skills," Audia said. "That also says something about his work ethic; being able to balance the two is no easy feat."
In the classroom and on the football field, it seems as though Anu has finally found a place to call home aside from his superhero hideout.
Rumor has it that Anu is currently developing a robotic arm and mechanical leg implants to boost his speed and durability. If you happen to see a mysterious figure tackling crime late at night in Iowa City, don't be afraid to acknowledge Anu with a simple wave or casual greeting.
Unless you're an opposing quarterback. Then you should turn and run.
View Comments (1)
Donate to West Side Story
Your donation will support the student journalists of West High School. Your contribution will allow us to purchase Scholarship Yearbooks, newsroom equipment and cover our annual website hosting costs.
About the Contributors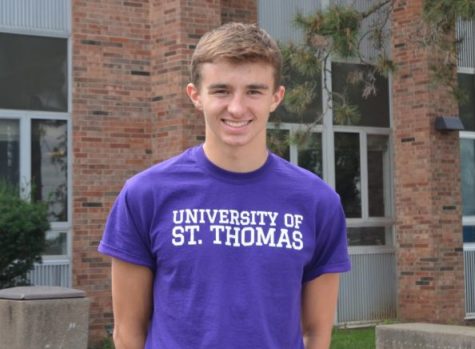 Joe Goodman, Sports Editor
Joe is in his second year working for the West Side Story publications as the sports editor. Joe plays golf, basketball and runs track at West High. He...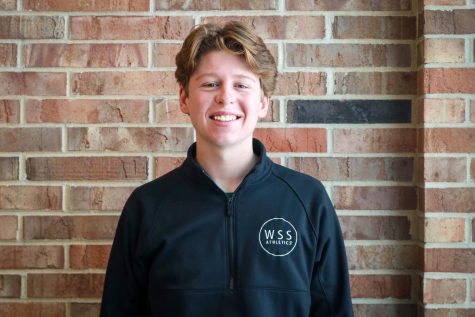 Owen Aanestad, Online Editor-In-Chief
Owen Aanestad is a senior at West. This is his third year on staff working for the online publication as the online editor-in-chief In addition to playing...