What to expect from Disney+
The massive streaming service set to compete with Netflix and Hulu is right around the corner. Here's everything you need to know about Disney+ before it launches.
In its latest ploy to attain full-scale dominion, Disney has set out to formulate their very own on-demand streaming service to go head to head with the likes of Netflix and Hulu. The origins of the service date back to 2016, but it wasn't until two years later when Disney CEO Bob Iger divulged sketched-out plans including its name and tentative release date of late 2019. On Nov. 12, Disney+ will begin operation nationwide, with an abundance of TV shows and movies both original and previously released for viewers. In future years, its grand list of developments will continue to rocket upwards. Here is a breakdown of the works you can expect to see on Disney+.
There is no better way to kick things off than with the content expected from Marvel Studios. In their short blip of time under the wings of Disney, they have garnered monstrous success in film and toy sales. Despite this success, though, Marvel never fully struck a chord in television. The ABC series "Agents of S.H.I.E.LD" was their only true win, while the Netflix originals failed to take off in turn leading to cancellation after up to three seasons and in some cases only one. With Disney+, Marvel will soon be able to boast greater triumph. Starting with "The Falcon and the Winter Soldier," each and every one of their shows will directly tie in with their cinematic universe and foreshadow happenings in film. With the exception of "What If," a 22-episode saga that will give alternate realities of the movies, expect the shows to go on for six to eight episodes lasting an hour each. The principal shows to amass anticipation for are included here.
On the topic of prosperous tentpoles, Disney's other mountainous franchise—Star Wars—will be yet another to undergo the Disney+ treatment. Differing from Marvel Studios, the success of the space opera saga has included both films and animated television series. No original films in the universe are currently slated to debut at the moment, but rumors have pointed to the possibility of last year's box office bomb "Solo: A Star Wars Story" getting a Disney+ exclusive semi-sequel. In the animated scheme of things, the fan-adored "The Clone Wars" will be revived after a six year interlude with a seventh and apparent final season. Additionally, Disney+ will be a starting ground for something that Star Wars has not yet done in their 40 year run—a live-action series. The first, "The Mandalorian," will launch with two episodes on the Disney+ opening day, with additional episodes released weekly. Names including Taika Waititi and Dave Filoni will alternate directing. Other series to look out for are an Obi-Wan anthology starring Ewan McGregor, and a Cassian Andor (from "Rogue One") focused prequel.
"Aladdin" and "The Lion King" both grossing over $1 billion dollars at the box office this year was sound proof that Disney's "live-action remake" strategy has worked to great fortune. Thus, expect many more remakes to hit Disney+ in conjunction with those released in theaters. The first to be released, "Lady and the Tramp," will star Tessa Thompson and Justin Theroux as the voices of the Cocker Spaniel and Schnauzer-mutt (real, not visual effects); it will release on opening day. Another remake in the early stages of production for Disney+ is "The Sword in the Stone," with Juan Carlos Fresnadillo signed on as director.
Speaking of remakes and reboots, expect many of Disney's properties (including ones taken after they acquired Fox) to get rebooted. That includes a "Cheaper by the Dozen" reboot, a "Diary of a Wimpy Kid" reboot, a "Home Alone" reboot, a "Night at the Museum" reboot and a "Father of the Bride Reboot." Sequels to "Hocus Pocus" and "Sister Act" are also in the works.
For fans of relatively older shows like "High School Musical" and "Lizzie McGuire," worry not: both will be getting revived as part of Disney+. An all-new cast will frontline the oddly titled "High School Musical: The Musical: The Series," and nearly all of the original cast will return to reprise their roles in the as-of-yet untitled "Lizzie McGuire" revival.
While the onslaught of remakes, reboots, sequels, and established universe centric stories certainly bog down the Disney+ lineup, there will be many original works. Among them, Anna Kendrick will star in the Christmas family film "Noelle," Willem Defoe will race against time with the help of a dog sled in "Togo," Jeff Goldblum will offer his sagacious wisdom in "The World According to Jeff Goldblum," and a princess will fight alongside superpowered royals in the contemporary fantasy "Secret Society of Second-Born Royals." Unreleased animated Pixar shorts and nature documentaries are also on the Disney+ roster.
That's not even all the new productions that Disney+ will offer. Odds are if there is a Disney property that has garnered at least a decent margin of success, it will be translated onto Disney+ in some shape or form within the next couple of years.
That is still not all. For those wondering about previously released films and shows; for example, if you may want to easily revisit the entire Star Wars journey before "The Rise of Skywalker" releases in December or watch an old movie that isn't offered for viewing in many places, Disney+ will have you covered. They have conveniently put out a motherload Twitter thread which lists each and every film and show that will be available for instant viewing, from National Geographic specials to "The Simpsons."
For works that didn't get a mention, be sure to visit the Disney+ official website to read up on any further details. Disney+ will cost $6.99 per month, and if any of the above previews seem even remotely interesting, advance subscription is available now.
Leave a Comment
Donate to West Side Story
Your donation will support the student journalists of West High School. Your contribution will allow us to purchase Scholarship Yearbooks, newsroom equipment and cover our annual website hosting costs.
About the Contributor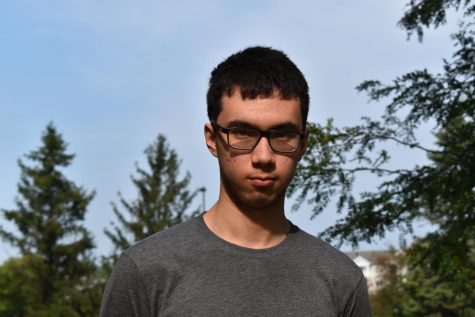 Edward Keen, Arts Editor
Edward Keen is a senior and this is his second year on staff, where he is Arts Editor. In his free time, he enjoys reading.