Community rallies behind fourth annual Playathon
In its fourth year, Music Playathon is bringing entertainment to the community and funding to music programs.
At six o'clock on Nov. 15 students, faculty, parents and community members all gathered in the cafeteria for the fourth annual Music Playathon. Proceeds went to the ICCSD Music Auxiliary, which funds music programs throughout the school district.
"I love the diversity of musical styles represented at the Playathon because it let's everyone show their true talent and keeps things interesting." said Sebastian Cochran '21, an observer and participant.
There were 27 total performances ranging from K-Pop dancing to Rock 'n Roll performances. Some highlights of the evening were Calvin Greene '21 and Mohan Kumar '21 performing "Wagon Wheel," Kazoo Club's rendition of "Final Countdown," and social studies teacher Dominic Iannone singing "Yellow" as well as "Wonderwall."
Sean Harken '21, who sang "Cherry Wine," thought the atmosphere was a little intimidating initially.
"I was kind of nervous at first, but after the first verse I got over it and it was a good time," Harken said.
Organizing the event took lots of coordination and teamwork from Leah Rietz '20, Mallika Huynh '21, and Niyati Deshpande '21.
"
The resounding support of the community astonished me"
— Leah Rietz
"I'm not doing that much this fall, so I figured I like to plan things and lead, and West High has so much talent to showcase, so of course there has to be a Playathon," said Rietz, "I admired Lucy Polyak last year with her leadership and thought I could emulate it."
Playathon couldn't have been a success without support from local businesses who provided food and donations
"The resounding support of the community astonished me," said Rietz, "The responses made me realize that as a senior, and a student, I have a voice and can make events happen."
Another Playathon is in the works for the spring of this school year.
About the Contributor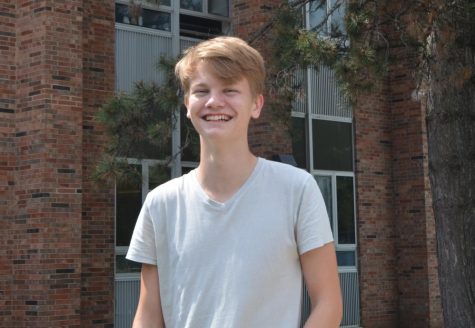 Isaac Young, Opinion Editor
Isaac Young is a senior West High and this is his second year on the WSS staff. He is an opinion editor and reporter.