The best hit songs of the decade
WSS reporter Jack Harris '22 list some of his favorite songs of the 2010s
Warning: contains songs with explicit lyrics
Does music suck now? For a long time, that's what I thought. I had my reasons too. Overall lyrics have gotten more simple, the musicality of songs has gotten less diverse, and the sound of music has gotten less complex. But that doesn't mean that there isn't any good music now. Music is a fantastical medium of entertainment, and I'd like to take a moment to appreciate my favorite songs of the past decade in a completely subjective way. 
F**k You, by Ceelo Green- When this song came out it was one of my favorites. Amazing beat, incredibly catchy, and a Universal message. Different factors, mainly Ceelo Green's current reputation and the way that the original has been overtaken in popularity by the clean version, have slightly degraded my view of this song but "F**k You" is still amazing.
Treasure, by Bruno Mars- Bruno Mars released probably the greatest 70s funk-pop song of all time, and somehow it came out in 2013. This song is just so much fun to listen to. It's lighthearted, catchy, and it has an awesome bassline and synthesizer beat.
Feel It Still, by Portugal. The Man- This is the dumbest band name since Cubawamba. But with what is probably the best tribute to old rock and roll since American Pie, this stupidly named band made an earworm of a song. Part of what makes this song so enjoyable is the rebellious throwback to the 60s, but what truly makes this song is the iconic bassline and the drum accompaniment. This genuinely might be the best baseline of the entire 21st century, it's just that good.
I Took A Pill In Ibiza– Seeb Remix. by Mike Posner, Somehow Mike Posner released one of the saddest songs of all time. This song is truly depressing. Hundreds of artists, from Kanye to Madonna, have released music about the shallowness of stardom, but this song is one million times more relatable because of the portrait it paints of an artist's life, post hit. 
When We Were Young, by Adele- It's not clear if or when Adele will be making new music, but her impact cannot be understated. Even though she only released two albums in the past decade, she was very close to being the best selling artist of the decade. Even though "Hello" was her biggest hit on her album 25, "When We Were Young" is her best song. In her first two albums Adele's songs were often very firey and vengeful. 25 was a shift towards themes of self reflection and nostalgia. When We Were Young is very much in that same line. Like pretty much every Adele song, it is powered by the vocals, and while the musicality of it is decent, it mostly holds back in order to let all of the lyrics sink in more. In an interview with Rolling Stone Adele said,"It was based on seeing everyone you've ever fallen out with, everyone you've ever loved. In the song the singer is happy just to be reunited with all these people, no matter how she felt about them. So, with the line, "Let me photograph you in this light, in case this is the last time that we might be exactly like we were," she asks to capture this moment of reunification, because she now knows how fleeting they are.
Get Lucky, by Daft Punk, Pharrell Williams, Nile Rodgers- Daft Punk and Pharrell's best song. The 80s disco beat is what makes this song and Daft Punk uses all of their knowledge and mastery of EDM to the absolute max in this song. The song emulates the style of 80's disco music with its beat but pretty much everything else about this song is wholly its own, thanks to Daft Punk's masterful composition. 
Pompeii, by Bastille- Easily the dumbest song on the list. In this song the singer is comparing his boredness with life to the tragedy of Pompeii. This song is perfect musically. The contrast between the verses and the chorus, the perfect use of drums, and obviously the omnipotent background chorus. The background chorus makes this song. I've never heard anything like it and I don't think I'll ever hear anything like it again.
Cigarette daydreams, by Cage the Elephant- In all honesty, this song is a little corny. It's an acoustic song about reflection on a breakup. But you know what? This song just sounds pleasant. The guitar and piano sound good and have an excellent melody. The lyrics all flow so well together like a piece of poetry. This song is just nice. 
Little Lion Man, by Mumford & Sons- Mumford & Sons is one of my favorite bands and it kinda makes me sad to say that this might be the peak of their careers. Then again, it's very hard to do better than this. Little Lion Man is a song about mistakes and regret, after all the most memorable line in the song is probably, "I really f**ked it up this time." In the first verse, the singer is speaking directly to this "Little Lion Man" and telling him that his happiness and his life have gone downhill. Then in the chorus, the Little Lion Man responds with a raw and poignant apology, hence the, "I really f**ked it up this time." Then in the second verse, the singer accepts his apology and tells him that if he can put himself back together, then everything will be okay, using the line, "Now learn from your mother or else spend your days biting your own neck" to tie things back to the lion metaphor. Musically, the entire song is accompanied by a complex, forceful guitar part, but shines especially in the way it makes use of percussions like drums, piano, and literal foot-stomping to emphasize certain lines in the song.   
Some Nights, by Fun.- In their very short career Fun. tried very hard to emulate Queen. We'll never know if they could have actually reached the heights that Queen did, but we do know this, Some Nights is their Bohemian Rhapsody. From the way they start the song without instruments to the constant use of background singers, this is them trying to recreate Bohemian Rhapsody. This song will never be that iconic but Fun. certainly does try. At multiple points in the song, they just stop singing and talk. This song also does something that I have never heard before and can almost guarantee will never happen again: a vocal guitar solo. Fun. decided to autotune a vocal part in a way that effectively replicates a guitar solo. Who does? And why is it so awesome?
Blackstar/Lazarus, by David Bowie- these two songs are a combined 16 minutes long so it might be difficult to talk about the overall musicality of them. What I can say is that this is Bowie's least pop-sounding and most experimental album ever- and for good reason. These two songs are about death. What makes the theme of this message so effective is that David Bowie died of cancer very shortly after the release of the album, and that he had not publicly announced his disease. "Lazarus" is about Bowie reflecting on his own life and death and saying goodbye to his fans. "This way or no way, You know, I'll be free." In this lyric specifically he is embracing the inevitability of his death and how this is his form of being set free. "Blackstar" is less about david bowie specifically and more about the death of rock and roll. In this epic-almost 10 minute song bowie sings about how rock and roll is dying because the rock stars are dying. From his perspective once all the rock stars are dead, rock and roll will be dead and there will be an empty black-star-shaped hole where they used to be.
Somebody That I Used To Know, Gotye- There are a lot of things about this song that should've kept it from ever being noticed. It's a collaboration between two nobodies. It doesn't have any sort of modern or up-tempo beat. The hook doesn't come in until well over a minute into the song. And still, this is my favorite of the past ten years. Musically this song is creatively perfect. It was the iconic guitar line and the surprising choice of bells for accompaniment. But what is best about the songs composition is the subtle details, like the occasional electric guitar part or the use of mandolins, as well as the way drums are brought in whenever the song ramps up or how woodwinds are brought in only for Kimbra's verse. This song also could've turned into just another breakup song, but there's one major reason that it isn't. Gotye is the villain of the song. Or rather, the person whose perspective he's singing from is. The fact that he decided to feature Kimbra is what makes this song. Gotye spends the first two minutes whining about how he feels like he's being treated unfairly. Because in this song, Gotye is playing a total jerk. "I don't even need your love, But you treat me like a stranger and that feels so rough." Just listen to that line, oozing with fake pride and resentment. But then, in the third verse, Kimbra's character comes in and immediately delivers a suckerpunch with the line, "Now and then I think of all the times you screwed me over," annihilating the facade that Gotye is putting up.
Now, there are probably dozens of songs I should've put on this list. I could've included the entirety of Modest Mouse's 2015 album "Strangers To Ourselves" David Bowie's 2013 album "The Next Day", Rolling in the Deep, or any number of various one-hit wonders; But that's my list, and even though the 2010's are over, I'll be listening to these songs for decades to come.
Leave a Comment
Donate to West Side Story
Your donation will support the student journalists of West High School. Your contribution will allow us to purchase Scholarship Yearbooks, newsroom equipment and cover our annual website hosting costs.
About the Writer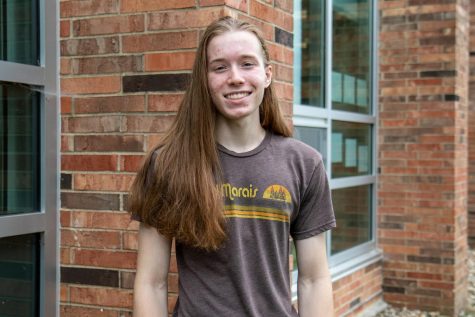 Jack Harris, Online Copy Editor and Arts Editor
(he/him) Jack is the online copy editor & arts editor for WSS. He's a senior at west and is also involved in the west high Orchestra as a cellist....