Looking Back: The dwindling of traditions and school spirit
In this installment of "Looking back," Amelia Stevens '23 examines changes in school spirit and traditions at West High and their effect.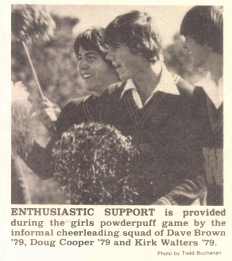 Seniors make their mark
Published in the May 11, 1979 edition of West Side Story
By Margaret Sines
For seniors this is the last year to group together with their buddies in a high school social situation. Whether to celebrate the coming of the end or to develop memories for the future seniors found many unique ways to make their mark.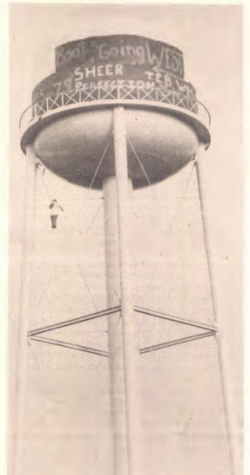 Being a senior means many things; with new responsibilities and decisions also comes power. Sophomore initiation is just a reflection of that power. A large group of sophomore girls were surprisingly awakened on morning this fall by car loads of senior girls. Initiation included being taken to Regina, downtown and eventually to the house of Kelly Mulled '79, for breakfast. Senior gus initiated their counterparts at the school. Dave Brown '79, said, "We had them run around the cafeteria picking up pop cans with their chins on the floor, doing races and stuff. We had to go through it when we were sophomores and it feels good to have that power now."
Other traditions also flourished this year as the water tower, Homecoming and the West High-City rivalry all played important roles in the lives of many, Dave Wenmar '79, who has painted the tower twice, said of his most recent attempt, "We felt sorry for the girls after they lost in districts so we put the W.H.D.T loves the W.O.T. up there. It's a nice tradition to have-it's a risk but it's kind of fun to do and you'll only be able to do it once in your life."
West High Homecoming, another event unique to high school, drew participation from many seniors this year. Doug Cooper '79 said, "The seniors went out to a barn this year and built a float for Homecoming- it was pretty good. The Hall decorations were better than they had been. The halls were covered with signs and neat stuff. I think the seniors are really closer this year than they usually are."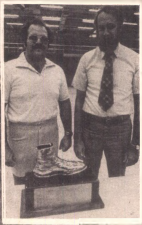 Recovering the boot during the football season was the highlight of the West High-City High rivalry. Many events, such as driving to City High with a caravan of trucks and visiting the houses of the football players with toilet paper in hand, surrounding the nights before the fame. Brown recalled, "We drove over to City High in trucks in a parade. One was filled with manure and we drove around the parking lot throwing it on cars and the people over there. It's tradition to go against the other side of the river and it had more significance as a senior because I've been here longer.
Stunts by individual members of the graduation class filled the year. Dressing up was popular at games and senior rowdies often came decked out in trench coats and shades. Halloween, the more traditional time of the year to don costumes, was also a busy evening for some seniors. Jackie Junkins '79, said, "I went to Chris Hynek's Halloween party dressed as a taco and it was a lot of fun. It was neat because you could act the way you wanted to and everyone goofed around a lot. It's something I'll remember because it's something not too many people do. I think it's neat to have a united senior class because you remember it more if your whole class is involved- you don't remember only friends, you remember all the different groups."
West High's new tradition
Published in the November 21, 1986 edition of West Side Story
By Doug Gill
High above the ground, a 30 foot square Jolly Roger stares balefully at students coming to school on a cold Monday morning. Yes, it's true, the Barn has once again been painted.
The Barn is a large, red, barn that is normal in all respects save one: the seniors of West High have chosen its roof as grounds for expressing themselves, in the form of graffiti painted under cover of the night.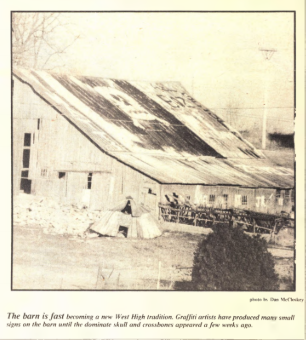 Like most traditions, this once came as a whim. It happened on the night West High won its first football game in two years. To celebrate, a group of students decided to paint the roof of a barn near West HIgh. The students asked the permission of the people who rent the farm, and got it. And so the beginning of what is fast becoming a West High tradition came about.
Trevor Adamson '87, described the barn painting as dangerous. He advised that, "If you go, don't stand up. Slide around on you burr. Ask Geoff Ellis '87, about falling off."
Ellis fell off twice while painting and he advises to, "Be sure that you accomplices don't spill paint. Once you slip on wet paint, you don't stop."
Since the first night, the Barn has been painted several times. The present design of a skull and crossbones is the largest to appear there.
Falling is an inherent possibility on any barn painting expedition, and in the case of an injury, a question of liability comes up. The owner of the farm where the barn is located, Earnest Cole, was unavailable for comment, but his attorney, Cindy Parsons, said that because of the signs warning against trespassing and the fence surrounding the yard, Cole is not liable. She also said that the tenants of the farm, who wished to remain anonymous, could not be held responsible if an injury should occur, even if they gave permission.
Adamson also stated that, "The cops got there pretty fast (When Adamson painted the barn). We went up and asked permission and they said it was O.K. The cops shined their little lights up on us, but we had permission, so we just kind of laughed."
Officer Viki Lalla of the Iowa City Police Department said that if there were "No Trespassing" signs present, then the owners could not be held responsible, and agreed with Parsons on the issue of the tenant's liability.
Reasons students gave for painting the barn were varied. Veteran barn painters Tom Barber '87, said, "It's a new tradition since the water tower has been torn down. The real reason people go up there is to show off."
Ann Greenwood '87, said, "People do it to leave their mark, and go get a sense of accomplishment."
Jenny Otis '87, said simply, "We had never been on the roof of a barn before. We wanted to see if we could get away with it."
Revive spirit and traditions at West High!
Published in the November 19, 1993 issue of West Side Story
(Editorial)
Students at West High are losing their spirit at an alarming rate. The death of such time-honored traditions as the annual City-West assembly, the Hall Decorating Contest and Homecoming Fest are testaments to the dwindling interest that students and teachers have in our school.
The seniors are mostly to blame for this fiasco. An immature attempt at humor and pride by a group of senior women doing the Hall Decorating Contest lead to the demise of this long-running spirit event. This class is also responsible for the defamation of Studeniends Of Spirit (SOS). Not enough time and effort was put into the Fall Sports Assembly, and Homecoming Fest was dumped altogether. We can only hope that Prom will still take place.
We must all ask ourselves if we really do care about our sports teams and school sponsored activities. It is increasingly becoming clear that the Class of ;94 is destined to go down as the worst class in the 26 year history of West High. They have so far broken all of the rules and it doesn't look like anything is going to change. With no real support from the student body, spirit at West High is not likely to be revived anytime soon.
The Death of School Spirit
West High's school spirit is dwindling, and our traditions are fading fast. No longer do we have a Morp or a Homecoming Fest. The watertower that was painted by seniors since the 70s was taken down, and the Barn that was used as a replacement in the 80s and 90s, burned down. We also no longer have a hallway decorating contest between each grade, and our rivalry with City, isn't as prominent or as intense as it was. Additionally, almost nobody participates in Spirit Week. While we have replaced some traditions with new ones, and will always have "A Tradition of Excellence", the loss of traditions has led to a decrease of school spirit.
"
While we have replaced some traditions with new ones, and will always have "A Tradition of Excellence", the loss of traditions has led to a decrease of school spirit."
School spirit is extremely important and more than just attending football games to cheer on our team. School spirit is a sense of community and identity shared by students and faculty at a school. It's taking pride in your school and celebrating the school's successes. As West becomes more and more diverse, taking pride in our school is something that can unite us, give us a sense of belonging, and make West a better place. If you take pride in your school, you're more likely to respect it and its rules as well as its staff and students. If school spirit can do that much for our school why isn't anyone addressing it? I think that through the years West High has become increasingly academically focused, and that has shifted our mindset and values that we maintain through high school. High school is becoming more and more competitive, and grade-oriented, and students have started to view classmates as competitors rather than their academic partners. This can in turn promote isolation through a "me vs them" mentality, as people focus on themselves and fill up their schedules, sometimes seeing their classmates' losses as their gains and vise versa.
I think we need to find a way to increase school spirit whether we do it through forming new traditions or reinstating old ones. I think we could learn a bit from our old rival, City High. Some of their traditions include singing the Little Hawk Fight Song at the end of choir concerts and a senior paint fight at the end of the year. I'm not saying that we should do the same exact things that City High does, I don't think traditions are a one-size fits all type of thing. But, I do think that we need to find traditions that work for our environment. As well as ones that people will enjoy and that will help combat the isolation that goes along with our academically competitive school.
About the Contributor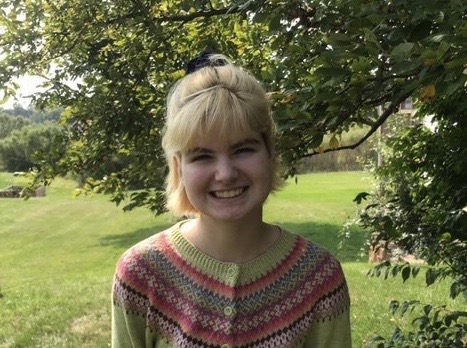 Amelia Stevens, Reporter
(she/her) Amelia Stevens is a sophomore at West High. This is her first year on staff and she is currently working as a reporter. When she's not in school,...