We are not prepared to reopen schools
Sachiko Goto '23 explains why Iowa's newly released guidance on reopening schools is not enough to protect students and staff members during a pandemic.
The Iowa Department of Education released their reopening guidance for schools on June 25. This document was released as a resource for school administrators to safely reopen schools in the fall, but this two-page PDF document does little to protect the safety and health of students, teachers and other school staff, and seems more like a pseudo-plan to give people a false sense of safety and comfort.
A noticeable characteristic of the document is the overall lack of details or specific plans. One of the first things the document says is "schools may plan for reopening using the Return-to-Learn Support Document as a resource." The Return-to-Learn Support Document is a checklist for administrators to use when determining if their schools are ready to reopen, but doesn't seem to do enough to guarantee the safety of all students and staff. Along with the Return-to-Learn Support Document, this health and safety module is given for district leaders to use to ensure a safe reopening. But the health and safety module is a one-page resource with little to no information and a single link attached to the bottom of it. The document also states that schools should make plans to protect students and staff who are in high-risk populations, but gives no specific guidelines for schools on how to make these plans that would protect students and staff members. The only suggestion given is to change health practices, without any detail on what that means.
Arguably the most problematic section is the Health and Safety section. It is easy to think that because it is titled "Health and Safety" there would be instructions on how to keep students and staff members healthy and safe. In reality, the Health and Safety section is a list of ten bullet points that does very little to actually guarantee the health and safety of anybody. For example, bullet point three states that "one symptom is not necessarily indicative of communicable disease. Some individuals may be ill and have no symptoms." However, there are no instructions on what to do if a student or staff member shows any symptoms, and the only instructions given in the document for what to do if somebody contracts COVID-19 is to contact your local public health agency. It seems like the Department of Education is ignoring the fact that if somebody with COVID-19 ever walks into a school, the entire building could be at risk of an outbreak, which is something they definitely should be aware of.
But that's not it. Bullet point four says that "requiring face coverings for all staff and students is not recommended." That statement ignores the CDC's recommendation that we wear face coverings to prevent droplets from coughing, sneezing or talking from flying far enough for people to inhale. The CDC even states in very clear terms in their Considerations for Schools page that face coverings should be worn by all students and staff when reopening schools, especially if physical distancing is difficult. While the Department of Education later released a statement on June 26 saying that schools are allowed to make their own decisions on requiring face coverings, that still doesn't ensure that all Iowa students and staff are going to be safe, which is arguably the job of the Department of Education.
That makes bullet points eight and ten especially ignorant. Bullet point eight states that schools may not be able to guarantee that physical distancing is possible at all times. While it is true that school is one of the harder places to practice physical distancing, it makes no sense to put that statement right after saying requiring face coverings is not recommended. Bullet point ten, on the other hand, states that schools "should have a general framework for routine cleaning practices" without defining what would count as routine cleaning practices. This bullet point also says that "schools must also adhere to the Department of Inspection and Appeals (DIA) School Concession Stand Guidance." It would be wrong to think that the School Concession Stand Guidance will help anybody stay safe in school, because it is a document from 2016 detailing the licensing requirements needed to operate concession stands on school grounds. Schools need a clear idea of what adjustments they need to make in order to keep their students and staff safe when reopening, and a license to run concession stands is not going to give them that.
"
Iowa schools need a much better reopening plan than what we have been given now."
— Sachiko Goto '23
So Iowa schools need a much better reopening plan than what we have been given now. But what does a much better plan include? To get an idea, it may be good to turn to other states that have released plans for reopening schools, and see what they have put forward.
One place to look is our neighbor Illinois. On June 23, the Illinois State Board of Education released part three of its recommendations for returning to in-person learning. It is easy to tell the difference between the amount of preparation Illinois has done and the amount of preparation Iowa has done. For starters, the document Illinois released is 63 pages long, with long sections devoted to what a blend between remote and in-person learning would look like, what grading and attendance would look like once reopening starts, what schools need to communicate to families, and more. There is even a whole section that prepares schools for what needs to happen when a student or staff member becomes ill with COVID-19, with instructions such as immediately separating anybody that shows symptoms from the rest of the school population, isolating and monitoring anybody that came in close contact with an infected person for 14 days, and making sure that anybody that becomes ill does not return to the school until they are fully prepared to do so. This is a crucial part of reopening schools that the Iowa guidance lacked.
If reading over 60 pages worth of documents seems overwhelming, then the Massachusetts guidance for reopening schools, released to the press on the same day as Iowa's guidance, is a great place to go. Without using as many words as Illinois, the Massachusetts guidance makes it clear that the state is considering all options, including in-person learning, a blend of in-person and remote learning, and remote learning only. They are also encouraging schools to make physical distancing of at least six feet a recommendation, and physical distancing of at least three feet a requirement. Another thing to note about the Massachusetts guidance is the amount of funding the state is putting into ensuring a safe reopening of schools. They lay out multiple options for schools to get funding for a safe reopening in the very beginning, including $25 million just to close the technology gap between students who may not have had the necessary technology to participate in online school, something that is given zero mentions in the Iowa guidance. The Massachusetts guidance has even been endorsed by The Massachusetts Chapter of the American Academy of Pediatrics, meaning that this short press release has been approved by medical professionals as a safe plan for reopening schools, something that the Iowa guidance has yet to prove.
"
This two-page PDF document released by the Iowa Department of Education only gives a false sense of safety to Iowans."
— Sachiko Goto '23
This two-page PDF document released by the Iowa Department of Education only gives a false sense of safety to Iowans. The only purpose this new guidance serves is to not anger the people who refuse to participate in physical distancing and call mask-wearing a form of oppression. These are people who put public health at risk, and yet it seems this guidance puts the support of these people over the health and safety of Iowans, especially the students and school staff that the Department of Education is directly responsible for. Iowa schools deserve better than this, and if we want any hope of going back to school safely in August, we need a more comprehensive, thought out and sane plan for reopening schools than what we have now.
About the Writer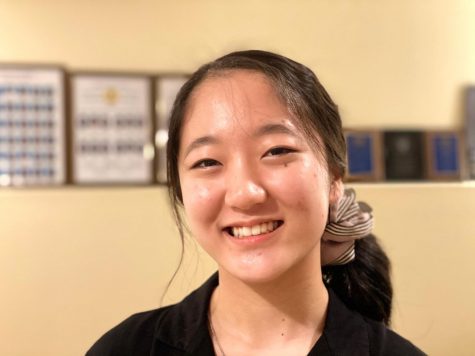 Sachiko Goto, Designer
Sachiko Goto is a sophomore at West High, and this will be her first year on staff as a designer for print. In her free time, she is usually listening...