Shifting styles
Four West students discuss the origins of their style evolution and how a change in wardrobe can also mean a change in attitude.
From Vogue to downtown streets, fashion is everywhere. Changing styles have become a trend within the past year. For four West students, a new wardrobe fostered both self confidence and a new outlook on life.
"Buying clothes gives me some sense of joy, so when I couldn't leave the house, I would buy clothes online," said Izzy Paulsen '21.
"
Buying clothes gives me some sense of joy, so when I couldn't leave the house, I would buy clothes online.
— Izzy Paulsen '21
Paulsen had been slowly changing her style since the beginning of her junior year, with quarantine accelerating the process. 
"[My style] was sporty, it was really bad. Shorts and a T-shirt every day, or sweatpants and a T-shirt, clothes that didn't fit, just the cheapest things I could find. I didn't really care about my clothes," Paulsen said.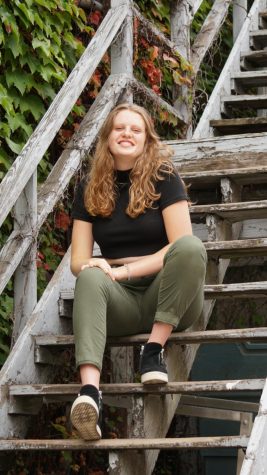 She now wears clothes that she calls 'comfortable chic,' which fulfills her requirements of being presentable and put together. These are clothes that make her feel both confident and are comfortable to wear.
Paulsen uses TikTok for a lot of her inspiration, beginning when she joined the app a year ago. Social media platforms like TikTok, Instagram and Pinterest have been the blueprints for many fashionistas' wardrobes. 
For Paulsen, changing her style came with a change in mentality. She grew more sure of herself and confident. "I think it definitely made me a happier person," she said. She is looking forward to showing off her outfits at school. "Now when I see my friends, we always hype each other up about our outfits and it makes me really happy."
"
[My friends and I] always hype each other up about our outfits and it makes me really happy.
— Izzy Paulsen '21
Paulsen is not the only one who saw a personality change go hand-in-hand with style. Emma Furlong '21, has had a similar fashion journey to Paulsen, with a closet change beginning her junior year. She began to wear clothes that made her feel good, rather than what other people expected her to wear. 
"I think one of the reasons that my style changed is because I didn't want people to make assumptions about me based on my clothes," Furlong said. She was afraid of being stereotyped as "dressing gay."
Furlong is bisexual, and did not want her sexuality to be something she was judged on. Eventually, she became tired of dressing for other people and took her fashion back. 
"I decided that it wasn't worth it and that I should just dress how I want," Furlong said. 
Furlong does occasionally get comments or is stereotyped based on her clothes, but she is determined to wear clothes she feels connected to. 
"You feel more confident because you're actually wearing stuff that you vibe with and not just stuff that you feel like you should wear because everyone else is," Furlong said.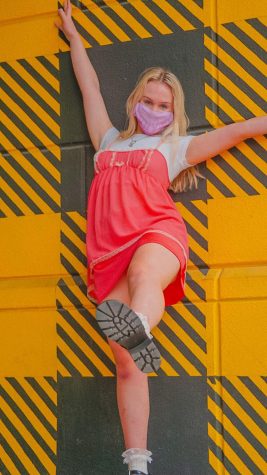 Furlong has been incorporating pieces from the '70s, '80s, and '90s. She enjoys the bright colors and patterns of the '70s. She finds her vintage items from thrift stores, her go-to being GoodWill. While she prefers thrifting, she occasionally resorts to Shein, a fast-fashion clothing site with cheap clothes. Thrifting has been easier on her budget than her previous style, which she referred to as the Brandy Melville style, consisting of delicate-looking clothes from said store. Molly Wilson '21 has also been wearing brighter statement pieces. 
"Before my style was more of your everyday basic clothing but over the year or so I have slowly added statement pieces to my closet. I really like recycled denim and unique things I can find in stores," Wilson said. 
Wilson uses fashion to feel more confident and be unique. She encourages others to step out of their comfort zone, and not be afraid of taking inspiration from others. 
"
As long as you feel good in what you're wearing and you are expressing yourself the way you want I think that's awesome.
— Molly Wilson '21
"As long as you feel good in what you're wearing and you are expressing yourself the way you want I think that's awesome," Wilson said.
While she loves bright statement pieces and denim found in the '70s and '80s, she would not say she has a specific style.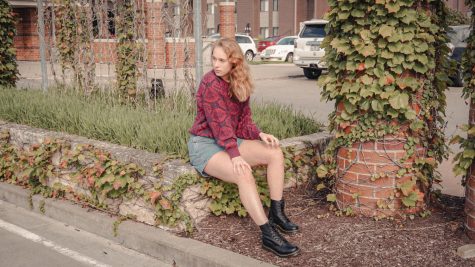 "I'm not sure if I have an aesthetic, everyday is different for me," Wilson said. 
She is not the only person to feel like she can't put a label on her style. Ryann Culver '21 hates the word "aesthetic" and would rather just take inspiration from everywhere. 
"'Aesthetic' is so overused I don't even know what it means anymore but I've been really into wearing '70s clothes like the flare-out jeans are really cool," Culver said. "I've also recently purchased blazers, which in my opinion, worn with almost anything makes you look like you know what you are doing. No one will question a woman in a blazer."

Fashion is constantly changing and trying to give it a name can be limiting.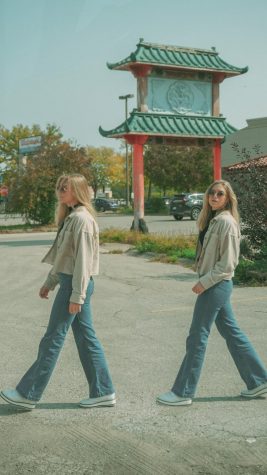 "I feel like I don't have a set style because I change it so much. I think some people think that you need to fit into a category like 'Oh, I like grungy clothes so my aesthetic is an e-girl,' but I think you shouldn't limit yourself to a category just wear what makes you feel good." Culver said.
Having previously lived in athletic clothes, changing her style from sporty to something more chic was not expensive. Culver's athletic wear is now limited to the volleyball season. 
"The clothes I wear now are a lot cheaper than before," Culver said. "Athletic clothes are expensive so honestly changing my style probably helped my bank account." 
Like Wilson, Furlong and Paulsen, Culver does a lot of shopping at thrift stores. The four have overlapping favorites of Goodwill and consignment stores like Crowded Closet or Plato's Closet. 
On the topic of thrifting, concerns have recently been raised in the media about whether choosing to shop resale is harmful to those who rely on it. Furlong has a solution.

"I do thrift a lot, so I want to make sure that I'm not taking things from people who need them," she said. 
To make up for the clothes she buys, Furlong always donates her old clothes. The four seniors also agree that people who can afford other buying options should avoid buying essentials like sturdy coats and shoes and be mindful of the seasons and what will be needed. Paulsen also feels that buying used can be better for the environment.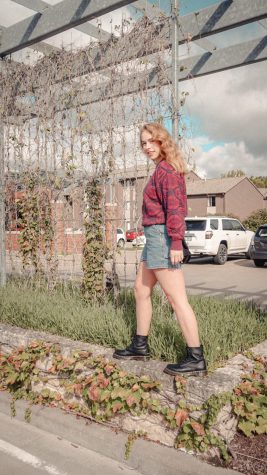 "Thrifting should be for everyone especially since it has such a positive impact on the environment or a neutral impact," said Paulsen.
Stepping out of comfort zones can be difficult. Wilson has some words of wisdom. 
"Wear whatever makes you feel like yourself and what you are comfortable in. It doesn't matter what anyone else is thinking, wear what makes you feel good."
Leave a Comment
Donate to West Side Story
Your donation will support the student journalists of West High School. Your contribution will allow us to purchase Scholarship Yearbooks, newsroom equipment and cover our annual website hosting costs.
About the Contributors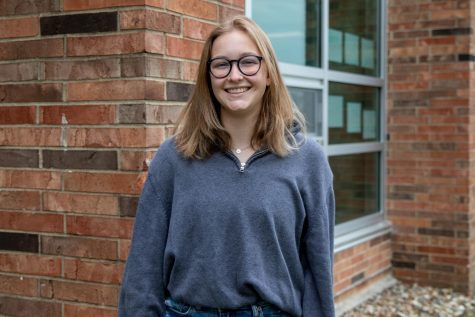 Maddy Smith, Visual Editor and Feature Editor
(she/her) Maddy Smith is a senior at West. This will be her third year on staff. She is the online Features and Visuals editor. She enjoys music, photography,...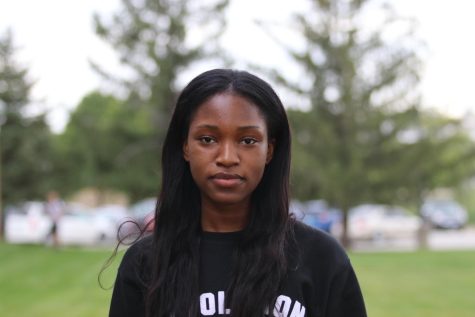 Helelia Wa Kalala, Social Media Editor
(she/her) Helelia is a senior war at West and has been on staff for 3 years. She is the social media editor of all WSS accounts. She enjoys golfing and...