Rahmatallah's road
Math teacher Hanan Rahmatallah recollects embarking on her journey becoming an educator and learning the English language.
Throughout high school, math teacher Hanan Rahmatallah was ambitious. She was involved in a diverse range of activities from singing to playing sports. She especially enjoyed the wonders of creating. Inspired by her siblings getting their doctorate in engineering, Rahmatallah made it a goal to become an engineer herself. Little did she know, she would use her creative skills differently.  
Growing up in Iraq, Rahmatallah experienced the tragedies of war, which particularly disrupted her senior year of high school. As a result, Rahmatallah fell behind on her schoolwork. Because the Iraqi college admissions system only takes into account scores students earn during their senior year, Rahmatallah knew she wouldn't be able to pursue a career in engineering as she had initially hoped. Instead, Rahmatallah embarked on a journey to pursue a career in education, and this twist in fate sparked her path towards becoming a math teacher. 
"At the beginning, when I got to college, I said 'Oh my goodness, this is not what I was hoping,'" Rahmatallah said. "But when I [think back to] elementary school, I loved to teach my peers … I was always guiding my friends, leading them to what to do. Maybe because I loved to teach my peers, that was inside me … Maybe that was my destiny."  
"
Maybe because I loved to teach my peers, that was inside me … Maybe that was my destiny."
— Hanan Rahmatallah, math teacher
After graduating college, Rahmatallah married her partner and raised a family. Later, she decided it may be a good idea to move to the U.S. While speaking with her brother, a professor at the University of Iowa, over the phone, she determined that Iowa would be a safe and quiet place to live. 
According to Rahmatallah, as much as she was excited to move, she was also very nervous. Although she wanted to live in Iowa City, Rahmatallah ended up in Des Moines first. Upon arriving to the U.S., she found that learning English was the most challenging transition despite being a passionate English language learner in Iraq. 
"Learning a new language is not easy," Rahmatallah said. "I started to review my information and get back my knowledge about English, the grammar and everything. I was all the time listening, talking. I had CDs [that taught] English when I was cleaning the house."
Rahmatallah's practice paid off when she got hired for her first job in Iowa as a teacher for a childcare facility. However, Rahmatallah still had yet to become completely fluent in English, and although she faced many challenges due to language barriers and cultural differences, she was determined to overcome them. 
"I wanted to learn the language; that was my point," Rahmatallah said. "It's not about my paycheck because that was the first step … It's very normal to suffer, but you need to work hard in order to get your goal accomplished." 
To continue practicing her language skills, Rahmatallah borrowed the books used at the childcare facility and took them home to read to her children. Some books came with audio, so she also played those to practice her accent with certain words. 
As Rahmatallah became more fluent in English, she began to look for job opportunities within the Des Moines Independent Community School District. While scrolling through their website, she stumbled upon a job opening for a bilingual community outreach worker. After an interview and a glowing recommendation from her boss at the childcare center, Rahmatallah got the job. She helped both ELL students adjust to the classroom and Arabic-speaking families navigate the education system. Through the shared struggle of confronting language barriers, Rahmatallah instantly formed connections with her new students and their families. 
"They were so excited when I was showing them I'm also … a language learner just like them. I believe it gave them the impression that it's okay to make mistakes; even a teacher can make mistakes," Rahmatallah said. "They've been going through the same process I had been going through, learning the language and everything." 
"
I believe it gave them the impression that it's okay to make mistakes; even a teacher can make mistakes."
— Hanan Rahmatallah, math teacher
Soon after, Rahmatallah worked as a paraeducator for elementary and middle school teachers. While she assisted multiple educators with grading, paperwork and translation, she also learned about the educational setting in preparation for becoming a teacher herself.
After lots of hard work and the encouragement of her colleagues, Rahmatallah became an independent teacher for seventh-grade math. Still, she was never afraid to ask for help with language, even from her students. 
"I told them, 'Please correct me when I make a mistake because I want to improve myself' …  Sometimes they [would] break the words apart [in] syllables to pronounce it with them," Rahmatallah said. "This is how we learn, so I'm not shy if I make a grammar mistake or a language mistake because I am a second language speaker." 
As time went on, Rahmatallah found her skills connecting with and empowering ELL students would be better suited at the high school level. After her children got accepted into the University of Iowa, the opportunity arose: they were finally moving to Iowa City. 
"My oldest son, when he came [to the U.S.] he was in the middle school. He found it very hard compared to my other kids who came little because they got the language and learned and had no issues while the older kids, they got confused," Rahmatallah said. "I felt high school students need me more because they have a shorter time." 
She first taught at City High before moving to West, where she has been teaching for two years. Howaida Musa '23 has Rahmatallah for geometry class and finds her very supportive and sincere. 
"She encourages all her students to try and not to worry about making a mistake but rather how to prevent that mistake in our homework from happening again," Musa said.
Fellow math teacher Julie Kennebeck echoes these sentiments. 
"She has the warmest heart and understands students at a level that I am jealous of sometimes. She just really has a high level of empathy for her students, struggling students and especially ELL students," Kennebeck said. "She is genuinely concerned and cares for each of her students and takes it to heart."
Rahmatallah has now completed her ESL endorsement and is working towards finishing her master's degree at the University of Iowa. After all of her trials and tribulations, she wants students struggling with language to know that it is okay to make mistakes. 
"Don't give up, and don't be shy to speak. Always, even if you make mistakes, who cares? Correct yourself," Rahmatallah said. "I'm a person who likes to learn my entire life. It's not about my age … As long as I'm living, I'm learning." 
Leave a Comment
Donate to West Side Story
Your donation will support the student journalists of West High School. Your contribution will allow us to purchase Scholarship Yearbooks, newsroom equipment and cover our annual website hosting costs.
About the Contributors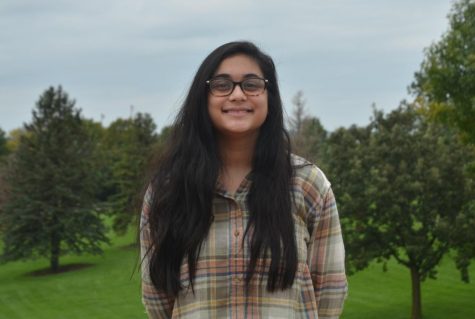 Fareeha Ahmad, Profiles Editor and Yearbook Copy Editor
Fareeha Ahmad is a senior at West High, and this is her second year on staff. She is the profiles editor for print and the copy editor for yearbook. When...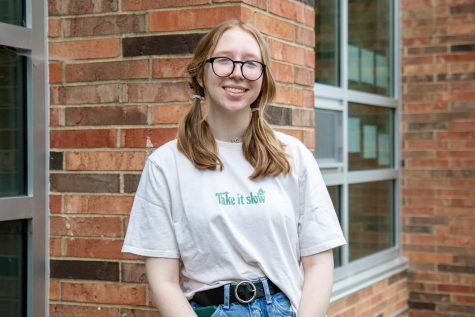 Kailey Gee, Print Co-Editor-In-Chief
(she/they) Kailey Gee is a senior at West High, and this is their third year on staff. She's working as the Co-Print-Editor-in-Chief with Hanah Kitamoto....