New writing club to have first meeting Thursday
All writers are welcome, regardless of experience or skill level.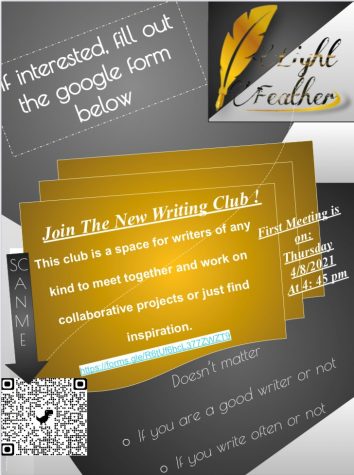 Light Feather, a newly-established writing club, will hold its first meeting Thursday, April 8 at 4:45 p.m. The club welcomes everyone, whether they enjoy writing or not, to join. The goal is to create a place for writers to come together and work on creative projects or just be inspired by other writers. Mishka Mohamed-Nour '22 decided to start the club because of her own interest in her peers work.
"I have been thinking about [starting the club] since 10th grade, and never had the courage to say it out loud, until the last winter break," Mohamed-Nour said. "How I got the idea is from my interest in reading other people's work, especially those who are my age. Anything they write, I want to read and notice the similarities and differences."
Writers are able to use the time to write anything, from stories to plays to song lyrics. Mohamed-Nour encourages those on the fence to give it a shot.
"There is no such thing as 'I can't write' or 'I hate writing'. If you do, then write to me why, and prove it… "A bad writer" doesn't exist, it is just a writer who hasn't written enough," Mohamed-Nour said. "This club is for everyone, in fact it is more for the 'bad writers' so they can develop their style in their own ways, and we are all here to help."
State your interest for the club by filling out the Google Form.