The creation of GGTV
Karen Meyer and Garrett Hartwig explain the origins of West High's new live broadcast, GGTV.
A brand new live broadcast hit the screens of West High during homeroom on March 4. This broadcast is called GGTV and was created by the students and teachers of the Green and Gold Academy. The live streams include conversations about grades and getting to class as well as student guests who talk about programs they are involved in. But, the abrupt appearance of this broadcast left students of West High with a lot of questions about the origin of the program. 
The Green and Gold Academy was created in the fall of 2019. 
"It was a program that was designed to connect kids at West High from all different aspects of the school. From the fine arts wing to the athletic wing to the academic wing," said Garrett Hartwig, West High football coach, English teacher and host of GGTV. Though Hartwig plays a big role in the production of GGTV, he said that he is not the originator of the idea. 
Karen Meyer, who is a math teacher and a Green and Gold Academy mentor at West High, is.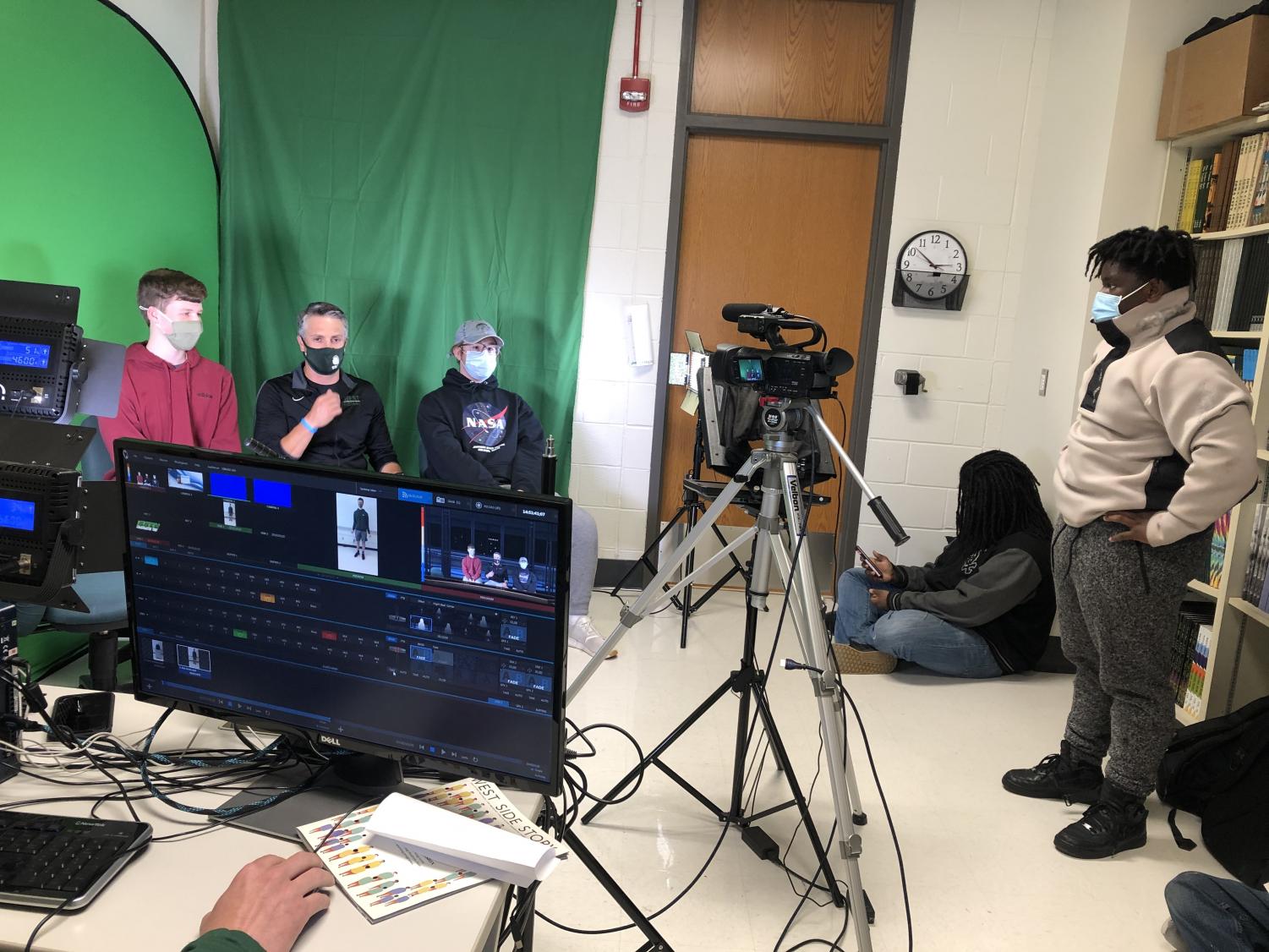 "We've been so disconnected throughout the whole pandemic. We've got kids online, we've got kids in the building," Meyer said. "I knew that we needed to have a student group to do it, and I knew that Garrett Hartwig would be the perfect person to make it happen."
She wanted students to have a way to connect with one another across the gap that the COVID-19 pandemic has caused. 
"I've always believed that a student's voice is one of the most powerful voices," Meyer said. 
"
I've always believed that a student's voice is one of the most powerful voices,"
— Karen Meyer
Meyer called Hartwig back in February and they got to planning. They brought in Tyler Meade, a technical support specialist for the ICCSD, and Margaret Yocius, an art teacher and Green and Gold mentor, to help set up the program. After a few meetings, the broadcast was ready to be put into action. They had developed a recording system and had even acquired a student-designed logo, made by Loren Wolf '23. The first episode included interviews with in-person students as well as a compilation of videos from online students sharing activities they have been keeping busy with.
The live stream has evolved a little since its first episode, now including an intro segment called "Hartwig's Rants" where Hartwig talks to the student body as a whole on things that need to be happening around campus. 
For the future of the GGTV broadcast, both Hartwig and Meyer believe that it is up to the students. If Hartwig sees something he wants to talk about throughout the school, he will ask the students if they would like to share about it on GGTV. However, the most concrete way to be on GGTV and share a story is to come to Hartwig directly by either visiting room 122 or emailing him at [email protected]. The program will go on as long as students have things to share.