Above and Beyond
West High would like to say goodbye to Gregg Shoultz as he retires by remembering his impact on the ICCSD community.
Composed, passionate, lighthearted and a fun guy. All are words used by West faculty to describe their former principal, Gregg Shoultz. He served the ICCSD community for 20 years, but his journey started way before that. 
Growing up in Waterloo, Iowa, education wasn't something he ever thought of pursuing as a major. "I kind of resisted going into education because my father was an educator," he said. 
Originally aiming for law, he eventually realized that his skillset works best in education. He started that journey as an English teacher in Illinois, but he knew he wanted to travel the world somehow and explore different areas other than the States. Shoultz went on to receive his Master's degree at the University of Iowa, where he met his wife, Amy. 
Amy is also a teacher and she shared the similar passion of going overseas, so they went to an overseas teaching fair, where they made plans to head to Guam, where he taught the school's first AP English class and served as a journalism adviser. After two years, they tried the same fair and this time they got matched in Switzerland, where he taught English and was the yearbook adviser. 
Spending years abroad might feel refreshing, but longing for home can't be replaced. Both Shoultzes felt it was time to return to Iowa.  While they raised their two daughters, they started pursuing different directions in their careers. Amy wanted to get a graduate degree in teaching and Gregg in administration. In 2000, he became one of West High's assistant principals.
During that time, he met Molly Abraham, who became the other assistant principal in 2002. "He was very nice to work with. He's also super funny," Abraham said. " He's very bright and very well read on all kinds of stuff and he really likes movies, music books."  
After becoming the principal of North West Junior High for 12 years, he returned to West High, this time as principal. Carrying one important principle that guided him through the leadership of NWJH, " Every student can learn, and every student should be on that learning path, whenever they're in school," he said. 
Dealing with a lot of issues wasn't something unusual. "There was hardly ever a day when I'd say something didn't require you to go check on it to make sure that things are okay," he said. 
While also trying to maintain a safe environment for every student where they felt welcomed, and always striving to improve it, Gregg worked hard on bettering the communication between teacher and student. "He established a community where we felt respected and supported. And that allowed us to do our best work,"said Christian Aanestad, art teacher.
As a person who appreciated extracurricular activities, Dr. Shoultz thought of supporting all of them at West. From the performative arts departments to journalism, his support is shown in how he was involved in their activities. "He could watch football and know what was going on. He could go to an orchestra concert and maybe know the piece they were performing. He just had a broad, broad range of what he enjoyed," Abraham said. 
As the Theatre West's Tech Director, Aanestad recalled his support for different programs at West. "His focus on extracurriculars is that he wants to see kids involved in things that they're passionate about, and he and he wants to make that happen for as many kids as possible," Aanestad said.  
Now, after almost 22 years since he lived abroad,  the Shoultzes are ready for another adventure overseas. He will be the principal at the American International School in Abuja, Nigeria. A small high school that has an extensive AP program, and is a home for international students. Amy is going to teach English as a second language there, as well. 
While he is excited about moving to Nigeria and exploring the new culture, there are things he will miss, such as Dairy Queen and Diet Dr. Pepper. "I know that I've gotten very complacent and soft about just going to go and get whatever I want and freedom of movement, we will definitely have to get used to a new menu," he said. 
However, that still wouldn't stop him from enjoying the experience. "We're learning more and more about the fruits and vegetables that are sold and the kinds of dishes we can make." 
Not many were  about the move to Nigeria, because everyone knew about his passion for traveling and living overseas. " I know that he was interested in doing some traveling and getting off the continent. And so I guess I wasn't really that shocked, because I know that was a passionate interest of his," Aanestad said. 
Apart from the school environment, Gregg loves doing outdoor activities and staying active no matter what time of the year it is. " I do a lot of biking. I like road biking and mountain biking and I've just gotten into gravel biking," he said. "In the wintertime, I do a lot of cross country skiing. I do classic skiing and I skate skiing." He also likes photography and diving. Abraham recalls that Gregg was diving in another country when Covid-19 started breaking in the United States. He is interested in more than just outdoors activities, he is also trying other skills, like videography. 
Gregg leaves West with one statement before leaving: "I have nothing but pride and gratitude for West High, so I'm proud of our students and I'm thankful to all the teachers that I got to work with." 
West High would like to send their appreciative words to their former principal  before he starts his new chapter, knowing that he would carry to them the same values that he carried in West. As West would continue valuing them and remembering their impact over time.  
Leave a Comment
Donate to West Side Story
Your donation will support the student journalists of West High School. Your contribution will allow us to purchase Scholarship Yearbooks, newsroom equipment and cover our annual website hosting costs.
About the Contributor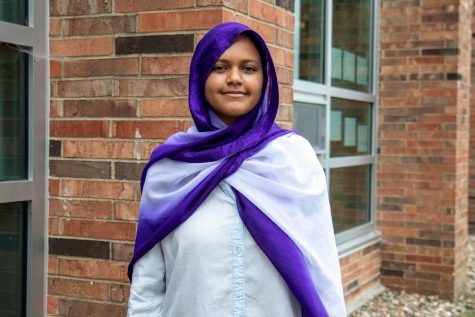 Mishka Mohamed Nour, Profiles Editor
Mishka Mohamed Nour is a senior at West. This is her second year on staff working for the online publication as the online profiles editor. She enjoys...