University of Iowa fraternity sparks protests downtown
WSS gets alumni's perspective on shutting down Phi Gamma Delta fraternities after sexual assault allegations spark protests in downtown Iowa City.
On Aug. 30th, an online petition to dissolve the fraternity Phi Gamma Delta (Fiji) from the University of Iowa's campus circulated. The petition claimed that two fraternity members sexually assaulted a female student of the University last Sept. It accused the Fiji house members of drugging, raping, and videotaping the victim. Since the publishing of this petition, the victim's attorney, Eashaan Vajpeyi, has said that there will be a civil lawsuit being filed within the next two weeks due to the lack of response from the Johnson County Attorney's office, the Iowa City Police and the University of Iowa. 
Protests are still ongoing outside of the Fiji house even after the promise of a lawsuit, with some protesters breaking down the front door of the chapter, breaking windows, spray painting the house and overturning cars. West alumni and University of Iowa freshman Kenzie Donovan '21 attended the protests. She stated why it was important to her to be at the demonstrations against the chapter. 
"I attended the protest because I believe that the majority of fraternities play a big part in rape culture and campuses everywhere are aware of this, yet they don't do anything about it," expressed Donovan. "I, as a woman, have always been scared to go to college for the main reason of being sexually assaulted or raped, because I know that college campuses are a hotspot for this behavior in men. It makes me scared to do anything alone, especially at night. Going to and being a part of the protest felt super empowering. I was extremely glad that I went and felt this type of power, and was able to share that with many others. By the end of the night, my voice was almost gone but my confidence in our community jumped."
Donovan also touched on a more personal reason for attending a protest. 
"I am a part of the 97% of women that have experienced some type of sexual misconduct by men, but I consider myself lucky because it was, in my opinion, minor to what others have experienced. I feel for women everywhere that have had to go through this pain and have had to deal with nobody doing anything about it. Cops, in this case, have all the evidence and still denied the girl a court appearance." 
Donovan also noticed signs of support for the victim posted in front of other campus fraternities, which she said gave her "hope that all frats aren't bad."
This cry for justice at the University of Iowa comes shortly after a similar situation at the University of Nebraska-Lincoln (NU). Another Phi Gamma Delta chapter on the University's campus has been suspended due to allegations of a 19-year-old house member sexually assaulting a 17-year-old student. This chapter has had a long history of sexual assault, harassment and attempted rape, with 148 reports of sexual offenses from Jan. 1st, 2016 to Aug. 27th, 2021. It was also still on probation for previous offenses and had just come off of a 3-year suspension. This allegation sparked a "week of protests" and a vigil to show support for the victim was held as well. There is even an Instagram page (@shutdownfiji) dedicated to abolishing Fiji frat houses.
Kathleen Washington, who just graduated from West, attends the University and protested against this chapter. She explained why she thought it was important to be a part of the demonstrations on campus. 
"I went (to the protests) with a couple people I knew, so I felt really safe in the crowd. It felt really empowering to be with so many people protesting something that we really believed in," Washington said. "There were a lot more men than I expected and it felt really good that the women on campus weren't alone on this. It was sad to walk by the sororities and dorms and see all of the people standing, watching, and recording our protest instead of joining us. We chanted 'Join us' and no one seemed to respond."
Washington also gave her thoughts on how the student body of NU and administrators of the University were handling the situation. 
"The University seems to not have done much and the fraternity members were moved into some dorms on campus. Some fraternities and sororities have hung up anti-sexual assault banners. I don't see women walking outside alone at night anymore. My friends and I always make sure that everyone gets home safe at night, and sometimes that involves walking people we don't know or just met back to their dorms. The members of Fiji have posted videos of them laughing at our protests and that is downright evil. The University isn't helping or hurting the situation, they're just waiting for the investigation to be finished," 
Leave a Comment
Donate to West Side Story
Your donation will support the student journalists of West High School. Your contribution will allow us to purchase Scholarship Yearbooks, newsroom equipment and cover our annual website hosting costs.
About the Contributor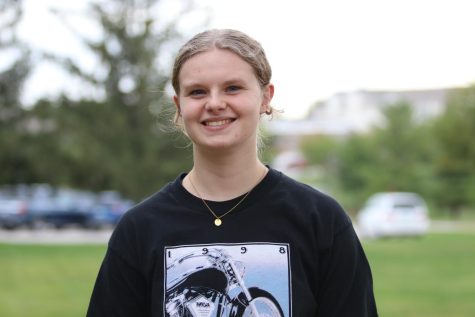 Laney Prelle, Profiles Editor
(she/her) Laney Prelle is a senior at West High and this is her fourth year on staff. She is the online profiles editor and her hobbies outside of writing...