New updates to the ICCSD school calendar
Two new days off have been included in the ICCSD school calendar this year, recognizing two holidays of Jewish and Muslim students.
On Sept. 16, the ICCSD had the day off in recognition of Yom Kippur: one of the holiest days and the tenth day after Rosh Hashanah (the first day of the new Jewish year). In addition to Yom Kippur, Eid al-Fitr – Muslims' celebration of the end of Ramadan – is also going to be recognized as an official holiday in the ICCSD calendar this year, and that happens to fall on May 3, 2022. 
Those new updates to the ICCSD calendar wouldn't have been issued if it wasn't for the long activism of Reem Kirja '25. She had pressed a petition to the ICCSD to recognizing the holiest two celebrations of Islam, Eid al-Fitr and Eid al-Adha, ever since she was in fifth grade. "How come they get two weeks for Christmas, but like most people don't even know what Eid is," Kirja said.  
"
I think this is a way to give students who adhere to those faiths time off without the pressure that they're missing out academically."
— Mitch Gross, West High Principal
Almost 4 years of hard work, persistence, and support of family, teachers and classmates, until Kirja was able to achieve her objective after getting 7000 signatures, or '7000 friends'. "I don't like to call them signatures, like '7000 signatures', I feel like that's disregarding the fact that those are people," Kirja said. "So I like to call them friends, like, 'I have 7000 friends'." 
On December 8, 2020, ICCSD board meeting had approved updating the school calendar to recognize those two holidays, with a vote of 6-1, with 6 members voting 'yea' and one member voting 'nay'.
"I would argue and she's [Reem Kirja] one of our students, without her activism, this would not have happened," Principal Mitch Gross, who also happened to be part of the district calendar committee, said. 
In the past years, students who celebrated those holidays were guaranteed an excused absence for religious purposes if they wished to. However, both holidays' dates fluctuate in the Gregorian calendar because they follow different calendars in each religion, so it is always hard for students to have an arrangement plan. "I think this is a way to give students who adhere to those faiths time off without the pressure that they're missing out academically," Gross said.  
On the other hand, snow days aren't going to be off this year. Due to improved technology and the experience last year provided with remote learning, the school district has decided to continue learning from home during snow days. "It's [snow days] something you look forward to and, yes, sometimes I think all of us in the building do just need a break," Gross said, "But having said that, you have to balance that with the loss of learning and the loss of what's going on in our classrooms."
Whether classes would be synchronous, asynchronous or using another alternative is still yet to be determined, however, students will be required to do work over snow days regardless of the method. 
While there are still other students of different backgrounds that still need to sacrifice some school time for family and culture, recognizing those two holidays as official is a big step into recognizing and celebrating the diversity in our district. Thanks to efforts from activist students like Kirja, and administrators, our district continues to improve its environment to suit and welcome all kinds of students.
 "If you feel strongly about something, if you feel like you're being discriminated against for something or if you feel like this should happen, if others agree with you, even if they disagree with you," Kirja said. "You just keep going if you know what you want, it's going to benefit you, and many others."
Leave a Comment
Donate to West Side Story
Your donation will support the student journalists of West High School. Your contribution will allow us to purchase Scholarship Yearbooks, newsroom equipment and cover our annual website hosting costs.
About the Contributor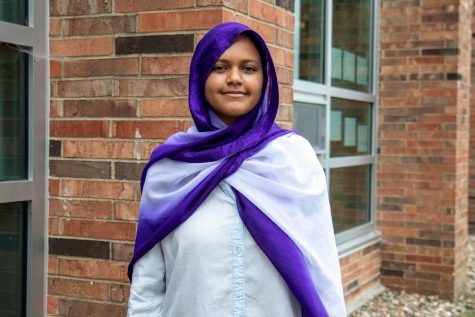 Mishka Mohamed Nour, Profiles Editor
Mishka Mohamed Nour is a senior at West. This is her second year on staff working for the online publication as the online profiles editor. She enjoys...