Coloring the community
West High's new art class, Community Art, starts Nov. 18 with a goal to explore social issues, community needs and showcase the talents of student artists.
From sculpture, to stained glass, to AP Art and Design, West offers a variety of different art classes. On Nov. 18, a different type of art will join the ranks. A pilot version of Community Art will debut in the second trimester with the intention of bringing art into the community. 
Found on page seven of the Iowa City Community School District's high school course guide the one trimester class is designed to give students the opportunity to focus on social service and creative development art projects. 
Teachers and departments as a whole have a couple of hoops to jump through when trying to add a course to the program of studies to ensure the class is ready for students. 
"A teacher has an idea, or department has an idea for a class, they put that proposal together. They send it to like our administrators they look at it, then it goes to the board, the board approves it, it gets in the program of studies and then students sign up for it. If enough students sign up for it. We have a class," said Guidance Counselor Paul Breitbach.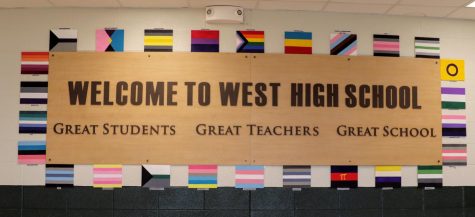 When the time of year comes around to sign up for future classes most students don't even know about new class offerings until they hear about it through a friend or even a guidance counselor. 
"So each year, what we [guidance counselors] do, whenever there's new classes, and every year there seems to be new classes, then we try to emphasize those when we do our registration piece… students know current classes, because they have conversations like 'take this class because' but both new classes, we try to make students aware," he explained. 
Art teacher Christian Aanestad was called to action by a lack of student representation in the art displayed at West.
"It's kind of a dual class. So one part of it is [working] as a group on projects. That's one of the concepts, you can go out and create this piece of artwork that is a representation of the class or the community that we live in, which is the West High. The other part of it is to think about art as a way to reach out to the community and make connections," he said.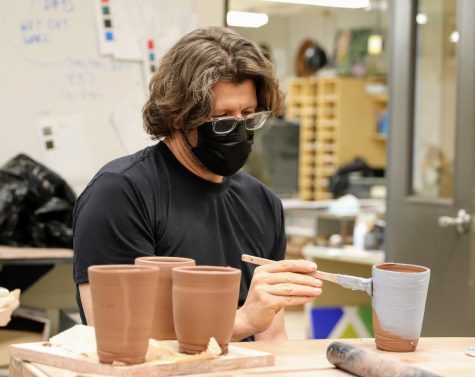 The most recent addition to the hallways is the display of flags in the commons that represent different sexualities that make up the identities of West's students. Aanestad believes this is the first step to his mission and intends to take it further with this class. Aanestad plans to help the students connect with the world around them through various projects including murals, t-shirt printing and gardens. He hopes to show off the creative work of young artists like senior Bodie Williamson. 
Williamson, like many other student artists, has had work showcased at the beginning of the art hallway, but Aanestad's new class would bring more to the hallways and the community as a whole than a posterboard with students' recent projects. 
Ever since he could remember, Williamson has wanted to be an artist, so much so that he has been involved in an art class all four years of high school.
View this post on Instagram
"I think it was like seventh or eighth [grade] and everybody was talking about careers. I was thinking, because I've always hated office jobs and all these careers are so boring… I was thinking, what's something that I'm good at? And that I'm passionate about it. I was like, well, I love to do art, like draw and stuff. So I started looking into careers related to that," Williamson said.
Outside of school Williamson continues to create and work to build an art business of his own.
"My relatives would always be like, you should really take your art somewhere…make a business, make a page. So I did, that's been fun," Williamson said. 
Williamson's art Instagram account (@bodies_art_account) with over 200 followers helps promote, sell and showcase everything from stickers to t-shirts displaying his original designs. In addition to social media Williamson makes his art into stickers and various products and sells them on the popular site Redbubble. 
Growing up in Iowa City, Williamson was surrounded by public art and various art festivals in Iowa City and surrounding areas.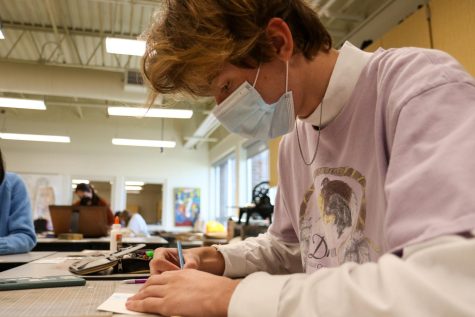 "When I was younger, I went to the art fair, like every year, because I really enjoyed it and all these artists have prints that they had people flip through the mats…they're ridiculous, like $70 for like a printed picture," Williamson said. "That's where I learned how to like do one of those stands kind of and sell stuff is that you have to like do prints of your work." 
Williamson showcased his art at his very own stand this summer at the arts festival through Iowa City's summer of the arts emerging artists program. 
The Community Art class is one of many new projects to feature young artists like Williamson. Iowa City has recently taken a similar initiative of representing people of color through a mural project. The newest mural called the "Oracles of Iowa City" organized by Public Space One and the Center for Afrofuturist Studies features messages of Black strength in the wake of nationwide protests for Black Lives Matter. The murals are meant to call out and bring awareness about the Black experience to Iowa City and visitors.
Jon Engelbrecht, Executive Director of Public Space One, hopes to strengthen the representation of BIPOC individuals and underrepresented artists.
"When the Center for Afrofuturist Studies was asked to take on this public mural project, our aim was two things: 1) to work with some of the great artists we've had the privilege to work with at [Public Space One] and the CAS, and 2) to do a project that had more life than just a symbolic gesture (our mantra on repeat: a mural is not enough)," Engelbrecht wrote in an email to the West Side Story. 
The murals downtown have been completed now the project has the goal of a lasting impact beyond appealing art. 
"Our work and the purpose of this project is [to push] against and [evolve] culture," wrote Engelbrecht.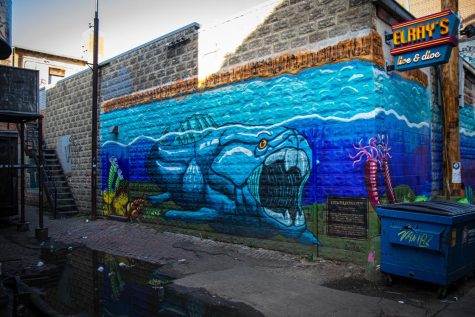 Downtown Iowa City as a whole is home to multiple different public art displays and murals done by the Iowa City Murals Project and Iowa City Downtown Districts Public Art Director Thomas Agran. 
The class has no prerequisite at the moment and is open to everyone. "I think if you're looking for an art class where you can work in groups of like-minded people, on community-based projects that are going to have an impact on the environment of West High and outside West High, they should consider the course," Aanestad said.
With the help of the West High and Iowa City community, Aanestad hopes to create a bright and inviting environment similar to Downtown Iowa City while also letting students' minds run wild with how their art could make a difference in the area.
"Our student body is not visually represented in the artwork, or on display in the hallways," Aanestad explained. "And I think it's important that you see yourself in the building."

Leave a Comment
Donate to West Side Story
Your donation will support the student journalists of West High School. Your contribution will allow us to purchase Scholarship Yearbooks, newsroom equipment and cover our annual website hosting costs.
About the Contributors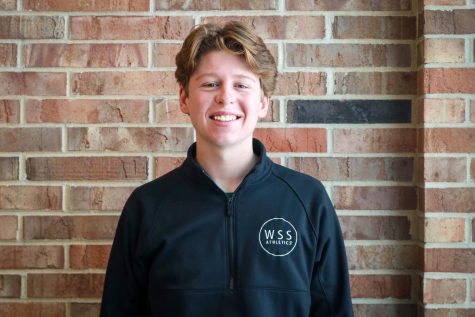 Owen Aanestad, Online Editor-In-Chief
Owen Aanestad is a senior at West. This is his third year on staff working for the online publication as the online editor-in-chief In addition to playing...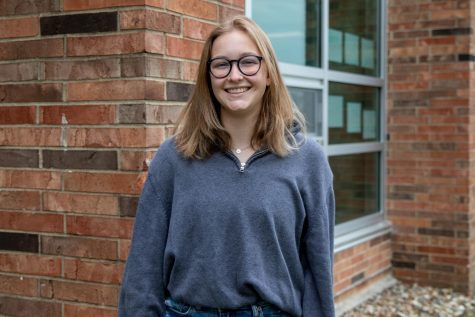 Maddy Smith, Visual Editor and Feature Editor
(she/her) Maddy Smith is a senior at West. This will be her third year on staff. She is the online Features and Visuals editor. She enjoys music, photography,...