Growing change
To combat the national issue of food scarcity Raina Pfeifer '22 and the SEA club have created a program to help out local food pantries.
Food banks across the United States have suffered chronically from a lack of fresh produce to supply to their communities. The Students for Environmental Action (SEA) club have created a hydroponic system here at West. To break this cycle. Their goal is to create a program that will continue for generations to come. To keep supplying the local food pantries with produce grown in the science rooms of West High.
Seventeen point eight million people in the United States do not have access to fresh produce, and many more do not have the funds to pay for fresh foods regularly. Food scarcity is closely related to the idea of a food desert, which is the term used when a community is substantially separated from a grocery store, meaning the citizens of that community struggle finding a store to even buy food. One in eight people in the United States are considered "food insecure", meaning that the household is at risk of being unable to provide enough food to support a healthy lifestyle. The struggle with food insecurity has only worsened since the onset of the pandemic. The SEA club saw the need to make change, and they had an idea to address these issues.
SEA President Raina Pfeifer '22 built the hydroponic garden, as part of a project for the Herbert Hoover Presidential Foundation. Her work on the garden system, as well as the work to integrate the project to West High, led her to win the Herbert Hoover Presidential Scholarship.
Her project consisted of a hydroponic garden system which is essentially a soil-less, fast paced garden. The system at West uses PVC tubes to contain a stream of nutrient rich water, to compensate for the lack of soil. A fibrous substrate of spun rock, called rockwall, has the roots of the plants grown into it. This anchors the plants stably into the ongoing stream.
"Hydroponics produces higher yields of produce, while being a relatively easy way to farm. I hope that having a system at West exposes students to the idea of growing their own food, and we are able to educate the younger students on practices of farming that help our community. Hopefully we will inspire students to create their own ways of addressing food insecurity," said Pfeifer.
The ability to continue growing and harvesting fresh produce throughout the winter months provides a sense of security to the food pantry. Which struggles to find enough greens to keep up with the demand as director of programs at the Coralville Food Pantry Paola Jaramillo Guayara explained in an email to the West Side Story,
"Fresh produce is one of the most sought items when a family arrives at our food pantry. During the colder months in Iowa, it is especially difficult to find enough produce, at adequate cost to provide for our families. Although our partnerships through local organizations like Table to Table are so vital to connecting us to fresh produce in the cold months, sometimes it is not enough. The hydroponic system at West could help support the local sustainable food system that the community is building on and working towards. Families would breathe easier knowing they can count on local food pantries to provide fresh produce, even during the cold months."
Pfeifer hopes that the exposure of urban agriculture to the West High students will inspire them to create their own projects. Communities will need to implement new forms of agriculture to address the increasing populations while no extra land to devote to agriculture.
"Urban folks tend to shy away from anything agriculture, but urban agriculture makes traditional farming high tech. As we are running out of space it is not viable to continue our old ways of farming. [Urban agriculture] Is more creative and sustainable in the long run," said Raina Pfeifer.
The practice of educating the future generations on growing sustainable produce has already been implemented in other nations around the world with great benefits. In addressing both the communities inconsistent access to food, as well as, teaching urban young minds on the importance of living sustainably, to protect those who will come after them.
"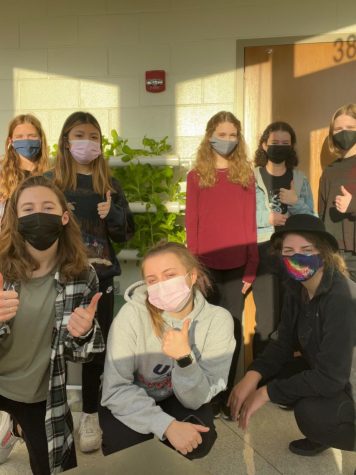 This could have a huge impact on sustainable health structures, food structures and environment systems. Some European countries, like Denmark, already have well-funded, well-organized forms of agriculture on school grounds, starting with children as young as five and have seen the impact that it has on all realms of their society and future. Forming students' knowledge to not only understand their personal and community food security problems as well as enveloping them in creating solutions will be a game changer for everyone. Food insecurity is such an intersectional issue, and including urban students, who may live and see food insecurity in different ways than their rural counterparts will allow them to become more conscious of the choices that they are making and how they are impacting humans as a whole," said  Director Jaramillo Guayara.
Club president Raina Pfeifer, smiling with the future leaders of the SEA club. (Photo Courtesy SEA club)
Leave a Comment
Donate to West Side Story
Your donation will support the student journalists of West High School. Your contribution will allow us to purchase Scholarship Yearbooks, newsroom equipment and cover our annual website hosting costs.
About the Contributor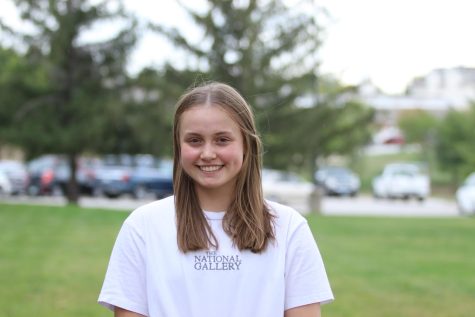 Paige Albright, Managing Co-Editor, Podcast Editor
(she/her) She is a senior this year, and she is also the Co-Managing Editor and Podcast Editor for web this year. In her free time, you can find her at...