'The Power of the Dog' review and its current Oscar status
With the 94th Academy Awards underway, Samuel Rosenthal '24 reviews the most nominated film of the year, "The Power of the Dog."
A film that was nominated for twelve Oscars, ten Critic's Choice Awards, and over 100 awards won in total. Does it deserve all of its praise?
"The Power of the Dog" is Netflix's newest, critically acclaimed, original western flick. The story focuses on Phil Burbank (Benedict Cumberbatch), a fear-inducing, tough rancher and his brother George (Jesse Plemons). When George brings home a new wife, Rose (Kirsten Dunst) and her son Peter (Kodi Smit-McPhee), Phil does not take kindly to this. Phil soon begins to mock Peter for his effeminate manner and harasses Rose, eventually turning her to alcoholism. When Rose's son Peter finds a stash of Phil's magazines depicting nude men, Phil chases Peter away. Phil soon displays decency to Peter, growing a close relationship with him, tying him a lasso, and teaching him how to ride a horse. After noticing Phil and Peter's relationship, Rose's alcoholism soon worsens, leading to her son's discovery. 
From the point when Peter discovers Phil's secret, the film got me hooked, but the first 40 minutes or so are difficult to sit through. Not that the film is in any way exceedingly slow, but the acting from Cumberbatch is so convincing and the character of Phil is so unpleasant that it is understandable how Rose was driven to drinking. I can completely understand if the Academy Award for Best Leading Actor heads in Benedict Cumberbatch's direction. I believe that the only competition Cumberbatch faces for the Oscar will be Will Smith's portrayal in "King Richard". The film was also nominated for three other acting roles, including Kirsten Dunst for best supporting actress, and both Kodi Smit-McPhee and Jesse Plemons for best supporting actor. Jesse Plemons and Kodi Smit-McPhee do fine in their respective roles, though it's nothing much to write home about, and Kirsten Dunst plays her role well, although the character has no distinguishable, likable qualities. 
I had not realized the film was originally a book until I learned it had been nominated for best adapted screenplay, and I can definitely see the award given to "Power of the Dog". The movie touches on subjects such as toxic masculinity and hints at themes of LGBTQ+ relationships very nicely. As the book was written in the 1960's, the themes and subjects it discussed were ahead of its time. I have not read the book yet, but if it is as well constructed as the film was, I will soon be reading it. A few of the scenes by the beginning are unnecessary, but they do set the tone of the movie. I just think that if the film had focused on developing the relationship between Peter and Phil even more thoroughly it would have been better, as I found it to be the most interesting and important piece that would have furthered the themes of the story.
The film was nominated for both best director as well as best film editing at the academy awards, and I predict that Jane Campion will take home an Oscar for best director, but I think that the movie will have some competition in the editing department. The movie is well edited for the majority of the film, however some moments are jarring, as it has title cards throughout the film saying "Part 1" and "Part 2", which just takes you out of the experience. I think the greatest competitors for this category will be "Dune" and "Don't Look Up", both of which I believe have better editing than "The Power of the Dog".
However, one of the greatest stains on the film was the music. The film was nominated for best original score, but it only has one good score in the entire film. The other instrumental music merely sounds like a beginner on the piano hitting a few keys. While watching the movie, if I ever heard the music I would immediately be reminded it was a movie rather than an experience. If "The Power of the Dog" by some chance takes home best original score, it will be solely for the one song. If "Dune" doesn't receive the award for best original score, then the academy is thoroughly mistaken. 
Overall, "The Power of the Dog" is a film of many qualities with brilliant acting, a well-made story and good production, however, it lacks technical aspects. From a critical standpoint, this film would receive four out of five stars, but personally, I would review this film as three and a half out of five stars. I would absolutely recommend this to any "esteemed" critics or viewers, but to the casual movie-watcher, this film would come across as harsh, maybe interesting, but quite possibly boring.
Leave a Comment
Donate to West Side Story
Your donation will support the student journalists of West High School. Your contribution will allow us to purchase Scholarship Yearbooks, newsroom equipment and cover our annual website hosting costs.
About the Writer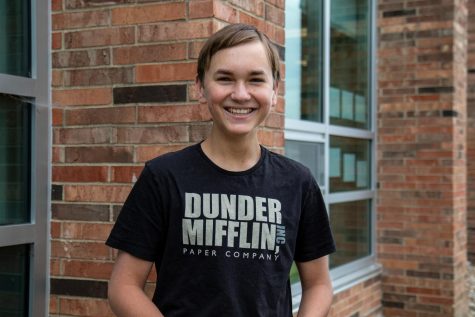 Samuel Rosenthal, Podcaster
(he/him) Samuel Rosenthal is a sophomore at West. This is his first year on staff working for the online publication as a podcaster. Samuel also enjoys...