Taking flight
Trips can be long and hard, but what keeps Gavin Irias '22 motivated is the destination.
Comfort is found in numerous locations: some find it in nature, others in their homes, but for Gavin Irias '22, it is in the bustling environment of airports — people rushing by with places to go, the smell of coffee traveling through terminals during the early morning, pilots striding along with their suitcases, planes flying overhead with destinations all over the world. The airport is his second home. 
For years, Gavin has known how deep his connections with aviation run. "Mom, Dad, I think I want to be a pilot when I grow up," were the words he said to his parents five years ago when he realized just how far his passions could take him. 
Gavin first interacted with planes at the age of seven when he flew on a JetBlue Airbus A 320 from Burbank to Las Vegas. 
"It didn't really spark anything at the moment for me; it was just a really, really cool experience," Gavin said. " I remember it feeling nice to be in the sky — I liked it."
Plane crashes were what initially sparked his interest in aviation. To better understand the intricacies of flying, he began watching documentaries about such accidents. 
"I liked finding the problems and causes leading up to the accident so I knew what had been made better [with planes] as time had gone forward," Gavin said. 
While many may find themselves mindlessly playing games such as "Subway Surfers" or "2048," Gavin explored a series of aviation games. He first downloaded a plane crash simulation game, then an air traffic control game, until finally, he found a simulator called Infinite Flight. After that, Gavin was immersed in the aviation world — nothing could pull him back out. 
"That opened the door real wide for me. It just has exponentially increased my interest in knowledge of aviation," Gavin said.
"
That opened the door real wide for me. It just has exponentially increased my interest in knowledge of aviation.
— Gavin Irias '22
Through Infinite Flight, Gavin connected to aviation in a whole new way. He joined a virtual airline simulation called Delta Virtual, allowing him to fly around the world. Aviation enthusiasts alike can join a Discord server to share their thoughts about the virtual airline.
"I get to communicate with such awesome people from around the world. Some people are corporate pilots, some are starting out just like me, some aren't really pilots, but they're interested in aviation," Gavin said. "It's a really diverse group, and I get a lot of my knowledge from them."
Gavin's dreams truly began to take shape when he took an introductory lesson at the Clinton Municipal Airport, hosted by the Experimental Aircraft Association Young Eagle Organization. 
"It definitely opened my eyes to what being a pilot was like. It was kind of a cloudy day, so, unfortunately, the scenery and the views weren't the best, but it still was enough to make me go 'Wow, it's really cool to be up here defying gravity up and up in the sky being like a bird,'" Gavin said. "It just really exposed me to the piloting world, and it definitely was a big leap into my interest in aviation."
After taking a few introductory lessons, Gavin applied and received a scholarship through the EAA to attend a five-day camp in Oshkosh, Wisconsin, during the summer of 2019. 
"I had this really cool experience to get on planes and get around this cool airport in Oshkosh," Gavin said. "It was right before [AirVenture Oshkosh], which was in July, so I got to see some cool action going on at the airport in preparation for this huge event that happens every single year." 
When applying for the scholarship, his mom, Michelle Irias, noticed how badly Gavin wanted to accomplish his goals. 
"Just watching him fill out the application, I was like, 'How could he not get it? He's so detailed.' If I were filling out an application, even if I were really excited about it, I probably wouldn't have put as much detail and depth into it as Gavin did," Michelle said. "It just shows that when [Gavin] wants something, he knows how to go after it." 
As Gavin became more familiar with being around physical planes, it was time for him to take a bigger leap. At the Iowa City Municipal Airport, he could get his hands on the yoke — the plane's altitude control wheel —and take off.  
"It didn't feel crazy at the moment [I took off] because I've been flying so many simulators, so it just kind of felt programmed into me," Gavin said, "but once I looked back on it, I was like 'Holy cow, I can fly a plane.'"
From then on, Gavin knew he was meant to fly.
"At the moment, I was just like, 'This is normal' — I could tell it was my true calling because [it felt] normal," Gavin said.
"
I could tell it was my true calling because [it felt] normal.
— Gavin Irias '22
Gavin's friend of nine years, Peyton Follmer '22, has noticed the strength of Gavin's relationship with aviation.
"I feel like there's a very deep connection with aviation. Whenever I think of Gavin, I just automatically think 'planes,'" Follmer said. "It's so ingrained in his personality." 
Michelle feels similarly. 
"It's sort of like for me to drive a car is for Gavin to fly a plane," Michelle said. "Anything airplane-related seems just second nature [to him]."
Gavin's comfort in the atmosphere allows him to appreciate being on-ground and up in the air, but he finds there is nothing like zooming through the sky.
"I guess when you're on the ground walking, you go at a slower pace, passing all the trees and the birds singing and the squirrels on the trees and the flowers and the breeze and the cool puffy clouds that you can see maybe about 5000 feet up," Gavin said. "But then as you're in the sky, everything is whooshing by fast, but at the same time, you can see the entire horizon instead of just being able to see where you are."
Gavin's admiration for being up in the air has helped him decide his plans for the future: he will major in commercial aviation at the University of North Dakota in fall 2022 and go into the Reserve Officers' Training Corps program. He then plans to commit to the U.S. Air Force and later become a commercial pilot. 
At first, Gavin could not imagine joining the military, but as he discussed his future with his parents, he started to consider it. 
"I can't really explain why I got interested in the Air Force, but I just feel like I want to represent my country while doing the thing that I like, which is flying," Gavin said "It's just something I want to try."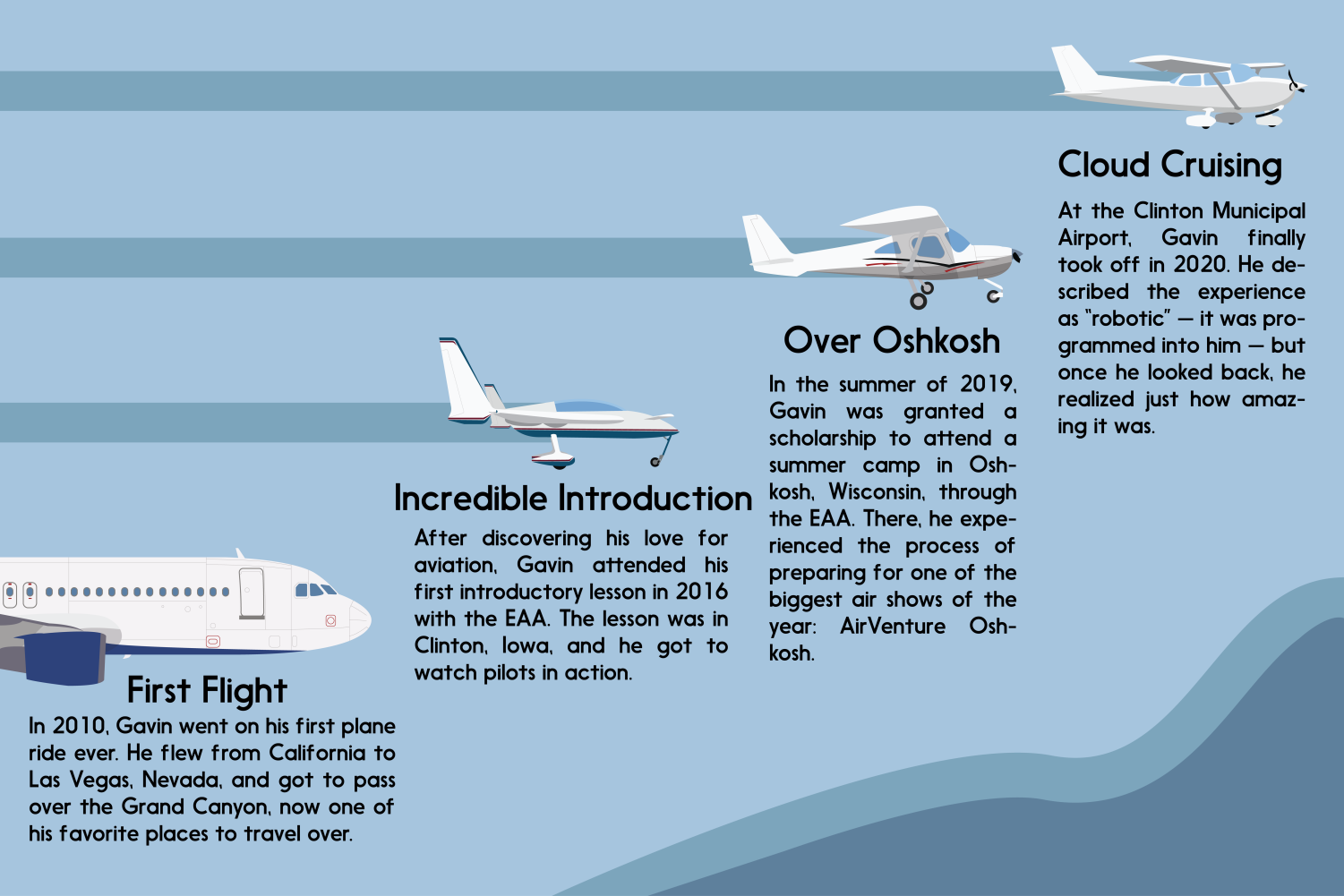 Gavin knows the journey will be challenging, but he keeps in mind what he is working towards. 
"There are probably going to be times where I'm going to be like, 'Is this really what I want to do? Is it really worth it right now?' But honestly, I know it's something that I'm not going to see as a job or career [but] as a passion or a hobby," Gavin said.
As he continues to strive for his passions, Gavin intends to follow the Delta Airlines slogan: "Keep climbing." 
"The sky is not the limit; you can just keep climbing, keep climbing and keep climbing for greatness," Gavin said. "That's definitely one of the things that keeps me motivated." 
Looking towards the future, Gavin believes once he reaches his destination, he knows it will have all been worth it. 
"It can be a bit tricky — no good pilot has ever not gone through some rough patches or some turbulence in the process. You can't let these few bad things get in your way. Failure is just a learning opportunity, a time to reflect and go over what you've learned and learn what you need to improve, and then you can go back and just crush it later," Gavin said. "Follow your heart, pursue your dreams, no matter what it may be, no matter what may be in the road, what might be blocking you. You can always overcome those obstacles in the future. If you try and push hard, you will eventually achieve greatness."
Leave a Comment
Donate to West Side Story
Your donation will support the student journalists of West High School. Your contribution will allow us to purchase Scholarship Yearbooks, newsroom equipment and cover our annual website hosting costs.
About the Contributor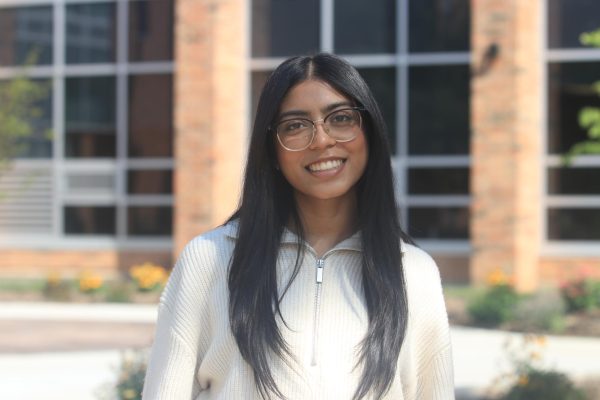 Zaira Ahmad, Print Editor-in-Chief
(she/her) Zaira Ahmad is a Senior at West High. This is her third year on staff, and she is the Print Editor-In-Chief. Outside of the newsroom, you can...