Resistance results from controversial law across Iowa City
Hundreds of students protested the new law prohibiting trans women from participating in female school sports teams March 11.
Iowa City — a town made up of people of all walks of life — is a community where many protests have taken place over the years. From women's rights to BIPOC rights, many people come together in Iowa City to stand up for what they believe in. The March 11 protest for trans rights was no different, besides the fact that 12- and 13-year old junior high students organized the entire event.
On March 3, Gov. Kim Reynolds signed a bill that will immediately ban trans women and girls from competing in school sports teams that correspond with their gender identities. The bill's passage puts Iowa among ten other Republican-led states that have laws restricting trans participation in athletics. Supporters of the legislation hail it as a victory for girls' sports, saying it ensures fair competition.
"No amount of talent, training or effort on their part can make up for the natural, physical advantages males have over females," Reynolds said.
The law has been denounced by many who argue that it is discriminatory and denies trans female athletes an important part of their identities. 
In protest of the bill, students at Southeast Junior High organized a walkout at the Pentacrest on March 11. Participants included students from junior highs and high schools across Iowa City.
West High students gathered in the Little Theater after 3rd period at approximately 11:20 am. The group's organizer, Kailey Gee '22, spoke to the attendees about who started the movement and what they were fighting for. Then, the united group walked out of school.
The protestors met up at the Pentacrest with students from City High, Southeast and Northwest Junior High to stand in solidarity against the bill.
Many students at the protest, such as West High junior Alister Willis-Loong and Northwest eighth grader Sage Pottorff, were not athletes, but they came to the protest to advocate for individuals close to them who are affected by the law.
"I'm here to support all my friends, siblings and stuff, so that we can hopefully fight the oppression by cis people," Willis-Loong said.
Similarly, Pottorff said, "I'm here because I think it's stupid that even as a junior high student, [people] have to worry about not being able to play on the team [they] want to play on."
West High senior Clare Loussaert understands first-hand what it takes to be a high school athlete, and she also stands against the law.
"As a former athlete myself, I know how hard athletes train, and a biological advantage will only take you so far," Loussaert said. "Trans women are women and deserve to participate."
"
Trans women are women and deserve to participate."
— Clare Loussaert '22
Emily Brown '26, a student at Northwest Junior High, was at the protest because she believes that the law is inherently prejudiced.
"This is unconstitutional. It's very important for trans youth to fit into their groups," Brown said. "This shuts down college opportunities for many students here."
Along with a decrease in college opportunities, the increase in deteriorating mental health for trans women was a major concern brought up by multiple individuals at the protest.
"[Reynolds] needs to get her business out of LGBT affairs. Being a cis straight white woman, she needs to back off," Willis-Loong said. "I don't understand why cis people can put their opinion into our issues, especially considering that trans youth suicide rates are insanely high, and the life expectancy for trans people is in their 30s."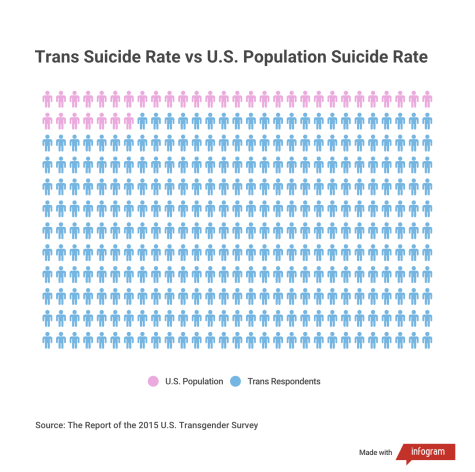 With knowledge of the disturbing statistics on trans people's mental health and through gaining information on trans women athletes, Peter Brozene, an eighth grader at Southeast Junior High and a speaker at the protest, cannot discern how state legislators and Reynolds could sign this bill into law.
"I'm trans myself, and even I haven't heard of very many trans athletes," Brozene said. "I had to search up trans athletes for my speech, which just proves that they're not actually going to affect the sport that much, like in a negative way. If they were to win the sport they're competing in, it would be because they actually have skills, not because of their birth gender."
Z Lauer '26, another Southeast student and speaker, summed up the overarching reasoning behind the protest.
"We came out here because we want to get at least noticed, and start a ruckus, and get people to understand that what's happening isn't okay," Lauer said.
In addition to students, community members were a big part of the protest. After designated student speakers gave their speeches, there was an open mic for anyone to share their opinions and experiences. At this time, community members Sarah Dunn and V Fixmer-Oraiz spoke.
Dunn has been out as a trans woman for four years and has encountered a lot of attack on the trans community, much of it in the name of feminism and protecting girls and women. With this being the harsh reality in Iowa, Dunn has a few words for Reynolds.
"Stop using trans people as wedge issues," Dunn said. "Stop this culture war because what's happening is we're losing older adults who are leaving Iowa because people don't want to live in this state."
Fixmer-Oraiz is a non-binary individual living in Iowa City. They are running for the Johnson County Board of Supervisors in the next election and want to advocate for the LGBTQ+ community in the county.
"I think it's good to have representation and visibility, and the legislature needs to know we're Iowans too," Fixmer-Oraiz said. "We're here; I'm raising my family here. I could go elsewhere, but I want to be here. They make that really hard, but we will fight. We'll just keep fighting."
Lauer wants people to realize that it's 2022, not 2021 or even 1991 — some people need to stop living in the past.
"People are changing; the world is changing," Lauer said. "It's going to keep spinning. You can either stay back or move forward, and if you're not going to move forward, then get away."