Cheer team gears up for another season
Cheerleading is seen as simply shaking pom-poms and smiling, but there is a lot more effort put in behind the curtain.
The cheer team is currently run by Morgan Dibert and her assistant coach, Sophia O'Brien. This year will be their second year coaching together. Dibert has been doing cheer for 18 years, cheering in middle school, high school, and four years at the University of Iowa, along with experience on an All-Star cheer team. O'Brien has also been cheering for 18 years.
Dibert's transition into becoming the cheer coach was pretty abrupt. O'Brien testified, "I think Morgan was put in a really tough position because last year the head coach gave her little to no notice that she was quitting." O'Brien also gave their insight into how well Dibert stepped into the role. Head coaches have a lot more administrative responsibilities than assistant coaches and the head coach has to take responsibility for every idea and plan even if it goes wrong. Despite this Dibert and O'Brien really like how their personalities balance and they work very well together.
Dibert stated her opinion on how the cheerleading team was before she took over as coach. To her, the team needed a lot of work. Dibert looked back on when she was an assistant coach, "If I'm looking at say, two years ago, when I was the assistant, looking at the potential of the girls, we actually had like five girls at that time that were competitive cheerleaders. I knew that they could do better and they just weren't being forced to do better. So I knew that once I took over I wanted to pull that out of them." Dibert also addressed that they needed to be sharper and needed to clean everything up, just a sprinkle of professionalism.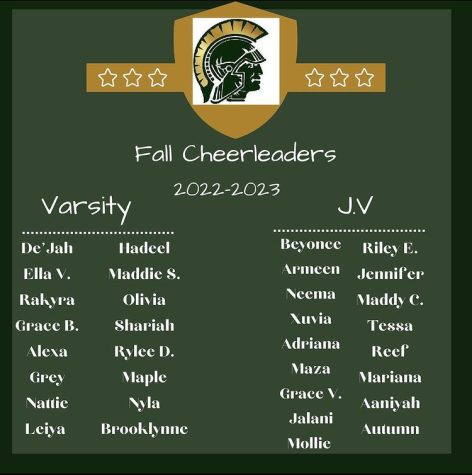 This year there was a high turnout for tryouts this year with 45 people trying out compared to the 20 people who tried out last year. The coaches' current goals are a lot more image-based, focusing on their cheerleader's grades and social media presence. Not to worry, though, they aren't planning to take away the cheer team members' personalities. O'Brien gave some clarity to this decision, "We're going to pay attention to what you look like and what you are presenting to the world. Not to sound like we want to cookie-cutter [the cheer team]. We still want them to have their personality and fun goofy side but their overall representation of the cheer program, outside of cheer we really are placing importance on."
The treatment of cheerleaders at West High isn't the best. Mariana Martinez '25 speaks about this from first-hand experience, "Occasionally we get looks as cheerleaders and you hear cheer is not a sport. Sometimes they assume that you're kind of a mean person. Those stigmas are definitely there."
The lack of respect towards cheerleaders is so rampant that Dibert and O'Brien have experienced it as well throughout their years of cheering. They spoke a lot about it but something that really stuck was when Dibert said, "There were countless times throughout my cheer career that I would get dropped on my head in the middle of a routine and you just have to pick back up and keep going. And that's the nature of the sport and there aren't really many other sports, if any, that it's like, you fall and get hurt but you still finish what you do. Like football, you fall and hurt your knee. They're stopping the whole game to make sure you're okay." Both Dibert and O'Brien think that the common misconception of cheer being an easy thing to do is mainly from the movie "Bring It On". It was the first movie to only focus on the cheer team but their representation of cheer is more cutesy and sexualized than what cheer is actually like. Cheer is disciplined and cheerleaders go to their own competitions along with cheering on the sidelines. Along with this cheerleaders have to make what they're doing easy and they have to cheer up an upset crowd when their team is losing. Cheerleaders have the responsibility of keeping the school's spirit, which is no easy task.