Protest breaks out after SCOTUS ruling overturns Roe v. Wade
The Supreme Court of the United States overturned Roe v. Wade on Friday, sparking protests across Iowa and the nation.
On Friday, June 24, 2022, the Supreme Court of the United States overturned Roe v. Wade. The case was a landmark Supreme Court case that was first decided on January 22, 1973. 
The original Supreme Court decision delivered by Justice Harry Blackmun was 7-2. The Due Process Clause in the 14th Amendment to the United States Constitution protects against state action to the right of privacy and abortion falls under that right. The court decided that a state law that prohibits abortion without respect for the stage of the pregnancy or other interests goes against that right. This case guaranteed federal protection of abortion rights. The overturning of this case means what to do with the issue of abortion is left up to the states.
Many Americans took to the streets after news of the ruling broke.
A protest against the new Supreme Court ruling overturning the landmark case was held in downtown Iowa City on Friday. The protest was held at the same time as multiple other protests across Iowa, including Des Moines and Sioux City. The Iowa City protest started at the Pentacrest where speakers expressed their opinions on the recent news regarding the court ruling and were followed by a march through the streets of downtown Iowa City.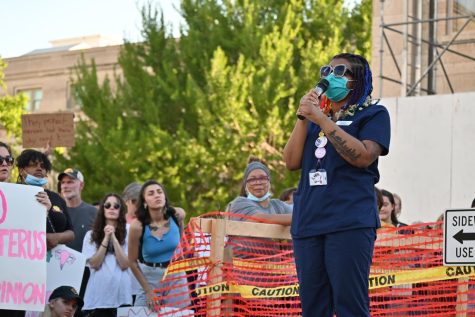 Speakers at the event included leaders of local organizations, such as Mandi Nichols, director of the Corridor Community Action Network. "Direct, mass action is what's needed right now. There isn't really any other way around the situation that we're in at the moment," they said. 
Many attendees expressed grief and concern over the decision, including Lisa Mellecker, an educator in the Iowa City Community School District. "I worry about my own reproductive health and that of my students," she said. "I have recently had a miscarriage and had to have healthcare that is now jeopardized with the passing of these bills. It makes me worried about women across the country and especially the people who will be most affected by this. Which are young women, poor women, and specifically people of color." 
Some attendees, such as Lina Murillo, assistant professor at the University of Iowa, still expressed hope even as they were upset by the news. "I always have hope. Look at this. We're surrounded by hope. So I always have hope," she said, pointing to the large crowd that had gathered to protest.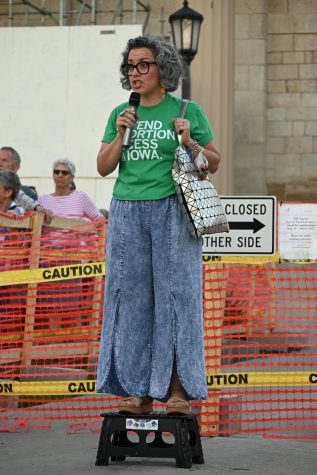 Another protest is scheduled for the Pentacrest this coming Saturday and there will be more throughout the nation in the coming days.