Overachievement: a double-edged sword
Find out how students set expectations for themselves and how they deal with pressure.
Two AP classes, four high-commitment clubs, a sport and a job. The heavy workload is barely manageable, especially for a freshman. However, it seems like everyone else around you is somehow doing more without feeling overwhelmed. So, what do you do? Instead of taking a step back, you try to do even more. As a result, you're constantly stressed and tired. You have one thing that keeps you motivated: the pressure to achieve as much as you possibly can – overachievement.
As a freshman first entering West High, people hear about all sorts of possible classes. People talk about classes to avoid, teachers to avoid, and how many AP classes to take. Students coming from middle school sometimes feel pressured by these conversations. Gwen Smith '26, a freshman involved in many clubs and after-school activities, offers some insight on people's initial expectations of high school. 
"I think middle school was really easy and things were lenient because of COVID. People were like, 'Oh, I'm going to do all this stuff because it's going to be easy,'" said Gwen Smith '26. "But it's not, because we're actually getting back into the swing of things."
"
People are really not prepared.
— Gwen Smith '26
The jump from middle to high school can be challenging. The mindset of high school is different and the expectations are higher. Besides the behavioral aspect, expectations for academics and extracurriculars are different as well.
"I don't think it really prepares you mentally. In high school, there's so much more going on like clubs, sports and general opportunities. In middle school, everyone was taking the same classes. You can pick whether you want to take a language or Earth and Space Science and that's about it," said Smith.
Teacher expectations have somewhat changed from middle to high school. Adam Salem '26 is a freshman that has a challenging schedule–two AP classes and two honors math classes.
"
I've noticed more homework. Teachers are also more strict sometimes.
— Adam Salem '26
"I'd say the teachers that I don't have AP classes for are very similar in regards to the teachers at Northwest, but the AP teachers seem to be more strict. They uphold you to the standard of the AP test," said Salem.
The COVID-19 pandemic hasn't helped with preparing students for high school. Expectations during COVID were much lower, and the online format was very different from the in-person format.
"There's still this expectation of hours of homework every night, depending on what your schedule is. Students might not have the skills to be able to reach those high expectations. It was really hard for students to miss Junior High. A lot of our students didn't get a traditional Junior High experience," Kelly Bergmann, a counselor at West High.
Why do people sign up for these difficult classes and tons of extracurriculars? Some want a challenge, while others feel pressured by the people around them. Seeing the successes of other people can cause people to raise their expectations, sometimes subconsciously.
Having these higher expectations can be good. It can push students to try their hardest and achieve goals they might not have thought they could achieve before. They can also push people out of their comfort zone and encourage them to try new things.
"Sometimes, it pushes people to do things they never thought they could. When they are successful, they are like, 'I never would have done that if you hadn't encouraged me to do it, and now I've discovered that I really love this subject,'" said Kerri Barnhouse, English teacher.
On the flip side, having expectations that are too high can cause problems with mental health. Dr. Barry Shreier is a professor of Counseling Psychology at the University of Iowa. In an email interview, he explained that constantly having expectations outside of our reach can lead to prolonged stress, which can eventually lead to anxiety.
"
It is vital to have expectations and to have flexibility about our expectations so that prolonged and unsatisfiable stress do not become anxiety.
— Dr. Barry Shreier
"Expectations are better suited when they fit within our ability to reach them and do so with only moderate costs to ourselves," Shreier said.
This is much easier said than done. It can feel nearly impossible to have reasonable expectations when it feels like everyone else is doing more. Senior Alice Doresca '23 offers advice on how to do this:
"Remember to do stuff for you, not for anyone else and not for how it may look," said Doresca. "Do stuff because you are actually interested in it and because you want to do it."
Jayden Shin '23, president of Student Government, also has advice on how to set and achieve goals.
"The best advice I have is to get a good group of support, especially amongst your peers. This could be a friend group or a study group. They can really push you to your limits to perform your best, but also be the safety net when you're feeling overwhelmed," said Shin.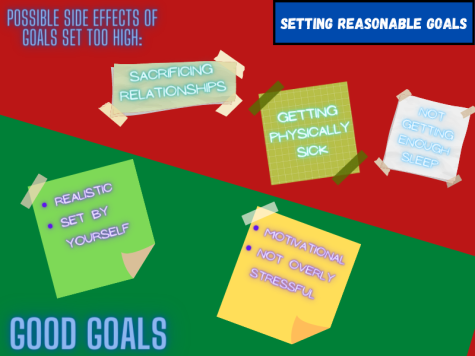 Leave a Comment
Donate to West Side Story
Your donation will support the student journalists of West High School. Your contribution will allow us to purchase Scholarship Yearbooks, newsroom equipment and cover our annual website hosting costs.
About the Contributor
Abby Guo, Video Editor
(she/her) Abby is a junior at West and this is her second year on staff. She is the Video Editor for the WSS. In her free time, she likes to hang out with...