Westgrown: Two sisters call West home
Aria Warren '26 and Audra Warren '18 share a love for West and each other.
New Beginnings
As the sun rose on a warm August morning, Aria Warren, a freshman, and her sister Audra Warren were driving to both of their first days at West High. This was actually Audra's second first day at West, but this was her first day as a paraeducator. As Harry Styles played on the radio, Audra reflected on her past and future with her and sister, Aria. When Aria was born, she had complications leading to Cerebral Palsy, making her nonverbal and needing a wheelchair with a computer that communicates for her.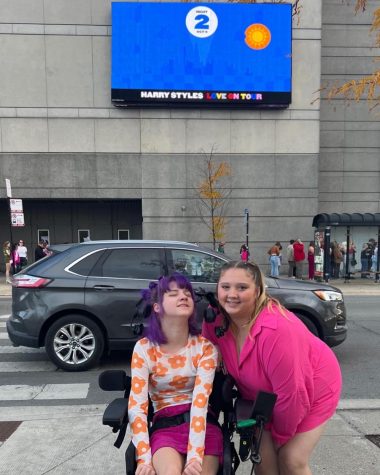 Despite the age gap of eight years, the two quickly became very close.
"I remember when I was little, I always wanted to take care of her by myself," Audra said.
This friendship would continue on for years. When Audra graduated high school, they felt a drift in the friendship. Her first year of college came and went, but in March 2020, Audra and Aria's life changed forever when the world shut down due to the pandemic. 
COVID-19
When the world shut down, 80% of families reported becoming closer than ever before. The Warrens were no exception.
"When the pandemic started we became closer," Audra said.
But, as the 2020-2021 school year started, the family faced issues with Aria's paraeducators. With the pandemic, ICCSD decided not to send paraeducators into homes for health and safety reasons.
"[School] was very hard. I needed a one-on-one para and I didn't have that," Aria said.
Meanwhile, Audra was finishing up her final year of college at the University of Iowa. She saw Aria's struggles without a paraeducator by her side and decided she would take up the role herself.
"I essentially had to be her para while going to school," Audra said.
While juggling her own schoolwork and helping Aria, Audra started feeling the pressure.
"It was really frustrating at first," Audra said.
Aria cites how she admires Audra's perseverance in helping her even though it was not her job at the time.
"Audra had to end up working with me at home even though it wasn't her job," Aria said.
During this time, Audra fell in love with helping Aria and started working with her full-time. 
This year at West
As life returned to normal, Aria found herself starting her freshman year with no stable paraeducator.
"She was constantly changing paraeductors," Audra said.
Over the span of two years, Aria had three different paraeducators. This was when Audra told her sister the news, she was becoming her paraeducator full-time. Audra decided she would help Aria with this adjustment as much as possible.
"I feel like it was hard for her to adjust," Audra said.
Audra continued to be her sister's rock throughout high school.
"Having a more stable person that knew her very well has been an easier adjustment," Audra said.
Audra is with Aria every step of her day. From waking up to going to bed, Audra spends almost all her time with Aria.
High school can be a hard adjustment for freshmen. Being in a new environment with new people tends to overwhelm many students when they first walk through the doors of West High School. The two walked in together on the first day ready to seize the halls of West High hand in hand. 
Aria decided to join cheer for her freshman year. She cites cheer as a community for her at West High.
"I don't know what I would be doing if I wasn't cheerleading," Aria said.
Not only can students see cheerleaders on the sidelines cheering for the Trojans, but also helping with car washes and having team get-togethers.
"The people on the team are uplifting, fun, and understanding," Aria said.
Audra goes to these practices with her sister and has formed a friendship with the coaches as well. 
As Life Goes On
Although the two spend over eight hours together every day, they love to spend time with one another outside of school.
"We love going to concerts together," Audra said.
The two have gone to a plethora of concerts, from Harry Styles to Elton John. Audra gets a weekend off every once in a while when their mom can be home.
"I think the balance is good, but Audra deserves every weekend off," Aria said.
The two have maintained a close friendship despite going to school together as well. "We tell each other everything, we are always together," Audra said. 
Audra has pushed her sister to inspire others and make social change as well. Aria plans to participate in the "Iowa Miss Amazing Pageant" on February 4 at Urbandale high school. This pageant is hosted for people who have disabilities to encourage performance and an increase in self-esteem. Aria will be seen in her homecoming dress along with a ball gown to wear on stage. "If I win, I get to do different things around my community to advocate for disabled people's rights, which I'm really passionate about." Aria said. .
"
" It's hard to find my voice and how I want present myself""
— Aria Warren
Performing is something that has empowered Aria throughout her life. From Hancher Auditorium in a group dance to Iowa City pride by herself, Aria can be seen around town on stage.
"Being on stage is exhilarating," Aria said.
In June of 2022, Aria took the Iowa City pride stage and danced to music for the crowd.
"At pride people are screaming and cheering and there's loud music blaring," Aria said.
The environment is something that encouraged Aria to continue performing in cheer and hopes to again next year. 
Leave a Comment
Donate to West Side Story
Your donation will support the student journalists of West High School. Your contribution will allow us to purchase Scholarship Yearbooks, newsroom equipment and cover our annual website hosting costs.
About the Contributor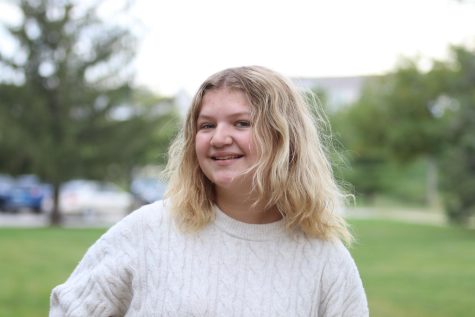 Isabella Tisdale, Feature Editor, Visual Editor
(she/her) Isabella Tisdale is a junior at West and is excited for her second year on staff! In her free time, she participates in varsity show choir and...