Bright lights shine down on the football field as players run onto the wet grass. Energy radiates through the stands, and the sound of the band warming up fills the atmosphere. Amidst the chaos, Ahmed Mohammed '24 is on the field with his camera, focused and ready to record highlights of the game. This is how he uses his love for videography to bring the West community together. 
"Videography and photography have always been a passion of mine. I just never had the opportunity to pursue that passion until my senior year," Mohammed said. "I would watch TikTok or Instagram Reels, especially those showcasing cinematography or sports content, which has been a source of inspiration for me."
For Mohammed, his interest in videography began at a young age and later led him to document and craft sports highlight reels. 
"At first, I would edit gaming videos, record myself with words of inspiration and upload them onto YouTube in hopes of inspiring others," Mohammed said. "That's what got me into sports videography; I enjoy building a connection with individuals and showcasing their dedication and determination to the sport."
Mohammed's sports videography journey began with hopes of inspiring others but has grown into much more. His social media pages, meddmedia, have reels of local sporting events and can be viewed on various social media sites. 
"At first, I just [filmed] West, started uploading my videos online and I got some recognition," Mohammed said. "Then, I started shooting for one page, IA Sports, for free. I [then] reached out to Bound. [Now], they [tell] me where to [film], and I get paid for it."
Mohammed delves deeper into how shooting for Bound IA, a page that features Iowa high school sports, has impacted his videography. 
"Shooting videos for Bound has played an important role in my videography journey. It has allowed me to reach a broader audience and connect with videographers across the state of Iowa," Mohammed said. "I was fortunate enough to have opportunities to work with several different schools due to the exposure I gained through Bound."
I enjoy building a connection with individuals and showcasing their dedication and determination to the sport
— Mohammed '24
When he's not filming sports on the sidelines, Mohammed is a competitive powerlifter. The process of competitive powerlifting entails squat, bench and deadlift. The heaviest lift out of the three attempts for each lift counts towards the total, which is how placements are determined among the competitors. Mohammed elaborates on how he got into powerlifting. 
"Freshman year was COVID, so I gained a lot of weight. I felt like I wasn't myself anymore. Then, sophomore year, I did performance PE," Mohammed said. "There was a time [when] one of my friends noticed the progress I was making and that bit of encouragement pushed me to get into powerlifting."
Alex Mammon, a coach at a local powerlifting club, works with Mohammed to help him achieve his powerlifting goals. 
"I met Ahmed at a meet in Des Moines, Iowa. I was coaching a few of my clients from the Des Moines area and Ahmed came to the meet. He started talking to one of the people I coached. Me and Ahmed started to get to know each other," Mammon said. "He didn't have a coach and was pretty new to the sport, so we formed a relationship and started [communicating]. We officially started working together after that."
After jumping deeper into the sport, powerlifting has become an integral part of Mohammed's schedule.
"It's become a routine — I can't go a day without lifting. Maybe I haven't gone a whole week without lifting ever since I started sophomore year," Mohammed said. "It's built my physical and mental strength and makes me feel better about myself. [Powerlifting] is one of my proudest achievements."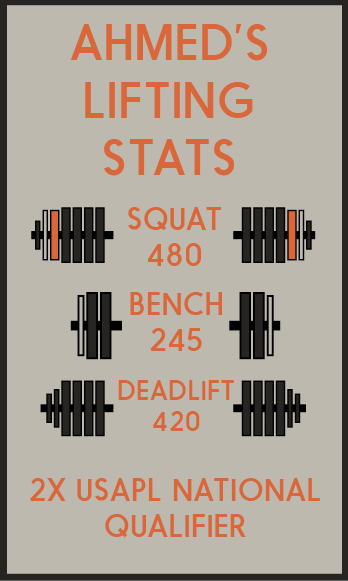 Mohammed explains the hardships of competing in powerlifting. 
"It takes more mental strength than physical strength because it [takes] a lot of factors [into account], like sleep, mental health, how you feel every day. It's a lot on us," Mohammed said.
Mammon notes how Mohammed stands out from other powerlifters and how he's fit for the sport. 
"From the time that I started working with him in February to now, he's grown incredibly fast, just in terms of his mental fortitude, and the weight that he's lifting," Mammon said. "He's built for the sport and he has the mentality for it."
The benefits of power-lifting have positively impacted Mohammed in all aspects of his life. 
"Not many people fully understand the impact that powerlifting has had on me in my high school career. Powerlifting has opened a door for mental healing and building a body that I could treasure, and no one could take that away from me," Mohammed said. "Powerlifting has taught me the beauty of discipline, consistency, hard work and goal setting, allowing me to take pride in my accomplishments. These principles have translated over to my academic life, empowering me to achieve [my] educational goals."
Powerlifting has taught me the beauty of discipline, consistency, hard work and goal setting, allowing me to take pride in my accomplishments.
— Mohammed '24
Balancing a plethora of activities on top of schoolwork can be overwhelming, but Mohammed is able to handle it well. 
"What I've seen from Ahmed in his training schedule is [that] he takes the large load I give him in terms of his training intensity and training volume on top of school, on top of work, on top of other extracurriculars, and he's someone [who] just balances things really well," Mammon said. "Even though it's stressful, he continues to push through. He's someone [who] will not give up if something gets hard."
Mohammed has set ambitious goals for himself to accomplish within the next few years. 
"My goal in powerlifting is to reach the national level, either by gaining recognition or becoming a national-level competitor," Mohammed said. "In videography, I want to turn it into a business, showcase my work to a wider audience and collaborate with big companies and sports teams."
Mohammed shares a piece of advice for students who are in a similar situation as him. 
"As cliche as it may sound, reach for your dreams and pursue your passion. If you had told me four years ago that I would be in the position I'm in right now, pursuing the hobbies I'm passionate about, I wouldn't have believed you," Mohammed said. "I used to be so concerned about what people would think of me, and that fear held me back from taking the first step."