Bernie rally features celebrities and musical guests
This Saturday, Jan. 30 many students from West High attended Senator Bernie Sanders's event "Students for Bernie Sanders" at the University of Iowa Field House.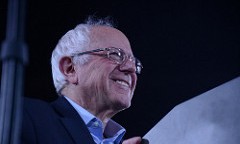 The University of Iowa Field House was filled to the brim on Saturday, Jan. 30 as Bernie Sanders took the stage for his event "Students for Bernie Sanders." Joined by guests including Foster the People, Vampire Weekend and Josh Hutcherson, the rally drew people from all over the Midwest.
Several West students were in attendance including Megan Kuennen '19.
"Josh Hutcherson brought me out," she said. "I'm also a die-hard Bernie fan."
Izzy Martinez '18 also came for the famous actor, but further to hear Sanders speak about his policies.
"I love Bernie and Josh. I love [Bernie's] ideas about how he wants colleges and universities to be free and [more] LGBT rights," Martinez said.
Hannah Krupp '17, who plans on caucusing for the senator, is also a fan of his emphasis on education, among his other ideologies.
"I like his policies; how he cares about women, he cares about the [middle class], how he really cares for everyone," she said. "He really cares about school and thinks everyone should have a great education, which I think is awesome."   
"
I like his policies; how he cares about women, he cares about the [middle class], how he really cares for everyone."
— Hannah Krupp '17
Sanders's emphasis on coming together is what may have stemmed Krupp's idea of him caring for everyone.
"The only way that we can bring real change to this country is when millions of people, young people, working people, black people, white people, latino people, gay people, straight people, all of us stand together, and very loudly and clearly say enough is enough!" Sanders said.
Actor Josh Hutcherson emphasized his desire for a president that would work hard for everyone, not just a certain demographic.
"I believe that right now he is right in his quest to make a government that is for the people, by the people [and] actually works for the people," Hutcherson said.
The event was met with the excitement that would be expected in a room full of celebrities and passionate campaigners. Although Ned Furlong '17 will not be able to caucus, he was especially drawn in to the exhilaration he was hoping to experience.
"This is Bernie's land, so it's going to be really high energy," Furlong said.
Some older students, like Carolyn Shultz '16, attended to learn more about his policies and exercise their right to caucus.
"I'm excited to hear what Bernie has to say because I can caucus on Monday but I haven't decided who," Shultz said.
Ezra Koening of Vampire Weekend pointed out that Sanders has been "saying" similar policies throughout his time in public office.
"Thank god we have YouTube. We can go back and watch Bernie's speeches, 1991, what's he saying? Same thing he's saying today. 2002? Same thing he's saying today. It's not boring, it's amazing. We're so excited to hear it," Koening said.
Ultimately, Sanders and his endorsers were trying to convince all attendees to caucus for him, with the senator saying, "When your friends say they don't care about politics they are saying they will allow someone else to make important decisions for your life. You should be making [those decisions] instead of a billionaire on Wall Street."
Sanders has been known for his ability to appeal to younger voters, and at the end of the rally joined the musical guests on stage to sing a rendition of "This Land is Your Land", complete with lyrics on screen for everyone in the audience to join.
Click on the image to view more photos.
Photos by Sarah Longmire