Meet the senior boys soccer starters
After a falling short of a state championship last year, the West High boys soccer team enters this season with an abundance of motivation and talent. The West Side Story sat down with the seniors who lead the traditionally successful team.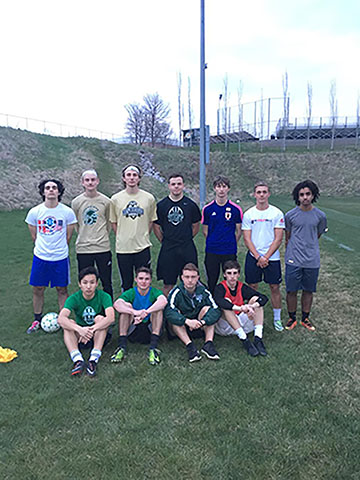 West Side Story: What is your favorite aspect of soccer?
Alex Andersen '17: Being an impact player and making big plays when the team needs me most. I love scoring goals and celebrating with my team and the fans.
Zach Logsden '17: I'm really competitive, so I like winning, but I also like how close I am with all of my teammates, especially the ones I wouldn't know if it weren't for soccer.
Zach Frisbie '17: I enjoy winning and the feeling that winning brings, but I also love the competitive nature of the sport and being able to play with a lot of my friends.
Sam Choi '17: When the team scores a crucial goal and we celebrate together.
WSS: What's your least favorite part of soccer?
AA: I wish soccer was as hype as football is in the United States; everywhere else in the world soccer is life, just not here.
ZL: I don't like the way other people see soccer. People try to say it isn't a contact sport and that it's soft, but I've played every popular sport competitively at some point in my life and the only sport that's more physical is, obviously, football.
ZF: I'd have to say some of the stigma that comes with it. When you watch professional games and people flop and such, it's assumed that's how all players are.
SC: Having a tiny moment of the game decide the winner and regretting that moment.
WSS: What is the pressure like being on such a historically successful team?
AA: The stakes are high and the pressure is there; everyone knows what it means to play for West. But we don't let it consume us, we just have to play our game and get the results.
ZL: It's not too bad because we have it in us to be just as successful as the program has been for years and it forces us to have high expectations for ourselves which is good.
ZF: I think a lot more is expected out of us, but it's not necessarily bad because it gets us to step and try to fill those shoes.
SC: Every loss feels like a huge blow, and every team we play wants to beat us that much more.
WSS: What are your individual and team goals for the season?
AA: Beat City High and win the state title. I have a lot of individual goals for myself, but the team goals are most important. If the team is winning and I'm contributing, my individual goals will come along with the journey.
ZL: I want to beat City and win state. For my personal goals, I really just want to contribute to the team in any way I can to make sure those two team goals happen.
ZF: We want to beat City, win the conference and win state. For me personally, I want to get all conference goalkeeper and hopefully all state and have the lowest goals against average in the conference
WSS: What are you guys doing differently this year to get further than you did last year?
AA: This year we are spending more time as a team together and testing our mental toughness. We choked when we went down late in the game last year in our state tournament loss, and this year we are focusing on staying tough when the odds are against us and having the mindset that anything is possible.
ZL: We had a great season last year besides our performance at state. We were prepared for state; we just choked. So really we're preparing in the same way, we just can't choke this year.
ZF: There's a lot more intensity at practice, we have a lot of seniors this year, and for a lot of us it's our last soccer season so we are really putting everything we have towards this season. There's also a lot more focus since we all have a common goal in mind.
WSS: How is this year's team different than last years?
ZL: The team last year came back from a season where we didn't make state, and a lot of the guys were satisfied just getting to state. The team this year has experienced going to state and losing in the first round, and none of us will be satisfied until we win it all.
ZF: Last year we were all friends outside of soccer too but this year it's even more so, we are all super close and have a lot of chemistry together. A lot of us have been playing together way before high school.
WSS: What do you feel is the most important aspect to winning state?
AA: It's a team sport. Yeah, individuals can make an impact, but it takes a whole team of 11 and strong bench players to win big games. When everyone does their job and has the killer instinct to win, the big games are just another game to take care of business.
ZL: The team needs to want it enough that they'll do the running to win back the ball, they'll get stuck in on a hard tackle, and they won't back out of a 50/50 challenge. It's purely mental. We have the skill.
ZF: The team leadership and just pure commitment to doing so, I've been on a state winning team once and that was easily the most committed team I've played with. They were talented but not the most talented I've played with, but they had great leadership and a common goal in mind.
WSS: What role do the seniors play on the team?
AA: The seniors set the example for everyone; the younger guys look up to us for answers and for encouragement. We seniors play an important role when it comes to positive body language and right from wrong on and off the field.
ZL: The seniors bring leadership and experience to the table. Without either one, the team's chances of being successful are slim to none.
ZF: Leadership, without seniors to lead or at least some people to lead in general a team can't be successful. The seniors are the ones that need to set an example for everyone else to follow and help lead the team.