From Trojans to Bolts
West Side Story takes a look at how former West students are adjusting to life at Liberty.
On Aug. 23rd, Liberty High opened up its doors to 754 students eager to start the year at a brand-new school. Many of Liberty's students and faculty came from West High, including principal Scott Kibby. Starting school in a new building has presented many challenges, but it has also provided many unique opportunities.
Students moved to Liberty for a variety of reasons ranging from convenience, to wanting something new. "I just thought that it'd be cool to be the first graduating class," said Breeyn Gryp '18. For a lot of students, it was an issue of transportation efficiency. "Liberty is only 2 minutes from my house, whereas West was around 15-20 minutes away," said Maddie Houser '18.
Additionally, students with siblings going to Liberty found joining their siblings easier. "My parents thought it would be better to stay in school with my little brother who's a freshman," said Niam El-Zein '19.
For English teacher Kathryn Jacobson, Liberty offered the possibility of a change.  "I was into my 24th year of teaching, and my…16th year at West," Jacobson said. "I was kind of excited about the idea of trying something new." Although Jacobson is teaching almost all the same courses she taught at West, there is one big addition that she has had to get used to. "Going back and teaching English 9 and having three sections of it…it's been an adjustment," Jacobson said.
Officially, Scott Kibby's title was changed from athletic director of West High to principal of Liberty High last year, but his duties this year are anything but similar. Kibby has had to transition from theoretically laying out all of the intricacies of Liberty to actually implementing them with the students. "It's so different. I don't even know how to describe it," Kibby said.
"
It's so different. I don't even know how to describe it."
— Scott Kibby
One issue for students has been class schedules. With few students occupying such a wide range of academic interests, it was not feasible for many classes that are now offered at West to be offered at Liberty. Additionally, many electives or classes with otherwise fewer students are only available during one period of the day because there aren't enough students to create another class. "I was not notified until registration day that I had three classes that were only available second period, so I had to completely revamp my schedule," said Carley Spading '19.
Having to find alternatives to desired courses evidently isn't always a bad thing. For Nick Hoover '18, needing to replace an unavailable class allowed him to pursue another interest: art. "I did want to take a psychology class, but that was only being offered at West," Hoover said. "In place of that, I ended up trying…Black and White Drawing." Likewise, scheduling shifts have allowed Tatum Elmer '18 to succeed in new things. "I joined in classes that I didn't think I would," Elmer said. One example is Foundations of Journalism, which has allowed Elmer to land a position as editor-in-chief of Liberty's yearbook.
As with any new endeavor, not everything has gone as smoothly as planned. "People think that because it's a new school that everything's going to be perfect," Kibby said. This has not been the case. Liberty has experienced its fair share of kinks and technical issues, but the staff has figured out how to solve the problems as they come. "We're all one team working together," Jacobson said.
At the end of the last school year, 644 students declared that they would attend Liberty High. However, over the summer, 110 additional students registered, which brought the school's population to 754. This presented the administration with a big problem, as plans and calculations for the school were made based on the original student count. "We staffed it based on 644 kids," Kibby said.
Liberty's relatively small size, yet initially unexpected increase in student body, has led to class sizes occupying both ends of the extreme. "My French class has [about] 6 people," El-Zein said. On the other side, some required classes like English 9 started the year with over thirty kids. To scale down the larger classes, the administration has had to continue hiring teachers into the school year.
At Liberty, the freshman class alone makes up nearly one half of the student body, while the senior class consists of 41 students, about one-tenth the size of West's. For Houser, this has had a lot of positive impacts. Many of her classes are smaller, which she finds makes the teachers much more accessible. This new experience has also allowed the senior class to bond.  "It's really cool to me that the senior class is…reaching out to one another and trying new things," Houser said.
"
It's really cool to me that the senior class is…reaching out to one another and trying new things."
— Maddie Houser '18
It doesn't look like there is going to be an intense Liberty-West rivalry like that between City and West anytime soon. "I would just remind people that…the vast majority of us came from West High and we love West High," Kibby said. Many of Liberty's former West students still maintain close ties with West through their friendships and even by cheering on West at sporting events. "We want West High to succeed…to me, we're family."
Leave a Comment
Donate to West Side Story
Your donation will support the student journalists of West High School. Your contribution will allow us to purchase Scholarship Yearbooks, newsroom equipment and cover our annual website hosting costs.
About the Contributor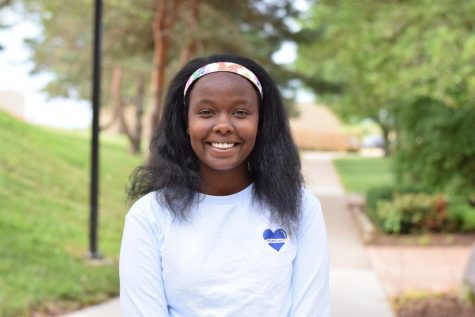 Eman Elsheikh, Videographer
Eman Elsheikh is a senior at West High. It is her first year on staff and she is a Broadcast videographer. When she's not working on videos, Eman watches...