So much more than this: a "Just the Beginning" review
Despite a powerful voice and a unique way of songwriting, Grace VanderWaal's debut album finds itself swerving in too many directions while having a stereotypical pop sound.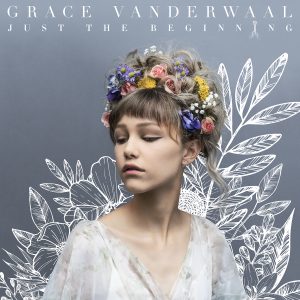 When 12-year-old and blonde-bobbed Grace VanderWaal stepped onto the stage of "America's Got Talent" last year, viewers were charmed. Then she started strumming her ukulele and began to sing a song she wrote herself. Everyone was blown away, so much so that Howie Mandel gave her the golden buzzer. A few months later, she won the season.
Not long after she was crowned, VanderWaal began work on an extended play called "Perfectly Imperfect." It included the song she auditioned with, "I Don't Know My Name," other originals she performed on the show plus a new track. I didn't listen to the five-track collection much before hearing this album, but I liked what I heard. VanderWaal is a charming and captivating performer, and the songs on that EP resonated with me and no doubt a lot of other listeners. I also liked how VanderWaal's signature ukulele grooves accented most of the tracks, showcasing her unique brand of folk-leaning pop.
I had no idea the turn-around for a full-length album would be so fast, though. When I listened to the lead-off single released in June, something felt off. VanderWaal's voice was still powerful and held that storytelling I liked, but the point-of-view shifted in the chorus and the pluckiness felt subdued despite its earnesty. I put it aside for a while, mulling over my thoughts as I gave "Just the Beginning" a few more rotations.
(Columbia Records/Syco Music)
Now, that first single "Moonlight" has grown on me. VanderWaal has gone on record to say the track was inspired by a friend of hers who tried to mask their mental illness. This shines clear in the verses, where VanderWaal describes a girl who "always has a smile from morning to the night" and is "the perfect poster child" that "all her friends think [is] great." But at the same time, she's "a doll made out of glass" and "about to break." When the chorus hits, the plucky ukulele groove anchors jaunty percussion as she pleads for her friend to remember how they once were. Maybe the uneasiness I felt before had to do with the production choices of Ido Zmishlany, even though his work for artists like Sabrina Carpenter and Bea Miller has been experimental but solid.
(Columbi Records/Syco Music)
That doubt fades away with the next song, "Sick of Being Told." It's a kiss-off anthem where VanderWaal "is sick of being told what [she] should know." "I wanna run away just to live my life my way," she murmurs, one of the quieter moments on the song when she isn't defiantly belting. Bass, ukulele and drums joyfully accent the piece, making it extra peppy and perfect for motivation. It's easily the most focused song on the album, getting to its message loud and clear.
Unfortunately, that's the strongest focus we get here. The next track "Burned" has intensity thanks to minor piano progressions and haunting orchestration, but the lyrics veer off course. Although I love the imagery of someone blowing out birthday candles, a song about being mature gets tossed out the window when a chorus about a boy putting himself in dangerous situations hits. This isn't the only circumstance throughout the twelve songs' lyrics. The second single "So Much More Than This," aside from being an awkward stab at reggae, goes from a broad focus to a personal one in its second verse, even though the main message is that there is more to life than what society sells to the world. "Insane Sometimes" is a third example of this lack of direction. The line "I tried to look excited when you walked in the door" throws off a theme about embracing the craziness inside all of us. These continual tidbits detract from VanderWaal's strong thematic ideas, making her artistic strokes messy.
(Columbia Records/Syco Music)
Then there's her voice. She's capable of so much as a vocalist, but she continually pushes her singing to the breaking point. "Just a Crush," despite content that doesn't sound out of place with elementary school relationships, sounds uncomfortably nasally and grating. "Escape My Mind" has her screaming the title of the song to the point where I'm afraid she's going to rupture her vocal cords. And then there's "A Better Life," which, besides of a weird "lighter making somebody happy" lyric, spends most of its time in a delicate register that lacks subtlety. No doubt VanderWaal will grow as a performer as her career continues, but there's no depth on this album to convey the complexities of her messages.
Lastly, the production is somewhat of a disappointment. Ukulele mostly gets drowned out here, something that would've made this album pop. Songs like "Florets" and "City Song" make up for this. The former captures restlessness in a flourishing dreamscape without needing the instrument. The latter incorporates the sounds of New York City to show how beautiful it is while ukulele adds weight further in the mix. But the rest of the mastering feels indiscernible from other pop records released this year. The ungrammatical "Talk Good" is the most like this, with deeply-pitched background vocals and a dark orchestral body. Despite its relatable content, it feels off, much like "Moonlight" did on first listen.
"
…Continual tidbits detract from VanderWaal's strong thematic ideas, making her artistic strokes messy."
— Luke Reynolds
Even with these disappointments, VanderWaal's debut shows a lot of promise. She's already so talented at 13, and she's blossomed since the EP. Everything just lacks the fresh distinction I was expecting. Hopefully her next project will be stronger. After all, this is only just the beginning.
Leave a Comment
Donate to West Side Story
Your donation will support the student journalists of West High School. Your contribution will allow us to purchase Scholarship Yearbooks, newsroom equipment and cover our annual website hosting costs.
About the Contributor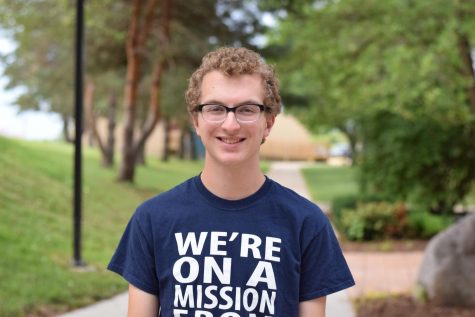 Luke Reynolds, Copy Editor, Anchor, Reporter
This is Luke's first and only year as a member of West Side Story. He'll be kept busy with anchoring, editing and reporting, but he's gonna have fun while...