Look what you made me do: a "Reputation" review
Taylor Swift's sixth album shows how she's evolved into an edgier singer, but the bite lacks self-aware color.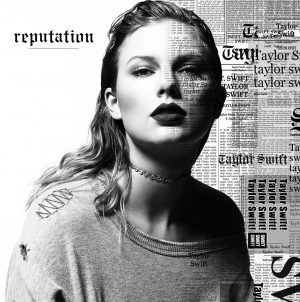 No one can deny the power Taylor Swift has over pop culture. Ever since 2006, her sweet and sincere pop country music has melted hearts and brought together a massive fan base. Even when she transitioned to pop and embraced the style of the 80s, losing some of that relatability that made people fall in love with her in the first place, most didn't care. They embraced her anyway.
That hasn't changed now, even despite the complete demolition of Swift's reputation last year. From Kim and Kanye, "receipts" and all the snake emoji's, a fan couldn't be a fan without learning about the drama and supporting her. But if some lost that gleam of excitement, they could blast her. Regardless, it seemed to be a lot for Swift. She shrank back from the spotlight and recuperated. But her absence allowed her the chance to create her newest album since 2014's 1989. The title, "Reputation", hinted at something more. Would Swift address all the battering her reputation received? Would she rise stronger from the ashes?
(Big Machine Records)
She did rise from the ashes, but I didn't expect a new sound to come with it. Hearing "…Ready for It?" for the first time is an experience. The thick bass pounds, building up until it gets faster and Swift clears her throat. Then she starts to sing in a rap-like cadence: "Knew he was a killer first time that I saw him. Wonder how many girls he had loved and left haunted." It's almost disorienting to hear her take this modern route, but it's an ultimately catchy song that sets the tone for the new Taylor Swift. She's confident, assertive and ready to "let the games begin."
(Big Machine Records)
This continues throughout the tracks on "Reputation". Swift's increased conviction leads her to make decisions that make her more open. From expressing her sexuality on songs like "Dress" ("Only bought this dress so you could take it off") to a declaratory appreciation for love on "King of My Heart" ("You are the one I have been waiting for"), her change is clear. Her details and motives are sharper and she's ready to strike on anyone who tries to take her down. "Look What You Made Me Do," the lead-off single, is disapproval in its final form: "I don't like your little games, don't like your tilted stage, the role you made me play of the fool. No, I don't like you." This anger has become volatile, a weapon ready to fire. "Look what you made [her] do" indeed. Swift isn't playing anymore.
Granted, that can be taken with a grain of salt. Swift may be playing up her vengeful side to show exactly how her haters think she acts. Let them believe she's an egomaniac; she's still reaping the success. But it's this kind of raw ego that permeates the whole album and raises some questions. By playing up this petty side people believe is true, is she falling into a trap? Does she not realize how bad she's making herself sound at points?
(Big Machine Records)
Take "Gorgeous" and its opening lines as an example: "You should take it as a compliment that I got drunk and made fun of the way you talk." I cringe a little bit every time I hear that. It's the kind of self-entitlement you'd find played up for fun on a Meghan Trainor record. Here it just seems nasty. Why would you think some guy would like getting dissed by your drunk self? That's a jerk move. And then she tells him to "think about the consequence of [his] magnetic field being a little too strong." There's just so much attitude that isn't self-aware. Blaming all your problems on a guy solves nothing.
This problem persists throughout most of the album's songs, not helped by production that tends to blend things together. "End Game" revels in living in glory with a partner, and although Ed Sheeran's rap is endearing, Future and Swift doing the same is awkward. "I Did Something Bad" celebrates as well, but in this case Swift is more interested in using her loved one. The result brings a synth that sounds like someone's slipping on a banana and Swift doing a chant that makes me want to plug my ears.
(Big Machine Records)
But everything doesn't have this feeling. One Max Martin and Shellback-produced track, "Don't Blame Me" is catchy and sticks out. It also takes that defensiveness and applies it to love. If you were consumed by it, wouldn't you go crazy too? Also, most of Jack Antonoff's production is stellar. The man behind Bleachers and Lorde's Melodrama, he provides beautiful keyboard textures and intense percussion. Despite the sourness of "This Is Why We Can't Have Nice Things," songs like "Call It What You Want" and "New Year's Day" show Swift has held on to her tenderness. The former is a love song to a new flame, one who's "fit like a daydream" and is "high above the whole scene." The latter is a heartbreaking ballad, one where Swift is cleaning up after the party and holding on to memories that have defined her. Her plea to the ones she loves: "Please don't ever become a stranger whose laugh I could recognize anywhere." Piano chords and ghostly backing vocals accent the end of an album that takes many turns and uncovers the beating heart underneath Swift's armor.
"Reputation" as a whole is a mixed bag. Despite some great highs (one being the excellent song "Getaway Car"), the lows really wash away any sense of Swift's self-awareness that should come out of her behavior. As such, this record feels cold and monochromatic, missing the ideal color that would give it the pop it deserves.
Leave a Comment
Donate to West Side Story
Your donation will support the student journalists of West High School. Your contribution will allow us to purchase Scholarship Yearbooks, newsroom equipment and cover our annual website hosting costs.
About the Contributor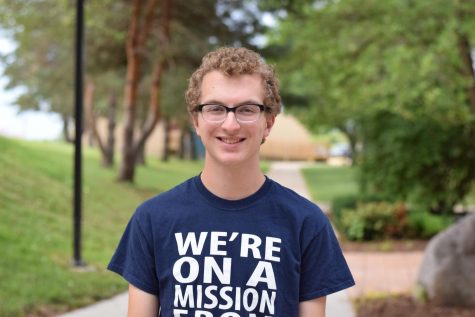 Luke Reynolds, Copy Editor, Anchor, Reporter
This is Luke's first and only year as a member of West Side Story. He'll be kept busy with anchoring, editing and reporting, but he's gonna have fun while...