I think I lost myself: a "Ruins" review
First Aid Kit returns on their most heartbreaking album to date, centered on reminiscing on a finished relationship.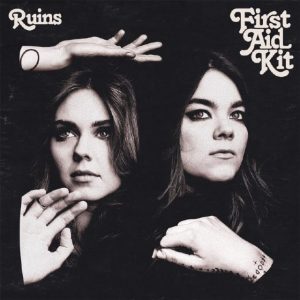 Heartbreak permeates a lot of the art we consume today. Perhaps that's because it pops up so often. It seems like every day there's another headline announcing a divorced power couple, or another song, book, poem or painting based on a relationship that burned out. We read the article or the novel, listen to the words being sung or stare at the slashes of color across canvas and we feel that ache. Even if we've never been in a relationship, we understand the pain and immense sadness.
First Aid Kit understands it as well. While on a hiatus, younger sister Klara Söderberg broke up with her fiancé while living in England. This opened the pathway to new music after the success following 2014's "Stay Gold." After listening to that record and 2012's "The Lion's Roar," I became familiar with their style: breezy Americana, the sweetness of country and the down-to-earth grit of folk combined into one peaceful whole. Their critical acclaim gave me motivation to give "Ruins" several more spins after its first.
I'm so happy I did. The fourth album from the sisters is their best yet. It's an absolutely beautiful and lush record that captures the various emotions someone feels after their heart's been broken: confusion, loneliness, acceptance and even anger. Johanna and Klara share beautiful harmonies and write intense songs that speak to these emotions with a haunting accuracy. The fact they combined this ruminative writing with production by Tucker Marine and some of the richest Americana instrumentation I've heard only makes everything resonate louder. For those who have gone through their own relationship woes and need a testament to their experience, this is the perfect album for them. Kudos to First Aid Kit for portraying the ruins of what once was phenomenally well.
"
["Ruins" is] an absolutely beautiful and lush record that captures the various emotions someone feels after their heart's been broken…."
— Luke Reynolds
The record starts off on a tragic note with the longest track, "Rebel Heart." The sisters show an ex-lover at their most stricken, "a storm coming through" as they're still dreaming of the one they're no longer with. They ponder if it's "all because of [a] rebel heart," and the wanderings that make up the song create this wistful thought that permeates the listener. It all comes to a conclusion on the gorgeous outro, where the Söderbergs close the chapter on doubt and declare: "Nothing matters, all is futile and it's in the past." The drums accent the fevered pulse this ending takes, and as the horns, guitar and keyboard fade out, all that's left is the knowledge there's nothing left to do but let a heart heal.
(Columbia Records)
But that doesn't mean you do. The following songs and singles "It's a Shame" and "Fireworks" continue the desolate narrative post-heartbreak. The former focuses on reconnecting with an ex despite being a husk of who you once were. The latter is slower and somber, a realization that the dream of getting back together with that former flame will never come true. The tracks juxtapose each other: "It's a Shame" sounds happy despite its sad content, the percussion driving a punching beat. Meanwhile, "Fireworks" is the heart-wrenching slow dance for the lonely. Both have awe-inspiring instrumentation that's hard to describe. It's really meant to be experienced when you press play.
(Columbia Records)
Thankfully, First Aid Kit knows there's more to the end of relationships than just sorrow. "Postcard" is a tune the sisters call their "most traditional." Written during a Lucinda Williams concert, this sweet song is more upbeat and curious. Klara asks, "Honey, now that your shackles are gone and you're out there on your own, won't you let me know if things get hard?" The whole track is framed around country instrumentation and a desire to figure out what's going on with an ex. There's no chance of getting back together, but sometimes discovery needs to be piqued after the break-up. Sometimes we want to make sure the people who changed our worlds and are no longer in our lives make it out okay, even if they completely wrecked us. This sentiment is perfectly encapsulated in the line "send me a postcard when you get to where you're going," and it's refreshing maturity definitely needed to sweeten the dire moments on this record.
(Columbia Records)
Although a strong album throughout, the second half of "Ruins" isn't as memorable as the first. I usually attribute that to my loss of attention over the course of a record, and that is the case here. However, there are still stand-outs. The title track is the moment when reflection and processing what went wrong coalesce. "My Wild Sweet Love" is a moment back in time before the couple became "a hazy memory," back when "the world [shined] gold and new" and their love was almighty. And then there's "Hem of Her Dress," a riotous anthem about distance and anger when an ex moves on with someone else. It contains the best vocal moment on the album, when Klara growls out "so loud" and finishes the line with a whisper: "and so discreet." There's even a rousing chorus featuring their mom and youngest brother and even Laura Veirs, who Marine worked with on the wonderful case/lang/veirs project two years ago.
By the time "Ruins" closes on the grim "Nothing Has to Be True," the ten songs have taken a journey few break-up records have. It's self-aware, bittersweet and takes its time exploring all the heartbreaking moods relationship fallouts bring. This is First Aid Kit's best work yet, and it's perfect for a soul-searching road trip or an ice cream binge post break-up.
Leave a Comment
About the Contributor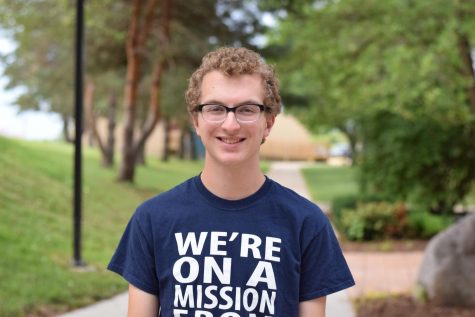 Luke Reynolds, Copy Editor, Anchor, Reporter
This is Luke's first and only year as a member of West Side Story. He'll be kept busy with anchoring, editing and reporting, but he's gonna have fun while...