Twenty percent
According to the national Stop the Bleed campaign, 20% of all people who have died of traumatic injuries could have survived with quick bleeding control. This campaign hopes to teach people the techniques on how to deal with a massive bleeding injury. One student hopes to take these ideals and apply it to West.
There are many different kinds of injuries that cause bleeding. It could be a paper cut or a gunshot wound. With the more severe injuries, someone could bleed out in minutes if they do not get the necessary help. If there is ever a need for this kind of help, Mason Hanson '18 wants to be prepared. Last summer he took a trip to Minnesota to become certified as an instructor in the Stop the Bleed program. Being a high school student, his attendance was a surprise to other people attending.
"[There was this] look on doctors and flight paramedics' faces when I walked into the room. They were all forty and above and I was seventeen and walked in [wearing] a hoodie and they were all in dress clothes," Hanson said.
The National Stop the Bleed Program was launched in 2015 by the White House as a call to action for bystanders of bleeding emergencies to learn how to react to mass bleeding. Although Hanson has been interested in first aid for about five years, he got more involved when the program was launched. He decided he wanted to be able to teach people about the issue.
"
It teaches how to find bleeding and identify life-threatening bleeding."
— Mason Hanson '18
"[The class] teaches about how to make sure [you are] safe, because if you are not safe then you can't help anyone else. It teaches how to find bleeding and identify life-threatening bleeding. That's a major part because you can know how to use [a kit] but if you don't know when [to use it] you are not going to. [And you'll learn] how to stop [bleeding] using three different methods: direct pressure, the use of a tourniquet, and also wound packing," Hanson said.
Hanson would like West High students and teachers to be certified in first aid and how to use a trauma kit, so he has been holding classes. However, Hanson has been doing more than just teaching people. He has been in talks to get West High its own trauma kits.
"If there is ever an intentional act of violence towards our school we will be able to hopefully save some lives . . . before first responders get here," Hanson said.
For five years Hanson has been carrying his own trauma kit, and he wants the school to be prepared as well. To do this, he has organized with the administrators, teachers and the district's fundraising approval committee. He has also talked to businesses to see if they want to donate money to his cause. These kits can cost a lot of money, and so the fundraising has been taking a long time.
"There have been some roadblocks. I was just getting ready to start fundraising and the district decided to change the rules on fundraising . . . So I had to submit all the information, get approved by the district committee. But I am glad it is happening, no matter how long it takes," Hanson said.
He has only been able to fundraise and teach during his senior year, so he has felt the need to raise money quickly. But even if he does not finish his project before he graduates, there are some juniors that are willing to continue it, such as Sam Gienapp '19.
Gienapp also believes it's important to be prepared and has taken Hanson's class to learn the skills needed to be prepared for these events.
"Since I am a Boy Scout, I believe in the motto 'Be prepared.' I honestly believe that it would be great no matter the incident or the severity of it if everyone could be prepared for [the incident]. You don't know when you are going to be the first on the scene for something. You can really make a difference, [and] you never know when something wrong might happen," Gienapp said.
Gienapp has taken to carrying around a trauma kit as well and plans on becoming a certified instructor at some point.
Another person who has taken Hanson's class to feel more prepared is social studies teacher Gary Neuzil. He believes that students should learn how to handle a bleeding victim. He knew about some supplies before taking the class, but now with his training, he feels more confident.
He believes that having trauma kits is important in case of an intentional act of violence, but there are also many cases in everyday life where someone might have a severe bleeding emergency. One instance with a student made him realize that he and the school were unprepared for this type of injury.
"
You don't know when you are going to be the first on the scene for something. You can really make a difference."
"I had a student in my class a few years ago who had an injury in another part of the building that was a serious cut. I was frustrated that there was no bandages, no way for anyone to really assist her. [The cut was from] a cart and had nothing to do with violence. There was no adequate preparation or supplies that could have helped her out. [I started to think] 'What would I have done?' I don't think I would have been prepared either. It got me thinking if it was [a] student [in my part of the building] I need to be able to help," Neuzil said.
Neuzil has helped with getting trauma kits into the school by talking to teachers to get them more comfortable with them. He has also helped students who wanted a tourniquet, an important item in a trauma kit. Neuzil now carries a trauma kit with him as well. He hopes that if he ever came to a situation where he needed to help, he would be able to save a life.
Hanson agrees, saying that being able to respond to traumatic bleeding is important in situations like car accidents or home mishaps. In any of these situations, including a shooting, he wants every bystander to be able to save someone.
"I would want them to think about a time in their life when something has been happening and they have felt completely helpless because they did not know what to do [and] in a situation like a shooting, you don't want to feel like that," Hanson said.
Leave a Comment
Donate to West Side Story
Your donation will support the student journalists of West High School. Your contribution will allow us to purchase Scholarship Yearbooks, newsroom equipment and cover our annual website hosting costs.
About the Contributor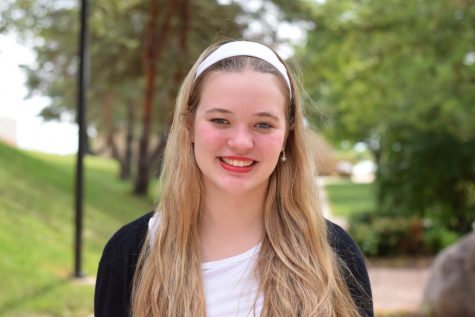 Reagan Hart, Reporter, Distribution Manager









Reagan Hart is a senior at West. It is her second year on staff and she is a reporter and distribution manager. Besides newspaper, Reagan...