A unique musical experience
Kat Hirsch '20 shares her experiences from a two-week tour of Europe with the Iowa Ambassadors of Music program.
From infinite corn fields and hay bales scattered about to looming medieval castles and massive mountain ranges in Europe, Kat Hirsch '20 got to see it all this summer. 
The tour of  Europe included traveling to seven different countries within the span of 21 days and performing in five of them. The trip helped shape her views as a musician and served as a way for her to be introduced to other musicians who shared similar passions and ideals. 
"It was a trip for musical students [in] band and choir [where] band directors and choir directors would nominate some students that they felt were eligible for this trip. I was nominated in June or July and then the next year is when we would leave," explained Hirsch, who was nominated by Rob Medd to play flute on the trip.
The trip is run by a group based in Colorado called Voyageurs International who have sent over 160,000 participants abroad in the past 46 years. Every other year Voyageurs sends band and choir tour groups to Europe where they perform in front of international audiences along with fellow students from the same state. Voyageurs works hand in hand with Ambassadors of Music to send students from different states on the 21-day trip. As part of the Iowa Ambassadors of Music (IAM) Hirsch got to perform with other Iowan musicians from different high schools.
On the tour, young musicians not only take part in playing music for an audience, but also learn about the history of each country through guided tours and sightseeing.
While getting the chance to meet people, travel to different places and try new things, the main aspect of the trip was not forgotten: music. Before takeoff on the plane the band and choir spent a few days in the Grinnell College dorm rooms for extensive music training. According to Hirsch, band students rehearsed on average eight hours per day with two to three rehearsals daily. The Grinnell portion of the trip was solely for learning and perfecting the music in time for the tour.
Around midnight after the Grinnell camp was over, Hirsch hopped onto a charter bus to ride to Chicago and get on her first flight to Detroit. After arriving in London after the second flight, there was no time for rest. The musicians went straight to a small town in England to see Windsor Castle. It was about 11:00 p.m. when the ambassadors arrived at the hotel.
Meeting new people was a given on the tour as it included directors, parents, band and choir musicians. Hirsch experienced this first hand when she met band and choir members from towns like Wilton and Solon. Besides being a way to meet other musicians, the trip served as a way to cultivate new bonds and friendships.
"Basically all the friends I made on that trip don't live here, sadly, but some of them live in Cedar Rapids and I'm super close with them, although I don't talk to them or see them enough. I can tell that even after high school we're probably going to hang out," said Hirsch.
"
I don't need to have the best chair to be happy with my instrument."
— Kat Hirsch '20
For Hirsch, the trip not only created new friendships, but it also changed her outlook on music.
"[The trip] made me honestly be a little bit more chillaxed with [music]," said Hirsch. "I don't need to have the best chair to be happy with my instrument."
While the summer trip is over and Hirsch is in the school mindset, she still recalls memories and favorite moments from the tour. "Seeing 'Phantom of the Opera' changed my life. I listen to that on the daily now. That was pretty amazing," said Hirsch who chose to watch the musical during free time in London.
"
Seeing 'Phantom of the Opera' changed my life. I listen to that on the daily now. That was pretty amazing"
— Kat Hirsch '20
Hirsch especially enjoyed her time in England and Switzerland. One of her favorite things about Switzerland were the weather and relaxed atmosphere with her newfound friends.
"[In Switzerland] the temperature wasn't very hot, the food was great […] everywhere you looked was a mountain range and the sky was so pretty. That was the first country that we had a lot of freedom in so me and my friends just went outside and it was nice and chilly and we played Dungeons and Dragons," said Hirsch.
One of the most fun moments on the trip, according to Hirsch, occurred in Switzerland. "There was a time in Switzerland where they had [this] disgusting pile of snow that no one knew where it came from and that was really fun because I had a snowball fight," said Hirsch.
While making music was the purpose of the trip, Hirsch's experiences in Europe allowed for learning in not only music but also in relationships and cultural speaking.  
"
[The trip] kind of showed me that no matter what the time is you shouldn't force friendships"
— Kat Hirsch '20
"[The trip] kind of showed me that no matter what the time is you shouldn't force friendships, you shouldn't move too fast with a friendship and assume that they are a good person until you get to know them more. It was just a lot of realizing what to look for to know that [someone is] not a good person," said Hirsch.
Infograph by Carmela Cohen Suarez
Leave a Comment
Donate to West Side Story
Your donation will support the student journalists of West High School. Your contribution will allow us to purchase Scholarship Yearbooks, newsroom equipment and cover our annual website hosting costs.
About the Contributor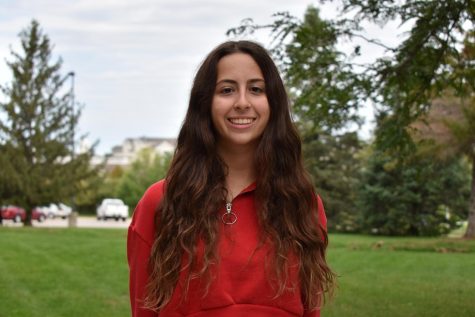 Carmela Cohen Suarez, Entertainment Editor
Carmela Cohen Suarez is a senior at West high and this is her third year on the West Side Story. She is the online Copy Editor and Entertainment Editor....