10 tips for surviving the college application process
A seasoned senior gives her advice on how to navigate applying to colleges in the smoothest way possible.
College application season is one of the most exciting, and most nerve-racking, parts of the high school experience. Students often spend countless hours working on essays, resumes, and the dreaded Common Application. To avoid the stresses of applications here's some simple advice on how to make your college application process not totally awful.
1.) START EARLY
Everyone will tell you to start as early as possible and this repetition of information might seem redundant, but this is the best thing you can do for yourself. Start visiting colleges early so you have ideas of where you want to go. Start brainstorming your writing at the end of summer so you won't be frantically finishing essays the night that they're due for submission. Trust me here, you'll thank me later when everyone else is freaking out about not having an essay topic while yours has been done for the last month.
2.) GET PEOPLE TO READ YOUR WRITING
More likely than not, you're going to have to write quite a few essays and personal statements before you finish applying to colleges. The best thing you can do to your writing is to let other people rip it to shreds. Even if you just wrote what you think is the best piece of writing to ever exist, get some more eyes on it. Someone might see your writing in a way that you hadn't thought of, or catch mistakes you never would have noticed.
3.) MAKE SURE AT LEAST THREE OF YOUR TEACHERS LIKED YOU
Teacher recommendations are much more of a big deal than you'll probably anticipate. You can finish all of your applications in September, but you can't turn them in until you've found a number of teachers that will write nice things about you. I'd suggest having two teachers and someone else, like a coach or director, write recommendations. When you're choosing people to write about you, there's a number of things to consider. How well does that person know you? What version of you did they see? How good of a writer are they? There's a lot more that goes into finding someone to write recommendation statements than if you did good in their class or not.
4.) APPLY FOR FAFSA AS SOON AS HUMANLY POSSIBLE
College is ridiculously expensive, that's no secret. However, the sooner your family fills out the Free Application for Federal Student Aid (FAFSA) and College Scholarship Service (CSS) profiles, the more likely chance you'll have at getting a solid amount of government-based financial aid as both of these programs work on a first come, first serve system. Essentially, it's like you're legally stealing from the government! National Treasure, who?
5.) MEET YOUR GUIDANCE COUNSELOR
Chances are, you've probably talked to your counselor maybe once or twice during your time at West. Those interactions also have probably only been to change your first period math class to the afternoon (you say it's so you'll be more awake but we all know that you just want to be in class with your friends). However, most colleges you'll look at will ask for reports from your counselor. Lucky for you, the West High counselor team is full of kind, dedicated people that will be more than willing to help you with your application process.
6.) PURCHASE A WARM BLANKET
Honestly, you're going to spend a lot of nights feeling stressed out over your college applications. Sometimes the best thing to do is just call it a night and curl up in your favorite blanket with a comforting warm drink. I suggest buying that blanket early so it can be nice and familiar by the time that you need to cry into it over your fears of rejection.
7.) BECOME FRIENDS WITH THE PUMP IT UP STAFF
Or the Java House staff. Or the barista at the Starbucks closest to your house. Filling out college applications takes a lot of stamina to push through the frustratingly tediousness of it all. You're going to need some solid caffeine if you're going to make it through all of those "Why X College" statements.
8.) INVEST IN A GAS STATION REWARDS CARD
Similar to the last point, snacks can never hurt your spirits while you're rushing to finish that last perfect personal statement about what kind of tree you'd be, or whatever the prompt is this time. Signing up for certain rewards programs at your favorite gas station can help you access everyone's favorite motivator: free food!
9.) FORM A SUPPORT GROUP
You are not alone in feeling stressed out during this process. You're not alone in feeling excited, either! Finding your group of people to rant and celebrate with throughout your applications is one of the best things you can do for your mental health. Make sure that you're surrounding yourself with non-competitive friends who will praise and comfort you, as opposed to berate and resent you.
10.) UNDERSTAND THERE'S NO SUCH THING AS "THE ONE"
So many people will tell you that when you've found the right college, you'll know immediately that that place is your perfect fit. Frankly, that's just not true. Just like how there isn't just one person in the world for you to fall in love with, there isn't just one college out there for you to attend. You might love a bunch of different places. You might not get into the one you loved the most. You might be quite unsure as to which school you should choose to spend the next four years of your life at. But I promise, unless you have an absolute gut feeling that you wouldn't fit in somewhere, you can thrive at any place you end up. Happy applying!
About the Writer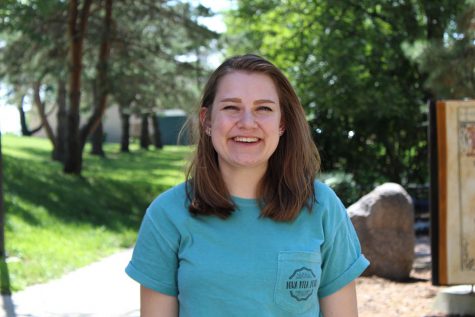 Lucy Polyak, Columns Editor
Lucy Polyak is a senior at West High and this is her second year on staff. She is a reporter and the columns editor for both web and print publications....