Season of changes: A recap of the 2018 West/Liberty girls swim and dive season
The Trojan/Bolts girls swim team culminated their undefeated season on Saturday, Nov. 3 with a sixth-place finish at the state meet. The season brought changes, though, in the forms of its coaching staff, state qualification and overall team atmosphere.
The class of 2018 brought a lot of talent to the West/Liberty High girls swim team, contributing largely to the varsity team's undefeated dual meet season and ultimate eighth-place finish at the state meet last November. Their inevitable departure raised questions for head coach Byron Butler about the future of the program.
"When I got our roster, I saw we had 15 freshmen, almost 10 of which had club swimming experience," said Butler, who also took into consideration the swimmers' progress in recent years, as it's common for female swimmers to peak at a young age. "When I saw their talent level, I knew that we had not replaced the girls from last year, but scoring and talent wise, [we would be] very comparable. Maybe not the same level of sprinting, but everything else."
Butler predicted another undefeated dual meet season early on.
"I knew there was going to be a couple tough meets and you never quite know right off the bat what other teams are getting for their freshmen group," he said. "But I knew that we had three solid swimmers on varsity in every event and that our JV had three solid swimmers pretty much in every event."
Along with the departure of some top-end talent, the West/Liberty High AKA "Troy Bolton" swim team, which has remained merged since Liberty High School opened in 2017, has seen various changes in recent years. Former West swimmer Tory Rose '14 replaced 18 year veteran of the program, Rob "Ski" Miecznikowski as an assistant coach in 2017. Four-year University of Iowa swimmer and former coach for the Miami University swim team, Emma Sougstad, joined the girls coaching staff this year. The school district also welcomed the addition of University of Iowa swim coach Frannie Malone as the diving instructor for West/Liberty and City High this season. Butler says he's treated the staff changes as a learning opportunity and way to reinvent the program.
"
"I think it shifted some people's mentality who knew that history a little bit … And not that we're over that hump, but this is two years now and it's nice to see that. That we might be over that time and that shadow of 'big bad Cedar Falls' from the last decade."
— Byron Butler
"I think a lot of things when Ski left were on autopilot and the expectation was continue to do the same things and say the same things and write practices the same as Ski because that's what people knew," said Butler, who replaced Miecznikowski as head coach of the girls team in 2015. "And I've definitely gotten away from that [this year.] I feel like…I finally get to do things that I want to do and make some changes to traditions."
The team's dual meet season began on Aug. 21 with a home meet against Cedar Rapids Jefferson. Though the Troy Boltons gained a win over the J-Hawks, Butler noticed some technical errors on the West/Liberty side.
"[It was] just little things. Consistency on streamlines, breakouts and finishing hard and race strategies. Specifically on 100s and 200s and 500s and people being hesitant to take it out," he said, adding that he put more emphasis on these things during future practices. "I feel like throughout the season we got better and better and better on those aspects. Especially freshmen started getting those things ingrained a little bit more."
The team's next two dual meets were away at Cedar Rapids Washington and Dubuque Wahlert respectively. Though the Trojan/Bolts defeated both teams, they lacked energy at the start of the meet.
"We just started slow. Almost every time … I think as we got to the second half of the season, that got better," he said. "But there's always kind of this lul where you get off the bus and you warm up, but usually we don't have … as much [time] as we'd like. Those first couple races, we're still waking up."
In late September, West/Liberty faced off against Cedar Falls. Varsity managed to secure a win over the Tigers in 2017 after a long-lasting losing streak. The varsity Trojan/Bolts came out on top by a small point margin again this year, and the JV team obtained a victory as well.
"
"You work for your teammates because every week you have to get a better score…You always want to do better for everyone else."
— Vivian Gibson '21
"I think it shifted some people's mentality who knew that history a little bit … Ski [would] always talk about his record and go eight and one every year because the one team that would beat us would be Cedar Falls," Butler said. "And not that we're over that hump, but this is two years now and it's nice to see that. That we might be over that time and that shadow of 'big bad Cedar Falls' from the last decade … that maybe that's going away a little bit. But they still have some amazingly talented kids on that team." Cedar Falls came in fifth at the state swim meet this year.
Although Butler tries to treat dual meets as an opportunity to practice racing, he has noticed that swimmers are apprehensive when it comes to competing at the beginning of the season.
"I find that more than ever, and just in the last six years, a lot of kids come in with major anxiety about racing about competing. About 'this girl is so fast I can't beat her,'" he said. However, Butler believes that that unease begins to subside as the season progresses. "I think having 12 dual meets and 16 total meets for those who end up going to state gives you so many opportunities to mitigate that anxiety… I think as the season's gone on and you start stacking up some dual meet wins and you win Conference or JV Invite … a program can become somewhat self-sustaining because that becomes an expectation."
Acknowledging that meets can be stressful, Amber Rose '20 says the Troy Boltons try to initiate team cheers before and during the meets to alleviate some of the stress and encourage one another.
"Everyone is really supportive of everyone else, even JV and varsity, they support each other even though they are separate," she said. "I think it's really important to cheer on our teammates and make sure no one's being left out and everybody's having a good time. Even though the meets can be stressful, I think it's a good way to lighten the mood a bit."
Vivian Gibson '21 agrees and believes that the support among teammates increased even more going into the championship part of the season.
"You work for your teammates because every week you have to get a better score…You always want to do better for everyone else," she said. "… [At Regionals] a few of us were doing our off events, but we were all just supportive and saying, 'You know just do your best and that's all that matters' because at the end, if you try your hardest and you don't get exactly what you want, it's still ok because you know you're doing your best."
The Iowa Girls High School Athletic Union (IGHSAU) changed the rules concerning the qualifications for the state meet. Swimmers can now qualify for State in events during the dual meet season by meeting time standards, as long as they legally complete the event at Regionals. Although some of the team's top-end swimmers like Lily Ernst '20, Aurora Roghair '21 and Scarlet Martin '22 were able to qualify in various events through the new rules, Butler is hesitant to say it impacted the regional meet as a whole.
"It helps those girls because they get one more week (to train). They could easily get the standard. But really it didn't impact anything as far as how Regionals is conducted. You still had to swim fast on the day of Regionals for most girls to get in." The number of qualifiers in each event also increased from 24 in previous years to 32.
Going into the Regional meet, Butler felt confident in the swimmers' performance capabilities. The Trojan/Bolts took home first place in their region and left with a total of nine swimmers and one diver qualified for State.
"I want to say we had 80-85 percent lifetime bests in events … I had a good idea of what was going to happen, barring some unforeseen mental laps or disaster," Butler said. In previous years, once junior high swimming started in early October, the team's practice time would be shortened to only an hour. This year, practices started later, allowing for continuous two hour evening practices through the entire season. "We'd try to string out this taper, and still try to swim fast at Regionals and we did, and then still try to swim fast at State, and it was really hard," said Butler in reference to past seasons.
The Troy Boltons wrapped up their season on Nov. 3, earning a sixth-place finish at the state meet in Marshalltown. Though the season was filled with lots of success in the pool, Rose emphasizes the team's encouragement of one another over the past two to three months as most important.
"I think I'm most proud of the team coming together and not separating JV and varsity, and having varsity girls cheer for JV, and JV girls cheer for varsity. And just having like a really coherent atmosphere, where … you didn't really notice or see a difference between the JV and varsity. Everything was very supportive all across," she said.
Sougstad agrees that the support between teammates has been prevalent throughout the season. "We have a lot of girls that really like to get in, work hard. They encourage one another. They hold each other accountable in different ways," she said. "I've also seen a lot of life lessons being learned in the pool, whether that's how to handle emotions or whether that's supporting a teammate. I think both of those are wins."
Tory believes that the team focus has improved this year, comparing it to her time as a swimmer on the team. "At meets last year, cheers were kind of lackluster. We weren't really doing as many. We weren't being a team about it. But this [year] before every meet, we really stepped up and acted like a team," she said. "I feel like when I was on the team … we did a lot of cheers. We actually acted like a team. I feel like a lot of the top-end girls were still good friends with those in lanes 6, 7 and 8. So I feel like…it's very similar to this year."
Iowa City Eels club swimmer Mesarah Hnesh '22 joined the team partially with the intent of making new friends. Although she managed to form relationships with many varsity swimmers, she didn't get as close to as many JV swimmers as she would have liked.
"I think the [camaraderie is] pretty good. I think we should do more team bonding in the future … because I feel like the varsity and JV … didn't have the chance to get super close to each other, but I really wish we could have because I didn't get to know as many JV people as I did varsity," she said.
Gibson admits that there are things the team could stand to work on, mentioning they sometimes fall short when it comes to focusing on the races during a meet.
"Sometimes we get a little lacky and go visit with other people, but that's ok. I've done it too. But I think the team can be a bit more zoned-in to what's going on in the pool and it's not just you or maybe just one of your close friends. Like everyone on the team supporting everyone," she said.
Overall though, Butler believes the swimmers' emphasis on team as opposed to individuals has grown this year.
"I have heard talk from some of the varsity girls about what we can do next year already. That never happened before. 'Next year maybe we can get second at State.' Or 'Next year we're going to dominate Conference. We're not just going to win it,'" he said. "The fact that we're looking ahead and it's a team goal that matters. People are talking about 'Can we win state when we're seniors?' That's pretty cool. That's exciting. It's not about 'me' anymore it's about what we can do collectively."
With its varsity team comprised primarily of underclassmen this season, and Butler predicting the trend of fast incoming freshmen to continue, the future of the West/Liberty swim team looks bright.
Leave a Comment
Donate to West Side Story
Your donation will support the student journalists of West High School. Your contribution will allow us to purchase Scholarship Yearbooks, newsroom equipment and cover our annual website hosting costs.
About the Contributors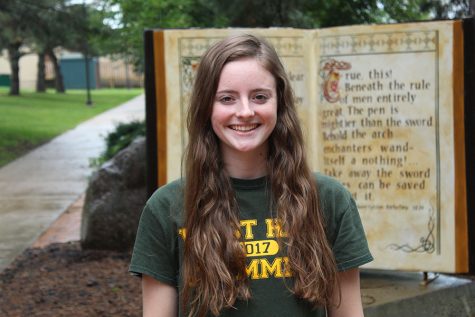 Jessica Doyle, Podcast Editor
Jessica is a senior at West High and is enjoying her third year on staff. Though not a baller, she truly excels when it comes to taking the mic at karaoke...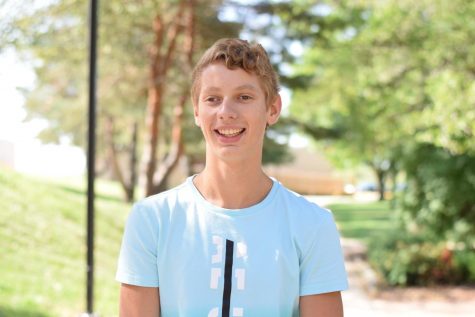 Sean Brown, Photographer
Sean Brown is a photographer on staff and a senior at West. When he isn't microwaving hot pockets or looking through the five hundred pictures he took...