Diving into a new sport
Austyn Goodale '20 balances diving and cheerleading alongside siblings Marissa Goodale '22 and Lexi Goodale '19.
The silence of an entire room weighs down across the pool. Everyone holds their breath, waiting for the dive to be executed. Once the diver's head breaks the surface, her team roars in approval of the feat. It may look seamlessly simple at first glance, but Austyn Goodale '20 did not always find it so easy to complete a dive. She began diving her freshman year of high school and has balanced it with cheerleading, work, school and a social life since then. While cheerleading and diving are not very similar, Austyn manages to use the two to her advantage.
Austyn's introductions to diving and cheerleading began with her family. Her interest in diving started with her sister Lexi Goodale '19 and junior high swimming. Austyn was first exposed to diving at Lexi's swim meets and later, with motivation from Lexi, Austyn was convinced to give it a shot.
Lexi wanted Austyn on the diving team not only because West needed more divers, but also because she was convinced that Austyn would excel in it.
"
I thought it would be a missed opportunity if she didn't try it out,
— Lexi Goodale
"We are always wanting more divers on the team and I thought Austyn would be really good at it because she's really good at just about anything she pursues and she already had tons of tumbling from cheer. I thought it would be a missed opportunity if she didn't try it out, so I bugged her continuously and even got Byron and my parents to try and get her to until she agreed," said Lexi.
Austyn's first experience with cheerleading was also through her family, starting when her mom signed her up when she was seven.
"For cheerleading I just remember my mom signing me up for a cheerleading clinic and I absolutely loved it so she found me an All-Star cheer gym named Hawk All-Stars where I started cheering. From then I just have always loved it and it has always been a huge part of my life. Now I go to Iowa Elite and decided to also cheer in high school," said Austyn.
While cheerleading and diving can be similar in a few ways, they are very different sports which made it quite difficult to do both at first.
"In cheer it's completely a team sport because you all get the same score and we all work together to get better, but in diving it is completely individual. You have your own list of dives and you are doing them by yourself and you get your own score. But my dive team is still very close. Having experience with tumbling from cheer leading definitely helped with diving for body control and just a prior knowledge on how to flip my body. It was very helpful," said Austyn.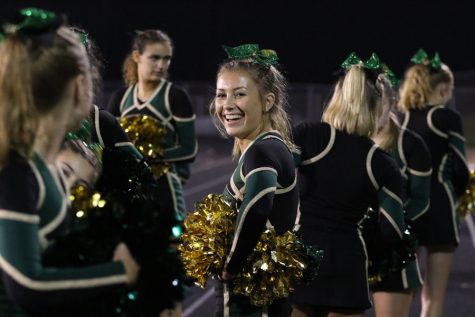 Austyn's younger sister Marissa Goodale '22 is a cheerleader and a diver who can attest that cheerleading and diving are quite different.
"Cheer and dive have very little in common. Although you learn to tumble at cheer and you learn how to do flips off the board, dive is all a mental sport. You have to make yourself go off the board and do your dive, and the hardest part of that is when you are scared to do it, and talking yourself in to just throwing it off the board. You are the only one competing so whatever happens, it's all on you," said Marissa.
Because of these fundamental differences in cheerleading and diving, getting into one after the other may be difficult. Alongside the challenge of diving and cheerleading being so different comes the challenge in balancing them both during the same season.
"I have no idea how she balances it all. She has All-Star cheer, West high cheer and dive, and that is just between school and work. The only time she can work is on the weekends because her schedule is so packed trying to go to practices and get homework done before midnight," said Marissa.
Despite the busy aspect of doing both at the same time, Lexi believes Austyn manages it well.
"She balances cheer and [diving] really well. She has always been really good at multitasking and she has always thrived when she's busy. I think it's hard for her sometimes to balance everything but you'd never know it. She makes it all seem so effortless," said Lexi.
With five dual meet wins and a qualification for state diving, it is hard to believe that just three years ago Austyn did not know how to go off the board. While she has only been diving three years, it has become an important part of her life and now she is one of West's top divers.
"I didn't even know how to dive into the water head first and was terrified to jump off the diving board, but with my cheer experience I caught on quick," said Austyn.
While Austyn's diving achievements were obtained individually, her siblings played a huge part in her getting to that place.
"
"I have accomplished so much more than I thought I would have when I joined my freshman year. "
— Austyn Goodale
"I have accomplished so much more than I thought I would have when I joined my freshman year. I did it more as a 'Let's try this just to make my sister happy and prove to her that I don't like it' type of thing and I ended up truly loving it," said Austyn.
Along with achievements in diving, Austyn also holds around 15 national championships for cheer leading with her team.
Having both her siblings around for both cheerleading and diving has served to take some mental toil off and further motivate her to do her best in each sport.
"It is nice sometimes to have that extra support on the team from my siblings because then they know what's going on and we all help each other," said Austyn. "It is more motivational to me because they cheer for me and encourage me but also I want to be a good role model for Marissa and show her how you're supposed to act at games when we are cheering and what to do at dive meets and stuff like that."
View Comments(1)
Donate to West Side Story
Your donation will support the student journalists of West High School. Your contribution will allow us to purchase Scholarship Yearbooks, newsroom equipment and cover our annual website hosting costs.
About the Contributors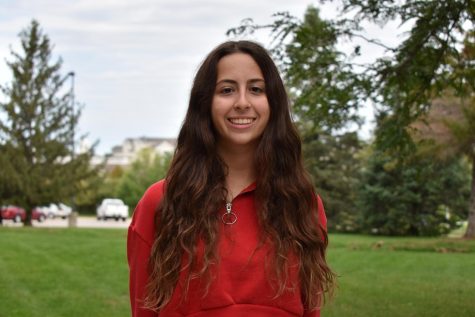 Carmela Cohen Suarez, Entertainment Editor
Carmela Cohen Suarez is a senior at West high and this is her third year on the West Side Story. She is the online Copy Editor and Entertainment Editor....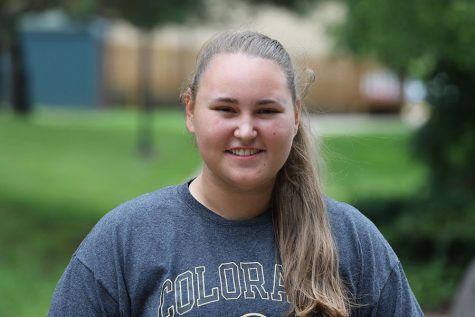 Kara Wagenknecht, Online Editor-in-Chief, Co-Sports Editor
Kara is a senior at West and this will be her third year on staff. She is the Online Editor-in-Chief and Co-Sports Editor this year. When Kara isn't covering...