Going the distance
Reporter Annabel Hendrickson '21 discusses the couple hundred meters of gap between high school girls and boys track distances.
My first experience with running track last year ensured a flurry of mixed emotions: love for the sport and my amazing teammates, pain as I ran through shin splints and a sprained groin, pride when I shaved those few seconds off my races. But one tiny feeling constantly nagging at the back of my mind was indignation.
In Iowa high school athletics, girls running distance events run 1500 and 3000 meters around the track while boys run 1600 and 3200 meters. Every time I looked at the heat sheet, the distance gap between genders was glaringly obvious. Just a couple hundred meters of difference but exemplifying the continuation of centuries of misogyny.
Even in seemingly trivial matters like a couple hundred meters of gap in high school athletics, sexism finds its way to prevail in our society. And that's what this is: misogyny. Not logistics. Not biological differences. The distance gap is plain and simple: high school athletic officials in Iowa are still clinging to the outdated idea that men are somehow above women.
Passing off the issue as a matter of practicality or burying it under a mountain of excuses is an injustice not only to women, but to athletics in general. At the collegiate level, running a 1600 or 3200 is practically unheard of, regardless of gender. Even internationally, the standard distance in track events is 1500 and 3000. Despite all of this, boys track distances still remain at 1600 and 3200 meters in Iowa, while girls track distances lie at 1500 and 3000 meters.
According to Gary Ross, the Associate Director of the Iowa High School Athletic Union (IHSAU), the distance gap is a point of controversy at the Track and Field Advisory Committee level. The Iowa Girls High School Athletic Union (IGHSAU) has always run the 1500 and 3000 and wants to continue to do so, while the Iowa High School Athletic Association (IHSAA) recognizes 1600 and 3200 as their preferred distances.
The fact that we still see sexism in something as simple as high school track in the 21st century is astounding to me. Having to run that far, pushing yourself as hard as you can and then watching someone else run just a tiny bit further is incredibly infuriating. It sends the message that high school-aged girls can't run as far as boys can.
"
It sends the message that high school-aged girls can't run as far as boys can."
— Annabel Hendrickson '21
However, it's not only track where girls run less than boys. According to ESPN, there are still seven states where girls run a kilometer less in cross country races. It's not very far, but it's degrading to have to run less based on the old-fashioned concept that girls don't have the ability to run as well as boys. Luckily for West, Iowa voted to raise the mileage in girls cross country to make it equal to the boys' four years ago, but it's hard to believe that it took until 2015 for it to happen.
Although there's inequality at the moment, I'm optimistic about the future. Since Iowa made the cross country distance equal, we can hope that they will have the sense to change the track distance along with it. We've made great strides for equality in recent years, and I hope the movement will continue to grow, even if it's just for a couple hundred meters.
View Comments (1)
Donate to West Side Story
Your donation will support the student journalists of West High School. Your contribution will allow us to purchase Scholarship Yearbooks, newsroom equipment and cover our annual website hosting costs.
About the Writer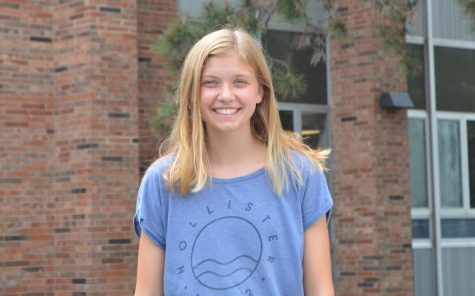 Annabel Hendrickson, Copy Editor
Annabel Hendrickson is a junior in her second year on staff as a co-copy editor on print. In her free time, she enjoys reading books by Stephen King and...