Green hope
WSS shares some ways you can be environmentally-friendly this Earth Day.
Earth Day celebrates the planet and serves to raise awareness of the damage society is doing to the earth. One way to raise awareness is to host or attend events for Earth Day. Here are a few happening in the Iowa City area.
Monday, April 22 at 7:00 p.m.
Prairie Lights Bookstore 15 S Dubuque St.
"Tallgrass Conversations" is a nonfiction book written by Cindy Crosby and Thomas Dean. The book includes information on tallgrass prairies along with conservation efforts that are being taken. The authors will be at Prairie Lights for a reading and signing.
Monday, April 22 from 6:00 p.m. to 8:00 p.m.
East Side Recycling Center 2401 Scott Blvd SE.
The recycling center is hosting a free family-friendly trivia night about sustainability and the environment. The winners will receive prizes.
This virtual race to celebrate Earth day can be completed at any time during April. As a virtual race, participants run their preferred distance and submit their time to the organization. They will receive a medal after completing the race. Registration is $20.
Saturday, April 27 at 3:00 p.m.
Terry Trueblood Recreation Area, 579 McCollister Blvd.
This free family-friendly event encompasses a multitude of activities from a sapling giveaway to live music, games and more.

Another great way to celebrate Earth Day is to become more environmentally-friendly. Here are a few ways you can help our planet.
Use reusable items
One of the easiest ways to be more eco-friendly is by using reusable items. This can be as simple as using fabric grocery bags, a hand towel instead of paper towels, or reusable water bottles. You can also buy reusable ziplock bags and baking mats that replace parchment paper. If you want to minimize your waste as much as possible, bring in your own containers to restaurants for leftovers.
Buy green appliances
While a little more costly than buying reusable items, environmentally-friendly appliances can greatly cut down on how much energy is being used. These appliances include shower heads, LED lightbulbs, low flush toilets, solar-powered phone chargers and reusable battery chargers.
Compost and recycle
Recycling and composting in Iowa City is one of the easiest ways to help the environment. This can be as simple as visiting the Iowa City website and signing up for curbside recycling. Almost everything can be recycled except for corrugated cardboard, styrofoam, paper with waxy coverings and a few other items. Composting is also available to everyone in the Iowa City area. Not only is it possible to compost all food waste, but you can also compost napkins and shredded paper.
Use less
The easiest way to help the environment would be by simply using less. Take shorter showers, make sure you turn off your lights, unplug your appliances when you are not using them and try to walk or carpool places instead of driving.
About the Writer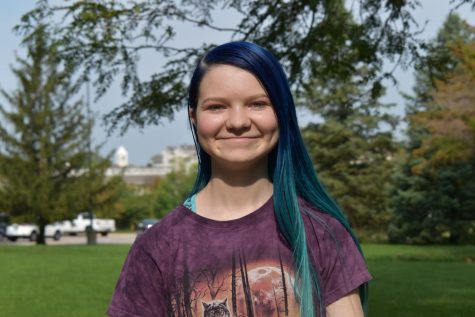 Bess Frerichs, Online Managing and Feature Editor
(she/her) Bess Frerichs is the online managing and feature editor. As a senior, this is her third and final year on staff. She enjoys reading, writing...