Going green
WSS takes a look at what West High and the ICCSD as a whole are doing to ensure environmental sustainability.
From new weight rooms to Chromebooks, West High has experienced a multitude of changes over the past few years. However, there is one thing that remains unchanged — the school and district's carbon footprint.
After researching the successful results of other school districts providing every student with a computer, the ICCSD decided to use Chromebooks, the most affordable technological option that would provide students with the tools they need to succeed. In 2016, the ICCSD created a budget that  gave each student at the high school level a Chromebook, which has since been extended to the junior high schools.
Yet, even with the addition of Chromebooks, the amount of money spent on paper has not significantly decreased. The ICCSD purchased 18.9 million sheets of paper during the 2018 school year compared to 19.4 million in 2017, which is less than a 10 percent difference. In addition, individual student paper use has generally remained consistent, averaging just under eight pages per student daily.
Library secretary Marie Wenzlaff manages all paper copies for teachers, and after working in the copy room for the past 13 years, she has seen her fair share of printed paper. Wenzlaff does everything she can to promote recycling within the copy lab by reusing sheets of paper and recycling misprinted pages.
"[It] is unlimited," Wenzlaff said, explaining the number of paper copies that the school can print. "But to say it's unlimited is more sensationalizing than it is. In reality, it's self-limiting. The teachers themselves do a lot to reduce [their paper usage]."
One teacher who has striven to be more environmentally friendly is biology teacher Andrea Harms. She aspires to keep her class nearly 90 percent paper free. According to Harms, she was very successful last year, but this school year has been more difficult.  She noted that teachers can no longer use the "LockDown Browser" app, which prevented students from switching tabs or screenshotting online tests and quizzes, so teachers have switched back to using paper for assessments.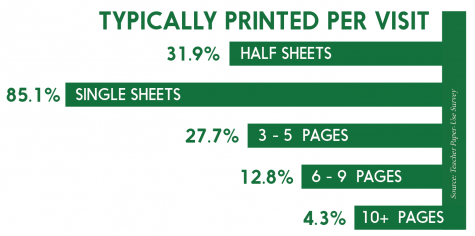 "I would be even more paperless if we had the app," Harms said. "Before Chromebooks, I used a lot of paper, but the combination of [Chromebooks and the app] allowed me to go mostly paperless."
Many teachers try their hardest to be sustainable, but some have concerns regarding the effects of going completely paper-free. According to chemistry teacher Michelle Wikner, her class would be difficult  and almost impossible at times without the help of printed worksheets.
"In the classroom, learning has to be the most important thing," Wikner said. "In chemistry, there's just so many long problem-solving questions. … I don't think students would want to do it online."
While Wikner believes that environmental sustainability is important, she says there is  more to it than just reducing paper usage. She prefers a plan to train students on how to recycle and compost in the cafeteria to going paper-free.
"Students are pretty good about recycling in the classroom," Wikner said. "If we get students trained on how to recycle in the cafeteria, … it [would] take a little bit of time, but I think it would be a fairly easy thing to do."
Recycling in the classroom is nothing new to students. Over 21 years ago, Steve Beisler started the recycling project at West and began collecting paper. Special Programs teacher Steve Merkle gradually assumed a leading role on the initiative, turned it into a class and has been in charge ever since. The group goes door-to-door collecting classrooms' recycling. Before this large-scale recycling plan was in full swing, Merkle remembers there only being a small effort to discard recyclable items in the classroom. Every day students walk the halls of the floor on their assigned route, pushing a cart and emptying bins of recycling left out by teachers.
"I thought, 'What the heck, why don't we take it to the next level and start going around to each classroom?'" Merkle said. "It seemed like every trimester we were picking up about two tons of paper, and we're probably still in that ballpark. … We do what we can until we reach our limit."
In addition to recycling efforts, West offers an environmental sustainability course, a year-long elective where students participate in project-based activities, through Project Lead the Way.  
"It's a really important issue that people need to be educated on so that students can go into the workforce and try to think about how to solve the problem," said Leah Rietz '20, a student in the class. "It's so much more than just recycling at home."
Along with educating students on how to be more green, West is making changes to the building itself. Starting in March 2019, construction will begin to change the air conditioning system to rely on a geothermal energy source rather than fossil fuels. This is already in place in the ninth-grade center. In addition, LED lights, which require less electricity, will replace the current lighting in renovated parts of the building.
"LED lights save money in two ways: they run on less electricity and they burn out less, so it's a win-win," said Principal Gregg Shoultz. "They're dimmable, so it's a better lighting solution for learning."
While the district is implementing new policies to help create a more environmentally friendly learning atmosphere, there is still much that needs to improve.
"
I don't think [environmental sustainability] is our particular strength. I think we have room for improvement, but I'd say that the biggest thing we're doing right now is transitioning out of fossil fuels and into geothermal heating"
— Gregg Shoultz, Principal
"I don't think [environmental sustainability] is our particular strength," Shoultz said. "I think we have room for improvement, but I'd say that the biggest thing we're doing right now is transitioning out of fossil fuels and into geothermal heating."
Beyond the changes the district has implemented, no major policies have been put in place, but the ICCSD has discussed many plans.
Despite sustainability efforts having increased in recent years, the UN's Intergovernmental Panel on Climate change has warned about the dangers of climate change.
According to the UN website, "At the present rate, greenhouse gas emissions are rising, and the world is on a path to raise the global average temperature by more than three degrees Celsius this century."
Although sustainability efforts have increased in recent years, until a drastic change takes place, the repercussions for not focusing on sustainability could be monumental moving forward.
Leave a Comment
Donate to West Side Story
Your donation will support the student journalists of West High School. Your contribution will allow us to purchase Scholarship Yearbooks, newsroom equipment and cover our annual website hosting costs.
About the Contributor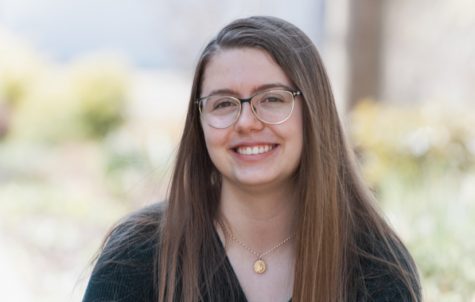 Marta Leira, Print Editor-in-Chief
(she/her) Marta Leira is a senior at West High and editor-in-chief of the print publication. Marta enjoys running (sometimes), creating a an embarrassing...