Learning how to win
The key to the Women of Troy's current eight-game win streak has been celebrating each other's successes.
If you've been paying attention to the West High softball team this summer you may have noticed an unfamiliar word displayed on posters, hats and t-shirts.
The word is "mudita" and it has become the mantra for this year's team in an effort to change the culture of the program to one of encouragement and teamwork. Head coach Barb Lynn discovered the word while observing the University of Alabama softball team embrace the term to find success at the collegiate level.
"Mudita is all about focusing on your teammates and really finding the joy in someone else's success as if it was your own," Lynn explained.
Teamwork is vital in any sport, but the idea of encouragement and positive energy might be most useful in one like softball. The necessity for consecutive hits requires players to feed off of each other's momentum in order to score runs.
Even though batters are alone at the plate and players are seemingly isolated on the field, the teamwork required to win softball games has been the main focus for this year's team.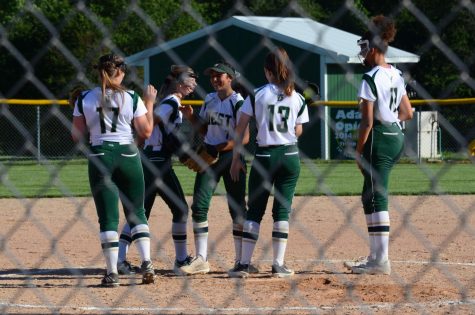 The players immediately latched onto the idea of mudita, but before the girls could play together successfully they had to get some varsity experience under their belts. Of the 18 varsity players on this year's roster, only four saw consistent varsity at-bats last season.
"We have a really nice young nucleus of kids," athletic director Craig Huegel explained. "We have a lot of kids who this is their first experience at the varsity level."
The constant encouragement kept spirits high during the team's early-season growing pains as younger players found their confidence at the varsity level. The Women of Troy dropped 16 of their first 20 games, losing by an average margin of 6.4 runs per contest. Timely hitting seemed to be the biggest struggle during that stretch.
"We've done a really nice job of getting a lot of kids on base," Lynn said. "The first half of the season we weren't always getting them across the plate."
The turning point came at the tail end of an eight-game losing streak when the team held its own against the conference-leading Cedar Rapids Kennedy Cougars. The teams were tied through five innings, and despite losing to the Cougars 4-1 the Women of Troy proved to themselves that they could compete with one of the best teams in the state.
"We had a really good second game against (Kennedy) and we really realized our potential as a team," Ryleigh Mulcahey '19 said. "Once we got that confidence rolling we really started to play to our potential."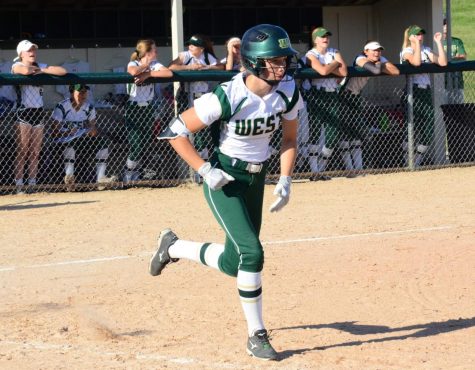 The team has turned the tables on their opponents since that loss, winning eight straight games by an average margin of seven runs. Consistent hitting throughout the lineup has been the biggest key to the team's newfound success.
"Our bats are really starting to work well," Lynn said. "When you can depend on any kid in the order to step up and get a hit that's big."
Eva Burbidge '20 has felt the team chemistry evolve over the course of the season, citing more personal connections and a deeper level of trust amongst one another as key reasons for their current win streak.
"As of recently we have learned more about each other," Burbidge said. "Once you trust every single person in the lineup it makes it a whole lot easier to go out and do your job when you know everyone else is going to do theirs."
"
Once you trust every single person in the lineup it makes it a whole lot easier to go out and do your job when you know everyone else is going to do theirs."
— Eva Burbidge '20
In their most recent outing, the Women of Troy demolished Cedar Rapids Washington, winning 13-0 in three innings behind a perfect game from Mulcahey.
Despite striking out six of the nine batters she faced, Mulcahey was quick to give credit to her teammates, displaying the "mudita attitude" that has become so prevalent amongst this group.
"I'll be honest I wasn't throwing my best," said Mulcahey, the lone senior on this year's squad. "My defense put up the outs they needed to for me so that was really great of them."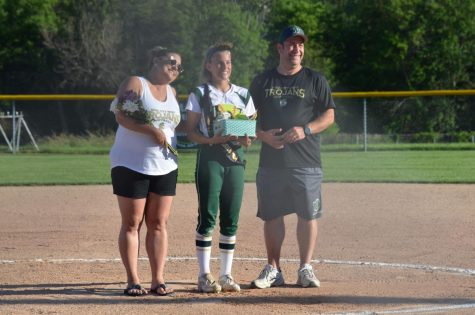 Mulcahey has won her last three starts, striking out 21 batters while only giving up one earned run. In addition to her phenomenal pitching, Mulcahey is also one of the biggest supporters of her peers, something her coaches and teammates have tried to emulate throughout the season.
"I'm always talking," Mulcahey said. "If you come to the games you can probably hear me yelling from the dugout. I think I bring a lot of positive energy."
The Women of Troy hope to keep their momentum rolling into the postseason, but even if they fall short of the state tournament the team can be proud of the foundation they have built for years to come.
Lynn, a major advocate of multi-sport athletes as well as proper strength and conditioning, hopes her softball players can apply the lessons learned on the diamond to their other sports in addition to their lives outside of athletics.
Huegel hopes all West High sports can embrace the idea of building a culture of teamwork and family first with the expectation that winning will follow.
"Unfortunately, I think we sometimes lose perspective," Huegel explained. "At the end of the day, I want our teams to be a great experience that players can look back on five, ten, fifteen years down the road."
The Women of Troy look to extend their winning streak as they travel to Cedar Rapids Prairie for a doubleheader on June 27.
Leave a Comment
Donate to West Side Story
Your donation will support the student journalists of West High School. Your contribution will allow us to purchase Scholarship Yearbooks, newsroom equipment and cover our annual website hosting costs.
About the Contributors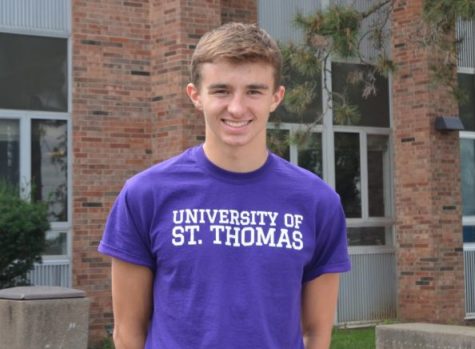 Joe Goodman, Sports Editor
Joe is in his second year working for the West Side Story publications as the sports editor. Joe plays golf, basketball and runs track at West High. He...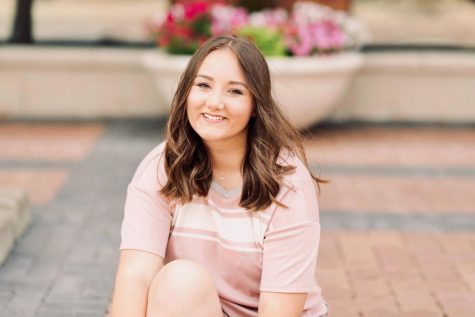 Alyssa Skala, Yearbook Managing Editor
(she/her) Alyssa Skala is a senior at West. She is a third year photographer on staff and a second year editor for yearbook. When she doesn't have her...