Remembering Akram
West pays tribute to former student Akram Mergani '18.
When remembering Akram Mergani '18, there are always certain qualities that tend to come to mind. He was funny and kind. He was passionate and caring. He was an individual who left a positive mark on everyone he met. Akram passed away due to a motorcycle accident on June 23, but his words and actions will continue to have a lasting impact on West High.
One of the many people Akram inspired was Mohammedhilal Al-Ani '21, a close friend of his. The pair first met two years ago in PE class, and quickly connected through their shared first language of Arabic. Akram, originally from Sudan, moved to Iowa from Egypt, and Al-Ani, originally from Iraq, moved from Turkey.
"I just came to West High, and I had no friends, nobody to talk to," Al-Ani said. "I met [Akram] and we start talking and talking, and the next day we became close friends. [It] looked like we had known each other for a long time."
The two became closer with each passing day, and Al-Ani came to realize how warm-hearted Akram was. It was in his nature to support his friends and family, never shying away from the chance to provide helpful advice. Akram's virtues, strong moral compass and encouragement helped Al-Ani through the many crossroads in his life.
"
He used to give me lessons at least twice a week."
— Mohammedhilal Al-Ani '21
"He used to give me lessons at least twice a week. He'd be like, 'Don't go around with these people because they do bad things. Don't do that because you're still young. Don't do that. Don't do this,'" Al-Ani said. "He's the only one who used to do that. He'd be giving lessons for everybody: close, far, family, brothers, friends."
The boys' connection grew stronger when Akram's family took a trip back to Sudan, and Al-Ani's parents went on a vacation to Texas. While their families were out of town, Akram invited Al-Ani to stay over at his home. In the span of a month, the pair borrowed each other's clothes, drove each other's vehicles, played video games, mowed the lawn, cooked their own food and had tons of laughs. Al-Ani described their relationship to be more than a friendship, the two were like brothers. To this day, Al-Ani still remembers how the little day to day activities meant so much more when Akram was around.
Amgad Mergani '21, Akram's younger brother, agrees that his older brother's influence was life changing. He remembered how Akram had the ability to point out the positive sides to any situation. The two loved to play pool on Thursdays and go out to eat on Fridays, especially when Amgad was feeling upset. Akram took care of his younger brother and carried him through the tough times in life.
"
He made me laugh by surprising me."
— Amgad Mergani '21
"He made me laugh by surprising me," Amgad said. "He always tried to mess around, at least just to make someone smile."
Although Akram was quite wise in his personal interactions, he was still a young boy at heart who sought comfort. When sharing one of their most memorable moments while living together, Al-Ani described the true purpose as to why Akram wanted him to stay over while his family was out of the country.
"He [was] like 'My house is haunted' and then he'd be like 'No, I just think I heard some noises'," Al-Ani said. "Then at night he wakes me up and he would be like 'Yo, my house is haunted for real' and then I'd be like 'Bro, let me sleep.' He [slept] on the couch because I was sleeping on the other couch. He needed somebody to be there."
Besides having fun with his brother and friends, Akram loved to customize cars and make them his own. According to Amgad, he had an entire garage dedicated to his cars. It included all sorts of items such as bumpers, suspensions, designs, wheels and a water hose. Amgad greatly wanted to follow in Akram's footsteps.
"What I thought about the garage is that it's my dream garage," Amgad said. "I wanted to do what he was doing, having my own car customized and having my own garage."
Al-Ani remembered how fond Akram was of cars and other vehicles as well, describing how Akram switched out cars frequently, at one point even owning three motorcycles. His interest in learning how to drive a stick shift increased with his affection for cars and the desire to try new experiences. Before long, this dream came true, but did not turn out as expected when he and Al-Ani took a ride one day.
"The car just turned off in the middle of the street," Al-Ani said. "So yeah, I was laughing because I was like, 'You can't drive [this].'"
Just as Akram found joy in cars, he strove to find that same excitement in everything he did, even at work. While making pizzas at Domino's, Akram created his own recipe, which soon became a signature treat that he could bring back home for the rest of his family to enjoy.
"When he first brought it our reaction was incredible," Amgad said. "Because that pizza was so delicious and he put the things we liked on it, not just random things. We just fell in love with it."
Although Akram loved to fool around and make others laugh, he had his mind set on his own personal and academic goals as well. His former English language learner teacher, Amira Nash, said he was an incredibly hard worker. She met Akram her first year teaching and described him as an old soul and an intuitive person.
"I met him his senior year and he was really focused on graduating…He would always come in and ask for help," Nash said. "He was just [a] really kind person, really good friend. He was always doing the right thing."
"
He was just [a] really kind person, really good friend. He was always doing the right thing."
— Amira Nash
Being committed to empowering his friends, Akram continuously set goals with them and was dedicated to making sure they succeeded as well. One of the goals Akram and Al-Ani set together was graduating.
According to Al-Ani, Akram told him, "We have to work together and build each other so if somebody can't build himself by himself, I will help you and if I can't, you will help me."
"He was serious about it and I was like 'Sure, I will graduate and we'll get to be together in the same business.' And I hope I will do this even if he passed. I want to do it," Al-Ani said.
According to many people, Akram's smile was one of the most prominent features about him as it lit up the room.
"He just had that positive attitude and it rubbed off on other people." Megan Johnson, his former world history teacher said. "What impacted people around him was just that he, as an English language learner, was always putting a lot of effort into his school work. I think people saw that, and it was probably motivating, It definitely motivated me."
After graduating from high school, Akram moved to Ottumwa, Iowa and attended Indian Hills Community College. However, he still visited West to check in on his teachers. He would give them an overview of everything that had been happening in college and fill them in on his new achievements, goals and plans.
"He was really exceptional. He was one of those students that as a teacher, you never really forget. Even after he graduated he came back to visit," said Cat Haxton, his former success center teacher. "If anyone could brighten your day, Akram could."
About the Writer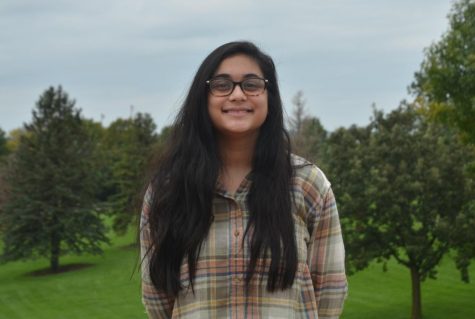 Fareeha Ahmad, Profiles Editor and Yearbook Copy Editor
Fareeha Ahmad is a senior at West High, and this is her second year on staff. She is the profiles editor for print and the copy editor for yearbook. When...