IC Speaks holds live spoken word performance
Caleb Rainey, the founder of IC Speaks, arranged a spoken word performance at the Englert on Sat. 16 that featured Steven Willis, renowned poet, and multiple students of West, Liberty, Tate, and City High.
You pass the curtain, walking out onto the wooden stage under the glow of purple lights. The large room in front of you is dark, and a small tremor runs through you, nerves roaring as you inhale slowly, a hundred words resting on the tip of your tongue. Your mind flashes between words and actions that all need to happen at least semi-perfectly in the next few minutes. And then you start, the words pouring out almost instinctively. Small tremors still move through you, but at that moment everything settles and the words seem to fit neatly against your tongue. Every motion has been practiced and each movement is a representation of sheer emotion.
Thirteen students from West, Liberty, City and Tate did this exact thing for nearly two hours on Sat. 16 at the Englert Theatre for the IC Speaks showcase. All of them spent a few minutes on stage, reading poems about personal topics including transphobia, religion, sexual assault, racism, love and many other sensitive subjects.
Overall, the young poets demonstrated bravery in sharing about their lives on stage and being supportive to all the other performers.
Finally, the last performer was the keynote speaker, Steven Willis, who performed The First Time a Man Attempts to Fight His Father, No Black Boys Die on Mother's Day, How the Hood Loves you Back, and The Boys Who Died for hip-hop. He is also the creator of multiple other poems such as Ebonics 101, and In Casual Conversation, the Hood in Me Slips Out and Says.
It was a wonderful night with young students sharing personal stories and being supported by the community.
Leave a Comment
About the Writer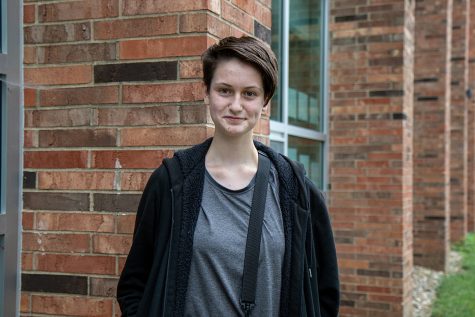 Renee Gould, Opinion Editor
(all) Renee Gould is a senior at West, it is their third year on staff and is currently the opinion editor for the online publication.