Rabia Chaudry: the attorney behind Serial
WSS staffer Renee Gould shares her experience hearing from Rabia Chaudry, the brains behind NPR's Serial, and long-time Adnan Syed advocate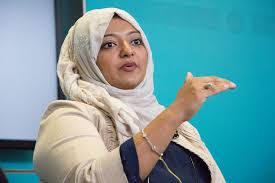 As a long-time lover of the hit podcast, Serial, I had already known the name Rabia Chaudry quite well. After all, she was the one who started the entire podcast, by reaching out to a reporter, Sarah Koenig. So when I heard that she'd be speaking on exact case explored in the podcast, I knew I just had to go. So I went. At 7:30 pm on a Monday night I berated my parents and got a ride, walking the block to the Englert, a large theatre downtown with a stereotyped old-fashioned sign boasting of shows like Raj Patel on the 2nd or '5 overdose crisis in America'. The large stage looks neat and clean from the rows of seats. Above me soared a high ceiling with balconies packed with seats jutting out to offer better views of the stage.
The entire place could only be described as old-fashioned or antique, though I don't know how truly antique the building is. However I do know that it was a vaudeville-era playhouse renovated and housing 725 seats since 1912. And that the line stretched down the block, the end just starting to curl around the corner. From one direction the 'Google' in Englert no longer show in bright red while from the other side the missing letters in the shows made you squint.
"
Rabia Chaudry shook hands and spoke with each one, clearly enjoying being able to talk to these people who supported her."
By 7:10 everyone was inside, huddled into our seats. Outside, the people seemed innumerable, and had people at the end of the line worrying about getting a seat. But once inside, the number of people seemed to shrink and dwindle, unable to fill even half of the seats. The five minute wait seemed to stretch on forever as the crowd murmured among themselves, excited to get started.
And then Rabia Chaudry herself emerged from backstage, and the cheer that bubbled up from the crowd seemed to fill the entire place, clapping and whoops that went on and on until she finally cleared her throat, and everyone was quick to sit, eager to hang onto her every word. She started speaking, her voice a soft timber.
She was enthralling, but not in the 'remember-every-word' kind of way. More in the 'something-to-watch' sort of way. You left and couldn't entirely remember everything, instead being left with a simple impression of the night. It was mainly the information from the podcast, Serial, before it shifted into new information. Information that seemed dull compared to the sharpened blades of the previously reported information.
Afterward, there was a book sale and signing for her book, "Adnan's Story: The Search for Truth and Justice After Serial". I quietly wished I hadn't forgotten my wallet at home, but was also glad to not be waiting around in the two-hundred people long line. She shook hands and spoke with each one, clearly enjoying being able to talk to these people who supported her.
That night, I couldn't help myself, and started combing through her social media. I got lost in her twitter feed, both curious and enthralled by the way she wrote. In the small bits of text I found an author of a book I knew I wanted to read.
Overall, though the night was long and mainly covered the information already in the podcast, I couldn't help but be excited to read her book.
As I write this, I've started listening to the podcast Chaudry co-produces, Undisclosed. I've only managed to listen to a little bit, but I'm hopeful that it lives up to Serial.
On October 3rd, another story will be coming out linked to the Iowa City Book Festival, which was the reason Rabia Chaudry came to Iowa City. Visit it here on the third!
Leave a Comment
Donate to West Side Story
Your donation will support the student journalists of West High School. Your contribution will allow us to purchase Scholarship Yearbooks, newsroom equipment and cover our annual website hosting costs.
About the Contributor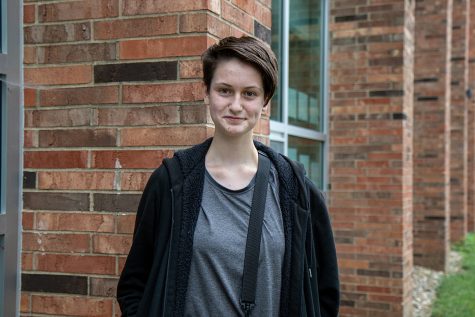 Renee Gould, Opinion Editor
(all) Renee Gould is a senior at West, it is their third year on staff and is currently the opinion editor for the online publication.