"Pony" delivers unexpected messages about mental health and starting over
Rex Orange County's "Pony" is a fairly short album, but one you certainly won't forget.
Before Rex Orange County's latest album, "Pony," I had only heard a couple of his songs: "Sunflower," "Best Friend", and "Loving is Easy". Chances are you've heard them before too since they're the most basic songs he has out there. I had listened to a few tracks from his other albums as well, but they didn't immediately catch my attention. 
When I saw Rex (also known as Alexander O'Connor) had a new album out, I kept it in the back of my brain as a reminder to listen to it later. At the time, I was swamped with schoolwork and extracurriculars and didn't have time to just sit down and really listen to the album in full, taking everything in. Plus, based on my reactions to his previous albums, I didn't go in with the highest of expectations. 
In time, I had forgotten that "Pony" even existed. Recently, though, the album popped up in my Spotify recommended, and I decided to finally give it a listen. I was blown away by how much I loved it. "Pony" is an unexpectedly honest, masterfully crafted album that I had severely underestimated.
2019 Sony Music Entertainment, RCA Records
The first track of the album is "10/10." Initially, I was skeptical. The opening track had more synth and a slightly techno feel compared to the lofi tunes I was used to from O'Connor. There was also an obviously auto-tuned effect going on, which threw me off since he doesn't need it. As I waited and listened, determined to give it a chance, the song just got better and better. It gets the listener hyped for the album with an upbeat tone. O'Connor admits he's had a tough year, which he continues to bring up throughout the album. However, he does in a way that doesn't sound like he's needlessly whining. This proves to be a unique feature of "Pony": none of the tracks on this album feel cliché or sappy. While they touch on pain and difficulties in life, they're produced in such an interesting way that it feels like O'Connor wants the listener to know that life has difficulties, but that's ok. Everything will get better with time.
"
It feels like O'Connor wants the listener to know that life has difficulties, but that's ok. Everything will get better with time.
— Kailey Gee
The next track, "Always", immediately brought me back to the indie, slightly jazzy feel of "Sunflower." The brass section implemented in this track is spread throughout the album, adding unique stylistic choices in production that I think complimented the songs very well. Tracks like "Laser Lights" and "Face to Face" bring me back to another aspect of O'Connor's music that I've always enjoyed: his playful, sort-of-rap-but-not-quite-there interludes. 
Reflecting on the production of the album as a whole, O'Connor tries some new styles and genres that I actually ended up really enjoying. If you're like me and didn't really click with his older albums, "Pony" is definitely a big step up production-wise. It provides more variety in music styles (so there's something for everyone), yet still manages to feel like a cohesive album. This is something artists usually have trouble with, but O'Conner does masterfully.
Perhaps the most surprising feature of this album was that it tackled mental health in a way that's mostly unheard of in this day and age. Often, the music industry romanticizes depression. "Pony" does the opposite. Though it was the last thing I'd have expected from this album, in the powerful closing track, "It's Not the Same Anymore," O'Connor sings "I've spent many months just hating on myself/I can't keep wishing things would be different, or leaving problems on the shelf/I wish I didn't need to get help, but I do." 
This lyric is so powerful because admitting to needing help is stigmatized in our generation. With suicide being the second highest cause of death for people in the U.S. aged between 10-34 as of 2017, we certainly need music that subtly encourages reaching out.
"
Often, the music industry romanticizes depression. "Pony" does the opposite.
— Kailey Gee
O'Connor continues to discuss the positive benefits of reaching out throughout the album. In "Always," O'Connor sings "But the more that I try/The more I'm seeing a difference, I'm not gonna lie/And now I get to sit down/And I'm happy to admit now/ I'm on my way." Proving that getting help does actually work encourages people struggling to reach out. At the same time, it shoots down another misconception that treatments like therapy and medications aren't effective.
Mental health coverage is just a portion of "Pony"'s main theme: new beginnings. O'Connor discusses various hardships he's had over the past year, such as losing his friends in "Stressed Out." He continually breaks up his more melancholy songs with reminders that things get better, and he's ready to continue to improve as a person. This makes "Pony" a great way to start 2020. New year, new me, am I right?
Although I didn't mention every single track, all of the songs on this album deserve a shoutout. There's not a single one that I would skip, which is odd for me. Even on some of my favorite albums of all time, there are one or two tracks that don't quite make the mark for me. Knowing this, you can trust "Pony" is worth the listen. 
Stream "Pony" on Spotify here:
Leave a Comment
Donate to West Side Story
Your donation will support the student journalists of West High School. Your contribution will allow us to purchase Scholarship Yearbooks, newsroom equipment and cover our annual website hosting costs.
About the Contributor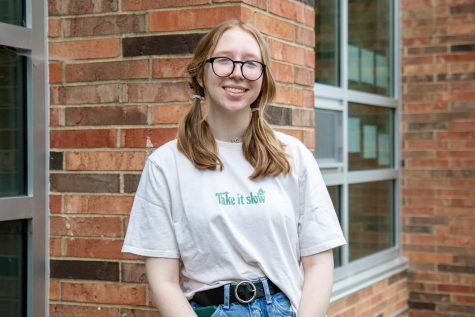 Kailey Gee, Print Co-Editor-In-Chief
(she/they) Kailey Gee is a senior at West High, and this is their third year on staff. She's working as the Co-Print-Editor-in-Chief with Hanah Kitamoto....