Women of Troy crush Waterloo East 71-28
The girls basketball team defeats Waterloo East 71-28 in their first home game victory of the decade on Jan. 14.
Camille Gretter, Online and Yearbook Assistant Sports Editor
January 15, 2020
Following their previous win against Dubuque Hempstead, the girls basketball team took another victory against the Waterloo East High Trojans. The team kept a steady lead throughout the game, and finished it off with a final score of 71-28.
This is the team's fifth win of the season, and second win of the new decade. Newly-recovered sophomore Avery Vest made smart and aggressive defensive plays that helped turn the ball over to West several times. Quick layups from Audrey Koch '21 and Katelynn Hillberry '20 assisted the team to keep a substantial lead throughout all four quarters of the game. 
Coming into the game, Koch and fellow junior Matayia Tellis were the team's current score leaders of the 2019-2020 season. Tellis averages 11.1 points per game, with 89 points in total while Koch has scored a total of 149 points this season producing 18.6 points.
From the sidelines, Coach BJ Mayer was enthusiastic throughout the game and chose smart plays to boost the team to a victory. On the other side of the court, West's enthusiastic student section, decked out in green and gold, kept everyone hyped during the game. 
The Women of Troy travel to Linn-Mar for their next matchup to face the Lions this Friday, January 17.
About the Contributor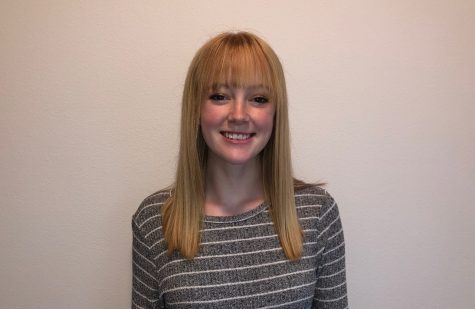 Camille Gretter, Online and Yearbook Assistant Sports Editor
Camille Gretter is a sophomore at West High and this is her first year on staff. She is the online and yearbook assistant sports editor. She also does...