Girls basketball season preview
After seeing the girls basketball team in action during their 61-56 scrimmage victory over Cascade on Nov. 22, sports editor Joe Goodman '20 analyzes the team's performances and gives five takeaways to look for this season.
Your first word, your first day of school and your first time running onto the West High court before your first varsity basketball contest.
Although it was only a scrimmage, there were plenty of players for the Women of Troy experiencing their first taste of varsity basketball during the team's 61-56 victory over Cascade on Nov. 22.
Cascade sat in a 2-3 zone defense for nearly the entire game, giving the team a chance to display their exceptional shooting ability to the sparse West High crowd. Five different players made a three-pointer against the Cougars, contributing to an impressive 43% from behind the arc as a team.
Grace Schneider '20 contributed one of those three-pointers early in the first quarter against Cascade and will look to serve as the spark plug for this young team with her energy and enthusiasm.
The cohesiveness of this newly-formed squad also stood out as the Women of Troy assisted on 17 of their 19 field goals, consistently making the extra pass to beat the zone and produce a better look at the basket.
As with any early-season matchup, the team fell victim to defensive miscues and expected unforced turnovers, something head coach BJ Mayer will be looking to shore up before the team's first regular season game on Nov. 30.
Read below for five key takeaways from Friday night's scrimmage that will be crucial for fans of the West High girls basketball team to clue in on this season.
KOCH ADDING INGREDIENTS
Audrey Koch '21 led the Women of Troy in scoring last year with 16.3 points per game. As the only returning double-digit scorer from last year's squad, Koch will be expected to shoulder the brunt of the scoring load this season.
Koch, much like her older sister Emma Koch '19, lives in the gym during the offseason and debuted a much-improved three-point shot in Friday's scrimmage, knocking down three of her four attempts from beyond the arc.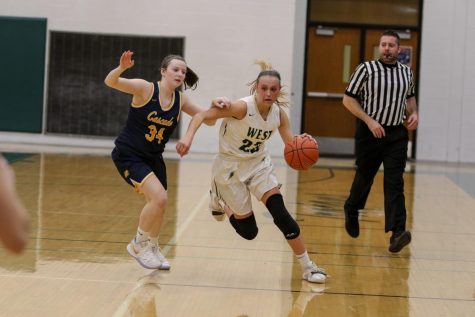 With the opponent's attention focused on her scoring ability, Koch was also able to find her teammates through the holes in Cascade's zone defense, recording four assists to go along with her four rebounds.
With greater confidence and two years of varsity experience, conference foes will have a tough time game planning for one of the state's best players in Koch this season.
SCORING SISTERS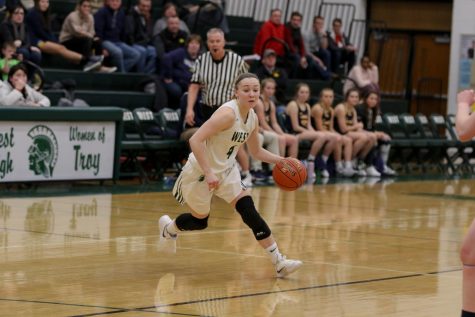 The girls basketball team added two new players earlier this week in Liberty transfers Cora Saunders '20 and Jenna Saunders '21. Aside from their high basketball IQ, both sisters are also exceptional shooters that allow the Women of Troy to space the floor at the offensive end.
Younger sister Jenna was dropping in three-pointers from all over the court during Friday's scrimmage, going 4-6 from behind the arc to pace the team with 14 points. Cora, who shot 44.5% from deep last season, couldn't seem to find the bottom of the net in her first action with the team but still found a way to contribute with a team-high four assists.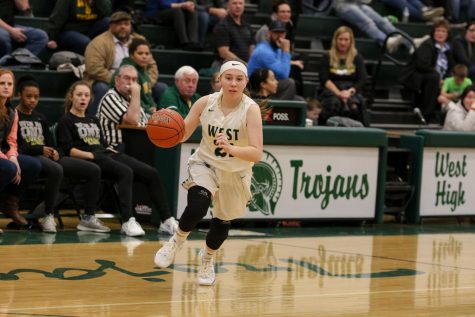 Cora led Liberty in scoring last year with 12.5 points per game while Jenna was third on the team with 4.8 points per game for the 3-17 Lightning last season.
If you're ever walking past the West High gym on a Tuesday or Friday night, don't be surprised when you hear Gary Neuzil's booming voice announce "Saunders for three!"
TELLIS TOUGHNESS
As prolific as Koch and the Saunders sisters are on the offensive end for coach Mayer's squad, Matayia Tellis '21 might be even better on the defensive end. Simply put, Tellis plays with a certain grit and tenacity that set her apart from the other nine players on the court and put her in position for every single rebound.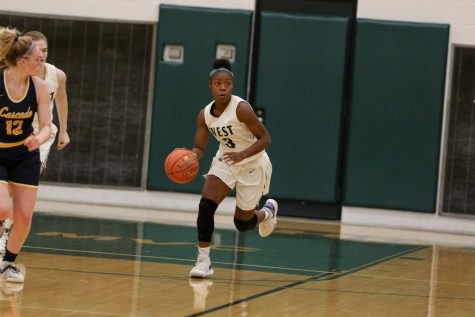 No one hits the floor for loose balls harder than Tellis, evidenced by her team-high four steals and six rebounds in Friday's scrimmage. Tellis also added fourteen points and two assists, including going 6-7 from the free throw line.
As the team's top defender, Tellis welcomes the task of guarding the other team's best player, and will be causing problems for opposing offenses all season long with her remarkable quickness and toughness.

TATE TAKING OVER
Perhaps the biggest takeaway from Friday's scrimmage was seeing point guard Meena Tate '23 in action for the first time in a West High uniform. Tate has some big shoes to fill after the departure of four-year starting point guard Lauren Zacharias '19, but showed flashes of what is to come in her debut leading the Women of Troy.
Coach Mayer always seem to have a dynamic point guard running the show, and this year should be no different. Tate scored in nearly every way possible on Friday with two mid-range jumpers, a three-pointer, floater and three free throws to give her 12 points on the night.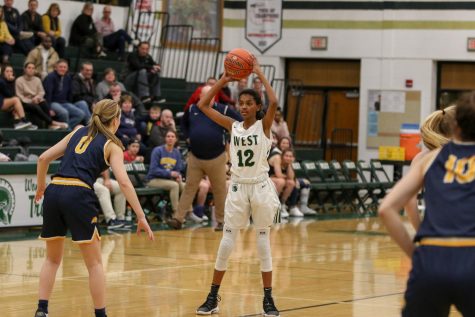 Tate, much like Zacharias, also attacks the defensive glass and isn't afraid to get the ball out in transition and find her teammates. Tate led the team with seven rebounds and also added three assists to go along with some crafty dribbling moves in the open court. 
While only a freshman, Tate is still getting accustomed to varsity basketball and will experience some growing pains with turnovers and defense this season. With that being said, once she gains familiarity with the offense and earns some varsity experience, the rest of the conference is in for a long four years with Tate at the helm for the Women of Troy.
INTERIOR QUESTIONS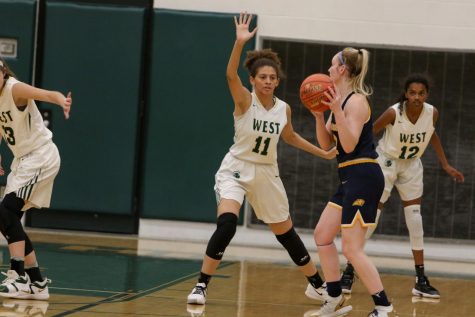 West will have no shortage of experienced, heady guards this season, but will turn to two first-year varsity players in the frontcourt this year in Liv Williams '21 and Anna Prouty '23. Williams started the game at center for the Women of Troy and held down the paint early, grabbing four rebounds in limited minutes. Prouty came off the bench and did her job accordingly, picking up six rebounds and scoring both of her layups.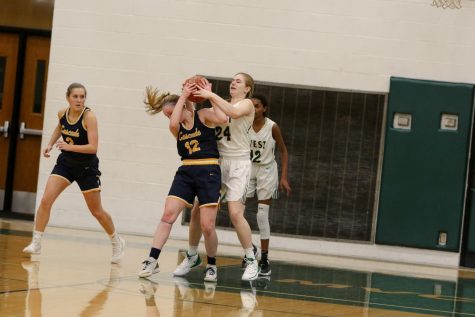 Coach Mayer certainly has plenty of lineup options with so many flexible players, including playing Koch at the center position for a small-ball lineup. Both Williams and Prouty are certainly capable of carving out a spot in the team's lineup this season if they continue to rebound as they did in Friday's scrimmage.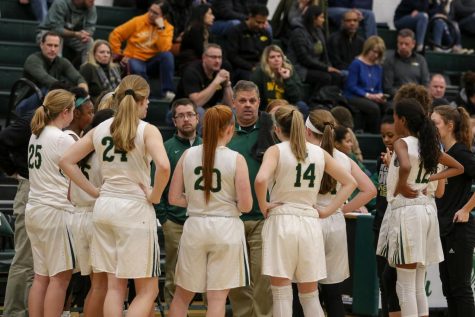 With two new transfers learning the system and two sophomores in Emma Ingersoll-Weng and Avery Vest recovering from ACL injuries, coach Mayer's rotation could end up looking very different by the end of the season.
There are still plenty of pieces to move around this early in the year, but expect this year's team to play fast, rebound aggressively and shoot plenty of three-pointers.

"We are a really young team this year, with a lot of new players," Koch said. "But we are confident that as the season goes along we will get better with each practice and game."
View Comments (3)
Donate to West Side Story
Your donation will support the student journalists of West High School. Your contribution will allow us to purchase Scholarship Yearbooks, newsroom equipment and cover our annual website hosting costs.
About the Contributors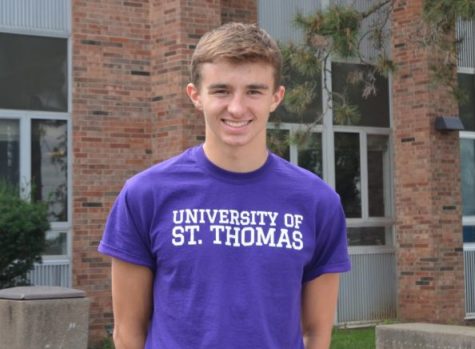 Joe Goodman, Sports Editor
Joe is in his second year working for the West Side Story publications as the sports editor. Joe plays golf, basketball and runs track at West High. He...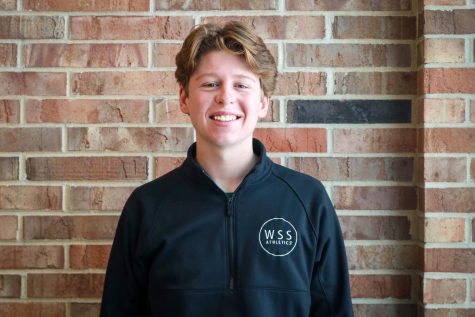 Owen Aanestad, Online Editor-In-Chief
Owen Aanestad is a senior at West. This is his third year on staff working for the online publication as the online editor-in-chief In addition to playing...