Beneath the jersey: the 20-year history of sports uniforms at West
Despite being one of the most overlooked aspect of athletic competition, sports uniforms can play a costly role in the minds of athletes and fans.
Forest green and Vegas gold.
The colors that so classically represent West High athletics, or at least are supposed to.
For athletes competing under the West High name, having a high-quality uniform is meaningless without these colors on display. As integrated as they are into West High's name, there is perhaps a more important green worth mentioning when discussing athletic uniforms: money.
"The finances are the fun part of my job. All sports are not created equal. For example, football has a lot more equipment, a lot more uniform needs and those costs are generally higher," said athletic director Craig Huegel. "It costs a whole lot more to outfit one football player than it does to outfit a cross country runner. Those costs are never going to be exactly equal, but we try to be as equitable as we can in providing new uniforms and equipment."

"
Those costs are never going to be exactly equal, but we try to be as equitable as we can in providing new uniforms and equipment."
— Craig Huegel, athletic director
As classy as the teams may look in competition, the cost of outfitting each member of all three high schools and providing equipment across the district makes up less than 0.5% of the district's total budget according to Huegel.
"I think our coaches and our teams do a really good job of providing for what is needed without being over the top," Huegel said. "You know, we're not sitting on a pile of money that we're just throwing away. We have to make some targeted decisions."
Huegel tries to replace uniforms as infrequently as possible, while still providing athletes to have the opportunity to wear a new uniform at least once.
"Our goal is to try to update uniforms at least once every four years," Huegel said. "So at some point, if you're out for an activity for all four years, you should have a new uniform at least one time."
As lofty of a goal as this may seem, in reality, it is practical. With the wear and tear that nearly all sports entail, varsity uniforms usually last anywhere from two to four years. At this point, they typically get passed down to the junior varsity athletes, who relish the prospect of donning the uniform star-studded athletes once wore.
"I was really excited to get the chance to play in the same uniforms that had played in the state championship two years in a row and were also still pretty nice," said football player Zach Anderson '21. "That's a nice thing about West football is that it's treated as one big team by the coaches for all four grades and no player goes with bad conditions."
The dedication to quality Anderson noticed within the football team extends to all sports. Huegel points to instances where multiple teams would need new uniforms in the same year, a major blow to the budget, to prove this.
"It's all really need-based. If both [teams] need new uniforms, I'm going to figure out a way to get them both uniforms," Huegel said. "Do we have to make hard choices sometimes? Yes. But it has nothing to do with the popularity of the sport. Whether the sport is popular or not never enters my thoughts."
Despite this commitment, not all teams get their uniforms paid for by the school. Sports such as tennis, swimming and bowling all require their athletes to pay for their own uniforms. While athletes get the benefit of keeping their uniforms after the season is over, the financial factor can be a burden for some students. To this end, the athletic department will cover the costs for students unable to provide the money for the necessary apparel.
However, it isn't always the athletic department paying for new uniforms. If Huegel doesn't think it is necessary for a team to be requesting new uniforms, the team will either partially or fully pay for them themselves with fundraising money.
"If it's something that is kind of in the middle, say boys basketball just got new uniforms, if next year they wanted new uniforms, we would probably have them pay for those," said assistant athletic director Brianna Dusterhoft.
Distributing a budget equitably across all the different athletic teams West High has to offer can be tricky, but in the end, the most important thing for Huegel is that all athletes feel valued.
"We try to take care of all of our programs here," said Huegel. "That's my number one concern. I don't care if it's a popular sport, or if there's a lot of kids out for the team or not very many kids out for the team. If we need it, we need it."
"
I don't care if it's a popular sport, or if there's a lot of kids out for the team or not very many kids out for the team. If we need it, we need it."
— Craig Huegel, athletic director
STRETCHING THE UNIFORMS
While the school colors and mascot are set for every program, every coach has adopted their own version of what it means to wear the Trojan uniform. We looked at four different programs to see how their uniforms have progressed over time.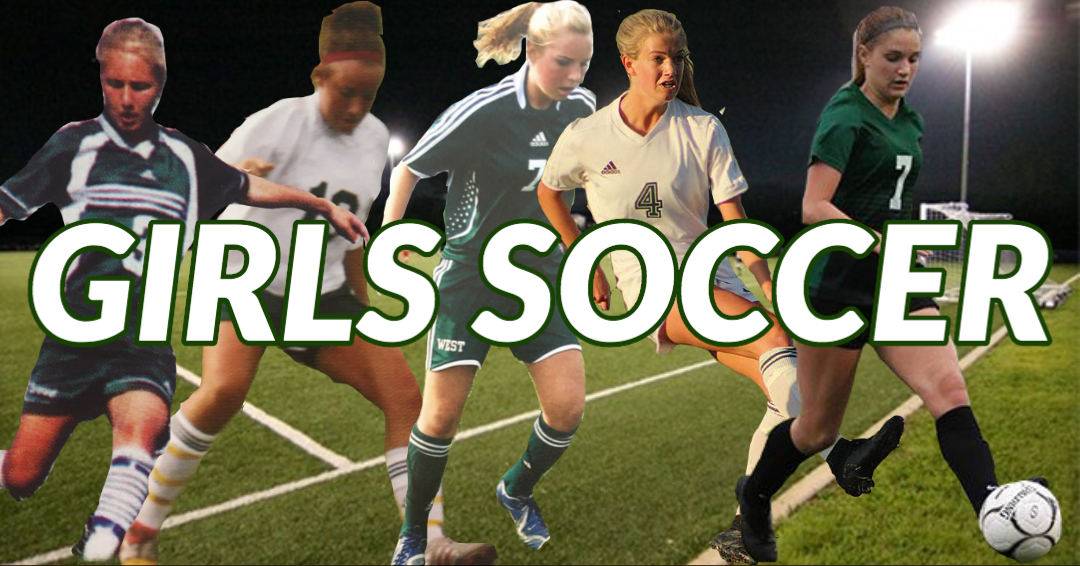 Head girls soccer coach Dave Rosenthal has been arguably the most adaptive and responsive to updated trends and styles of any long-time coach at West High. Rosenthal, who is in his 26th year leading the girls soccer program, has approved everything from vertical stripes to fading colors on the girls soccer uniforms.
While Rosenthal doesn't have a major concern for his team's uniform designs, there is one aspect of the uniform that is non-negotiable.
"The one aspect that I'm particular about is that I want the uniforms to be Adidas," Rosenthal said. "I think they're made very well, they're durable, they last a long time."
Despite the strict brand requirement, Rosenthal leaves the majority of the uniform design to be determined by his players. A big part of Rosenthal's coaching style revolves around making his athletes feel connected and involved, with the team's uniforms being a mere extension of that philosophy.
"I like it when the kids feel good about themselves and how they look. I like that they are proud of their uniforms and I want them to take pride in wearing a West High uniform," Rosenthal said. "I think there's been a really good buy-in over the years and for me that's letting them have some influence on what's there."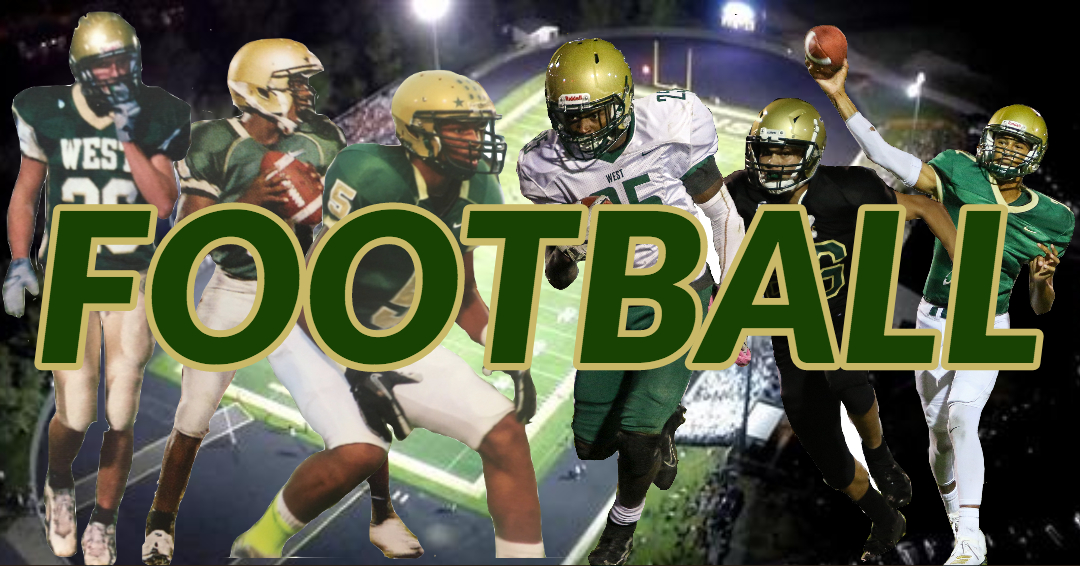 In 1992, the football team became the first program to use the royal gold as a color on their uniforms, setting the precedent for the next twenty years of West High uniforms.
The shining gold helmet, which has not changed since 1992, is perhaps the most recognizable aspect of the uniform.
"The gold helmets are really cool because they look good with every jersey color and no one else has them," football player Tate Crane '20 said.
Apart from minor updates on style and fit, the green and white uniforms have remained mostly unchanged since 2000, a purposeful move from assistant coach and uniform designer Tyler Meade.
"You don't want to go way outside of your identity as a school," Meade said. "The thing with college sports now with all of the alternates is that you turn on a [college] football game you don't even know who's playing. You have to be able to do all of that stuff without losing your colors."
Despite the football team's dedication to tradition, they did add one wrinkle to their uniform lineup in 2018: black jerseys. Meade obtained the uniforms before the regular season, and decided to unveil the jerseys to the players during the team meal on Thursday night.
"It was definitely going to be a surprise. [The players] found out the night before the game," Meade said. "We had [assistant coach] Mondo Williams come out in a black uniform with the helmet and do an unveiling across the theatre stage."
In order to keep the uniforms a secret, the players were instructed to wear their green uniforms to school the day of the first home game against Muscatine. Right before the Trojans took the field, the swarm of black jerseys departed from the Lepic building to an uproar from the student section.
The black uniforms have been so well-received since their introduction in 2018 that the team has kept the jerseys as alternates to be worn at home.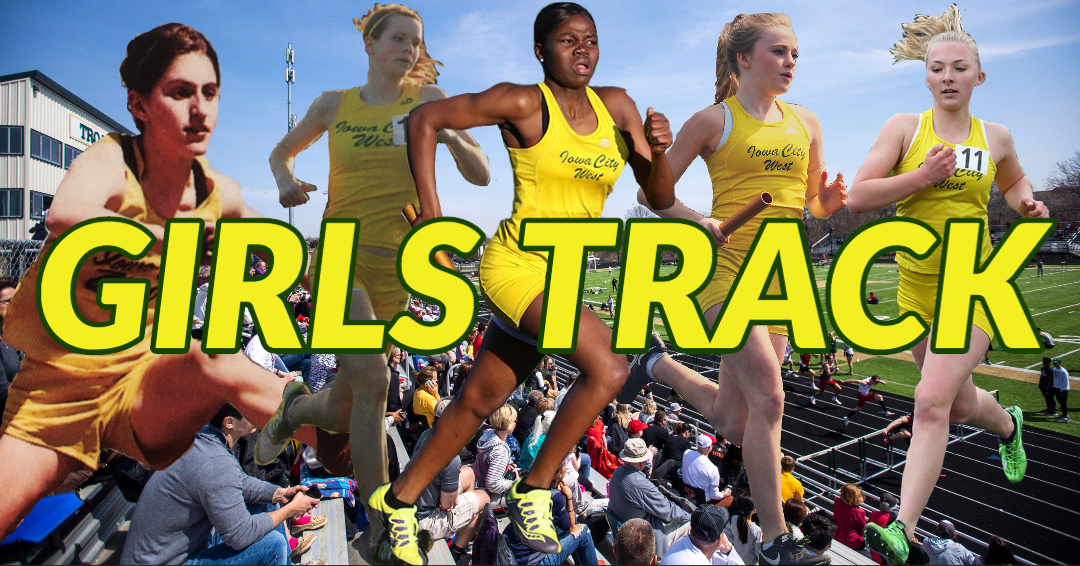 Undoubtedly the most iconic uniform in school history, the girls track team's yellow uniforms have stood the test of time for over 20 years. The uniform has come to represent the tradition and sustained success that has been synonymous with head coach Mike Parker's storied program since he took over in 1998.
Over the past 20 years, the uniform has become so well-known throughout the state not only for its unique look, but for the success that has accompanied the bright yellow track team.
"There's not a single place the girls go where people don't immediately know 'That's Iowa City West'," Parker said. "They don't even have to see the name on the front and they know those uniforms are very traditional and iconic to our track program."
The girls track team holds great pride in such an unchanged uniform that is filled with the history of six state championships and multiple state record holders. With such a great amount of history engrained in the fabrics of his program, Parker sees no end in sight for the yellow uniforms and hopes to continue the success of his program in its fourth decade wearing the outfits.
"There's a lot of teams now that are wearing three or four totally different uniforms," Parker said. "We have our iconic, traditional uniform and we have no plans to change from it."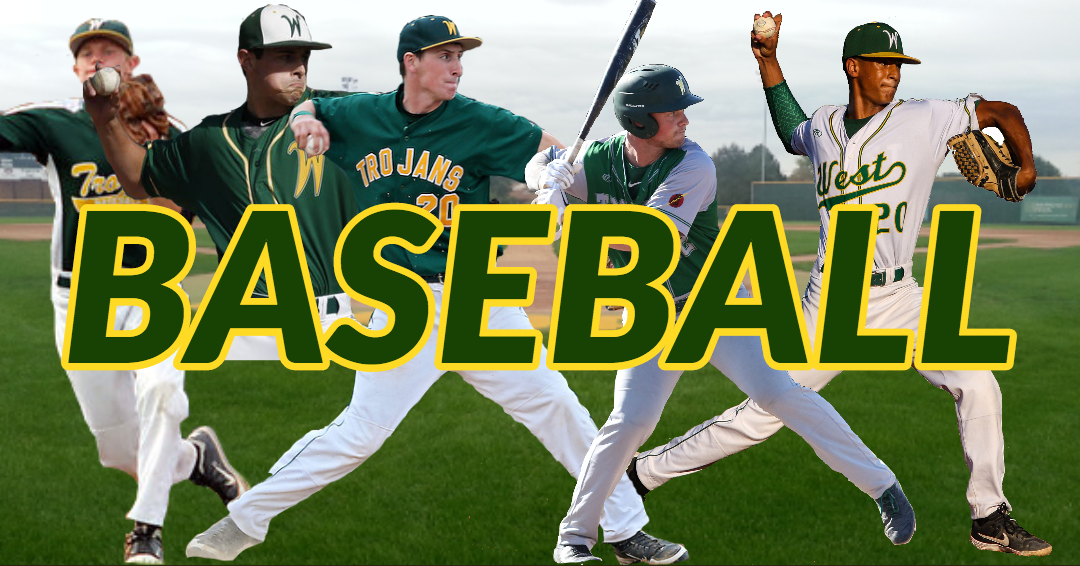 Much like Parker, head baseball coach Charlie Stumpff has carried the yellow coloration from the old school colors into his team's uniforms today. The most definitive aspect of the Trojan baseball uniforms, however, is its cursive writing which can be found across the chest of nearly every uniform since 2000.
The baseball team is currently on a four year cycle with its uniforms, with returning upperclassmen being given some creative control over the uniform design once the renewal cycle approaches.
"Our road uniform we would like to be green, [but] out of that green you can do what you'd like with it," Stumpff said. "I'll let seniors and upperclassmen design it and see what it looks like."
The newest addition to the baseball closet is the shiny new gold uniforms, which made our list of the top ten best West uniforms of the past 20 years. While the gold uniforms are brand new to the program, they also remain respectful to the precedent set by earlier uniforms, something outfielder Ben Vander Leest '20 admires.
"I like the fact that the jerseys combine the classic 'W' with a new gold color that we've never really used before as a main color," Vander Leest said.
While Stumpff acknowledges the minor part uniforms play on the game itself, he does note the importance of camaraderie and team chemistry that a solid uniform can provide.
"You're not going to play because of a uniform. It's good to like what you're in, it's good to have some ownership and have a team bonding towards [the uniforms]," Stumpff said. "By themselves no they don't affect, but with all those intangible things they are important."
As for whether or not the baseball team will hop onto the growing black uniform trend, Stumpff is open to whatever his players decide.
"Theoretically [we] could, our guys sometimes get a little leery of black in the summertime because it's so hot," Stumpff said. "I think our green and gold is pretty sharp."

THE NEXT GENERATION
Today's uniforms are the culmination of over 50 years of winning tradition and design as programs have adapted and changed to the modern style. The old yellow color can still be found in plenty of today's uniforms with other programs transitioning into the new royal gold. There are multiple variations of the Trojan head on West uniforms this year, all with the same message and spirit of West athletics behind them.
Of the 21 athletic programs at West, 13 are currently sporting black uniforms, with many of those uniforms coming in the last four years. The new trend is reflective of the creative power of West coaches as well as the open-mindedness of the athletic department.
"I think once everybody saw the football team do [black uniforms], they thought it was a really cool look, and I do too," Huegel said.
While black uniforms have been increasingly approved by the athletic department, Huegel also prioritizes the upholding of traditional school colors on every uniform in order to distinguish West from its competitors.
"If you want to have a black uniform, that's fine," Huegel said. "But I want the school logo on it somewhere. I want green and gold on it somewhere. I want West or West High somewhere on the uniform, so people know who we are."
With the opening of Liberty High School in 2017, the West High swim programs underwent another modification to their competition suits and apparel with the creation of the combined West and Liberty logo.
James Pinter '20 and the rest of the program has stressed the importance of uniting the schools on both the girls and boys swim team, something that has been extended to their appearance and logo.
"One of the biggest things that [head coach] Byron Butler does a really good job at is making sure that there's no division within the team," Butler said. "We compete under one cap, we compete under one team name, so there's no need to have a team division."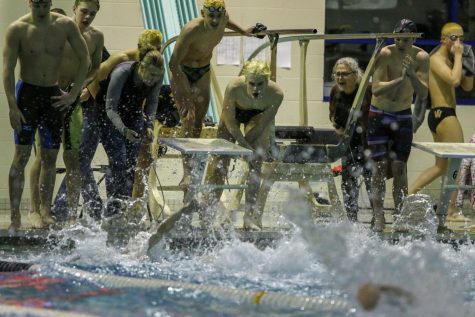 While the future of West High uniforms is still unknown, there seems to be no shortage of creativity and design talent from the Trojan coaches and players. Whatever happens in the next twenty years, future players are sure to look back on the uniforms of today with the respect and nostalgia deserved for 20 years of unmatched athletic talent.
Leave a Comment
Donate to West Side Story
Your donation will support the student journalists of West High School. Your contribution will allow us to purchase Scholarship Yearbooks, newsroom equipment and cover our annual website hosting costs.