Two West High students win $6,000 for science video
Shreya Khullar '22 and Caroline Mascardo '22 won an EPA sponsored science competition.
Jack Harris, Online Copy Editor and Arts Editor
February 26, 2020
Last Sept. Carolyn Walling announced to her chemistry classes that the EPA was having a contest with a $6000 grand prize. To enter the contest, students had to make a two minute educational video about harmful Algae Blooms. Two of her students, Caroline Mascardo '22 and Shreya Khullar '22, put in enough time, work and grit, that they were able to walk away from the contest with a grand prize finish, and a $6,000 reward, an honor they found out about Feb. 24.
To Mascardo and Khullar, the contest was about more than the cash prize, with Mascardo saying, "Shreya and I hadn't heard of toxic algal blooms before, so we decided it would be a cool learning opportunity."
The pair put in oodles of time, working all the way up until the deadline.
"We spent the first month doing research on local problems with algal blooms and writing a script for our PSA." said Mascardo, "Next, we created a storyboard for our stop-motion video. After creating the props for the video, we filmed and edited it. The entire process probably took 10 to 15 hours. After that, we had to fill out some paperwork and submit it for EPA review for the contest."
Walling immediately noticed the amount of work put into the video saying, "When I saw their video, I assumed they would win something, but I was pleasantly surprised that they won the grand prize."
"Shreya and I thought it was a very fun experience." said Mascardo, "This contest has encouraged us to pursue student contests in other areas as well. Right now, we are working on two student podcast contests and preparing for the World Hunger Conference at ISU in April."
About the Writer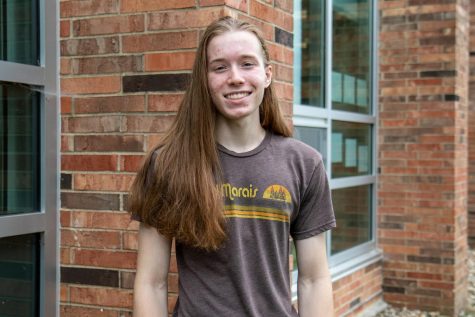 Jack Harris, Online Copy Editor and Arts Editor
(he/him) Jack is a junior and the online arts editor for WSS. He also occasionally makes videos for West and rock climbs. If he's not spending time with...