UI student creates "Errand-ers" program to support community members vulnerable to COVID-19
Allie Stutting, a University of Iowa student, has started a program to pair at-risk community members who can't leave their homes with volunteers—or "Errand-ers"—to help them run errands.
With talk of the coronavirus and how it will affect daily-life saturating the media, things can appear pretty bleak. However, one University of Iowa student is finding the good by being the good.
On March 12, Allie Stutting, a senior majoring in History and Secondary Education at the university, tweeted out a GoogleForm asking for able-bodied and younger volunteers to help run errands for older and immunosuppressed people.
"As young people, we can help those who are much more at risk of serious injury or death from COVID-19 by running errands [and] grocery shopping for those in need," she said.
Stutting was inspired to start the program after seeing a tweet about an Oregon woman who bought groceries for an elderly couple that were afraid to go out. A conversation she had with her grandparents a little later pushed her to make the program a reality.
"I was talking with my grandparents about two weeks ago about everything that was starting to ramp up in the United States," said Stutting. "I looked at them and said, 'Do not go grocery shopping. If you need anything, we can do it for you.' [Then] I had an idea."
So far the response has been positive and there are already over 400 volunteers signed up, mostly through Twitter. However, the form has begun to circulate on other platforms such as Nextdoor, a social-networking site for neighborhoods, as well.
"
As young people, we can help those who are much more at risk of serious injury or death from COVID-19 by running errands [and] grocery shopping for those in need."
— Allie Stutting
"I find that people have been supportive and concerned. Everyone is interested in us doing this, but doing it with educationally informed practices."
Stutting is working with the College of Public Health and Johnson County Public Health personnel to identify the best practices for carrying out the program. Currently there is a list of suggested measures for volunteers to take while shopping on the Iowa City Errand-ers website.
Stutting plans to match "Errand-ers," as she calls them, with people in the community that have expressed need and connect them by passing on the volunteer's contact information to those people.
On March 21, another Google Form was created for people who require assistance running errands to request help. For adults who are not as tech savvy, assistance can be requested over the phone.
While many people are concerned with protecting themselves and their own families, Stutting is reminding Iowa Citians to help fellow community members as well.
"It is important that a service like this exists as so many individuals are facing fear to leave their homes. My entire life has been possible [because of] people helping me, so I always do what I can to give back."
If you would like to sign up to volunteer for the "Errand-ers" program or require assistance, you can find more information here: https://iowacityerranders.com/
About the Contributor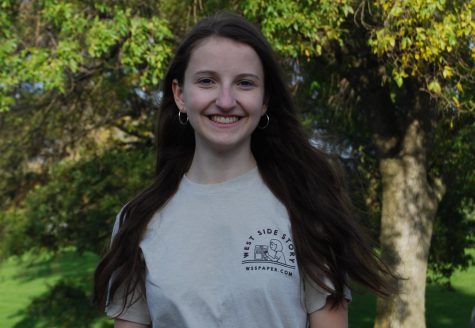 Sumner Wallace, Columns Editor
Sumner Wallace is a senior and the columns editor. Although this is her first year on staff, she has been a guest writer and avid supporter of the WSS...