WSS staffers recommend shows to watch during quarantine
Here are several show recommendations to fill up your long days in quarantine, courtesy of WSS staffers.
As COVID-19 continues to stir a greater volume of pandemonium worldwide by the day, the luxuries that we have gotten used to reaping have begun to dissipate. Movie theaters have all but gone extinct in this trying time, stores that aren't selling necessities are generally closed down, and the simple security of being with friends has even gone away due to the strict measures of social distancing. In fact, by the way things are going, some may even see the world's condition at the moment as a near mirroring of the apocalyptic, contagion stories albeit not quite as harsh.
With that in mind, many people are using this time stuck in their homes to catch up on shows they missed and have wanted to watch. Several WSS staffers have a few recommendations for shows to check out, or rewatch, during the long days of quarantine.
Joe Goodman '20, Sports Editor:
For fans of sports and comedy, I would highly recommend watching all seven seasons of "The League." Centered around a tight-knit group of friends, the show is full of crude humor and hijinks as the group competes for their fantasy football title. Each character represents a unique archetype of life from Rodney Ruxin, the ruthless high-powered attorney, all the way down to Taco, the carefree pothead of the group. The one thing that ties the group together is their eagerness to win and claim bragging rights over one another.
Fareeha Ahmad '21, Reporter:
I recommend the show "Manifest." It is a story about a family who comes back home from a trip to Jamaica. The family is split up due to a voucher grab, and half of the family flies on the regular flight while the other half flies on flight 828. When flight 828 lands, the passengers quickly find out that they land 5 1/2 years later, but no time passed for them, and they hadn't aged a day. They come back to a world that's moved ahead without them. If you like supernatural and mysterious shows, this one is a good watch!
Cymry Hieronymus '21, Photographer:
One of my favorite shows, "Buffy the Vampire Slayer", is a great thing to watch during the quarantine. It has plenty of seasons and the episodes are long, so you won't be able to finish it in a week, and it has a good mix of drawn out plot and silly episodes that don't carry into the next. It has lovable characters, and it also has a good balance of sci-fi, humor, and light heartedness. It definitely starts off a little cheesy, but if you stick with it, you'll be grateful you did.
Edward Keen '20, Arts Editor and Copy Editor:
Netflix's three-season "Daredevil", one of several other shows attempting to capitalize on the more grounded side of the Marvel universe is the perfect watch for anyone tired of the constant family-oriented humor of the movies and tired formula usage. The show, focused on a blind lawyer fighting crime and taking down mafias in Hell's Kitchen, is most renowned for its trademark action, but that is only one reason to watch in addition to the appropriately mature themes and intelligent dialogue. With its 39 total hours of episodes, "Daredevil" is a show that will last you for at least a week hanging on to its irresistible appeal.
Alyssa Skala '21, Photographer:
During quarantine as a sports photographer I'm going through mass amounts of withdrawal from my camera and watching sporting events. March Madness was one of my favorite times of the year— it's like a stretched out Super Bowl to me. Given my love for watching sports I binged "All American" on Netflix in two days. I definitely recommend this for anyone who likes sports, drama, and a little bit of romance to spice things up. It can be a little triggering mental health and drug wise but it's an amazing show and the way they portray the not so good aspects of life is phenomenal.
Renee Gould '22, Online Reporter and Book Critic:
"The Platform" (it's on Netflix). It's a bit horror, but has absolutely amazing writing, with realistic characters, characterization that works shockingly well, and it hints toward a complex outside world, without just lore-dumping. Plus it has some absolutely amazing half-hidden themes of society, human nature, etc. it's really good, both as a watch without really looking too deeply because of its horror and action-y parts, but has a lot of re-watch value as the deeper themes and subtle world building is really interesting. It does have a lot of flaws though, and is a bit of an acquired taste.
Alice Meng '22, Reporter:
"Kim's Convenience" is a sitcom set in Toronto about a Korean immigrant family who owns a convenience store. It's very entertaining and an honest depiction of the life and struggles of immigrant families, but is still universally relatable. Definitely a good lighthearted show to watch during stressful times.
Maddy Smith '22, Photographer:
I have been obsessed with baking. I've been making brownies and cupcakes, so needless to say I've also been binging cooking shows. I watched both seasons of "Zumbo's Just Desserts" and am halfway through "Sugar Rush." Totally binge-worthy and easy to watch.
Jenna Wang '20, Editorial Editor and Co-Copy Editor:
I recommend watching "Parks and Recreation"! In such an unprecedented time, there's nothing like a good comedy show to both cheer you up and make you laugh.
Amy Liao '21, Design Editor:
"Brooklyn Nine-Nine" is single-handedly getting me through this quarantine. The humor is fantastic and it will have you cracking up for sure. It has the same comedic energy as Friends but without the laugh tracks, so if you enjoy that show I highly recommend this one. The characters are all great people and the plot is chaos, so if you want a good laugh without any emotional commitment, it's perfect for you.
Marta Leira '21, News Editor:
I love documentaries, and Netflix originals series (I feel like they somehow all are beautifully filmed and have a wonderful soundtrack.) "Tiger King", a true-crime documentary series, combines the two things. The show itself is bingeworthy and the only way I can think to describe it is that it's an incredibly wild ride. It is curiously hilarious and heartbreaking at the same time and I 10/10 recommend.
About the Writer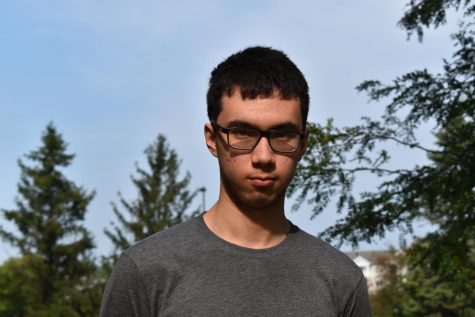 Edward Keen, Arts Editor
Edward Keen is a senior and this is his second year on staff, where he is Arts Editor. In his free time, he enjoys reading.