Community and creativity: West High's Tik Tok craze
TikTok is the fastest growing social media app in the world, and West students are using the app both as a creative outlet and a place to connect with others.
It's a slow Friday afternoon and you have 20 minutes until your next class. You're swiping through your phone trying to waste time when you see TikTok, a rapidly growing app where you can post and watch 15-60 second videos. When you open TikTok, you can find videos about anything — dancing, cooking, cleaning, college advice, music, theater, comedy, politics. Anything. This variety is part of why Tik Tok is the fastest-growing social media app with over 2 billion downloads and over 30 million active users in the US alone. TikTok is also a popular app among students at West High.
"There's a place for anyone on TikTok," Kevy Huynh '23 said.
Students can find their "place" on one of the many "sides" of TikTok, distinguishable by different trends, creators and sounds. For example, you could be on "alternative TikTok," "Draco Malfoy TikTok," "plant TikTok," or dozens of others. These "sides" allow users to find their niche and are one of the things that set Tik Tok apart from other social media apps. Another thing that sets TikTok apart is its algorithm and the "For You" page. The "For You" page is where users spend most of their time, and where you can watch and find new videos. Anyone can get on it and everyone's page is specifically tailored to them based on videos they've previously engaged with. 
"
There's a place for anyone on TikTok"
— Kevy Huynh '23
"On TikTok, the 'For You' feed reflects preferences unique to each user," TikTok states on its website. "The system recommends content by ranking videos based on a combination of factors – starting from interests you express as a new user and adjusting for things you indicate you're not interested in, too – to form your personalized For You feed."
As with any social media site, TikTok has its share of popular creators, and due to its unique organization and the "For You" page, anyone can go viral and build a following. Ashley Pederson '22 has over 13,000 followers and has amassed over 164,000 likes on the app. 
"In the past, I was trying to gain followers," Pederson said, "but now I just post what I want and if people like it, then that's cool I guess."
Many West students have the same mentality, only posting for their friends and for fun instead of trying to gain followers. 
"I really just like learning dances and posting things, probably only I think are funny for my friends," Kara Thomas '23 said, "I don't post for the sole purpose of trying to get famous."
In a survey taken by West High students, over 75 percent said their experience with the TikTok community has been positive, with people generally being kind and supportive of one another.
"I've had a mostly positive experience," Pederson said, "sometimes there are negative comments that I get but I'm ok with it because they don't know me so I can just ignore it."
However, TikTok isn't free from criticism. President Trump has been threatening to ban TikTok from the United States since July of this year, due to TikTok's connection with China. However, just this past week, Trump agreed to a deal that would give Oracle and Walmart a combined 20 percent stake in a new company called TikTok Global. TikTok Global would be U.S.-based, and four out of five of the board members would be American. This deal means TikTok won't be removed from the AppStore, unable to be downloaded unless you already have it. Currently, the app is still up, running, and more popular than ever. Junior Thomas Pierce supports this ban.
"Although I don't like Trump, him saying he is going to ban TikTok makes me feel good because personally I don't like TikTok and I really don't see the point of it," Pierce said.
"
I don't really like TikTok and I really don't see the point of it"
— Thomas Pierce '22
There is also one negative aspect that almost everyone who took the survey can agree on–TikTok is a time-suck. The average user spends almost an hour on the app every day, while users ages 4-15 spend over 80 minutes a day browsing the app, according to Wallroom Media.
"It's not very hard to lose track of time when you're scrolling on your 'For You' page," Huynh said.
Many others also remarked that, while they did not support the ban, they would be a lot more productive if it went into place. 
Whether you love it or hate it, TikTok is a unique app that gives many people a place to express themselves and experience new things. Until Trump succeeds or stops trying to remove TikTok from the app store, it will continue to grow and provide a safe space for its users. 
"TikTok introduces people to a lot of things, including people who they are similar and different to. It can help people find a community they belong in and help them find what they like and don't like." Huynh said.
About the Contributor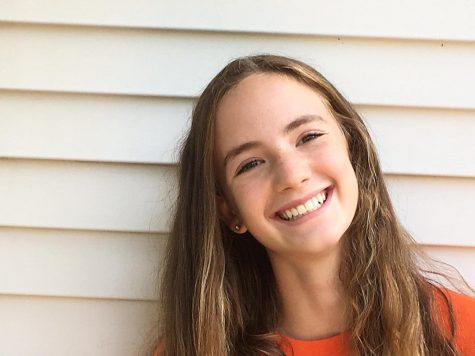 Annie Schwartz, Online Copy Editor
Annie Schwartz is a sophomore and online copy editor for WSS. She also participates in cross country and track. During her free time, you can find her...