A second family
For team manager Jordan Caperon '23, football means both responsibility and friendship.
The bright floodlights and cheering crowds of Friday night football games are always met with excitement from many. For one student, however, these games mean more than just entertainment and school pride. In a normal season, team manager Jordan Caperon '23 sits right on the sidelines, holding football tees and keeping close track of every play. To the players, Caperon is not only a helpful resource but the ultimate motivator. 
Prior to the pandemic, his friendly personality and bright smile could be observed atop a wheelchair as he cruised down the hallways, greeting friends with fist bumps along the way. Even now, his positive attitude shines through across computer screens and health precautions.
"Jordan lightens the mood. Both players and coaches feed off of his positivity and eternal optimism. He also is not afraid to call someone out if they are underperforming or give a word of encouragement if they are having a bad day," said head sophomore coach Barry Westemeyer.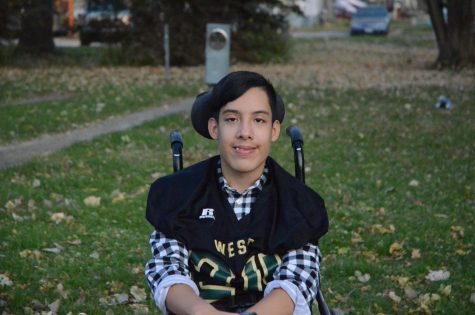 Caperon has spina bifida, a birth defect that occurs when the spine doesn't form properly. He had his first surgery in Mexico, where he lived until he was 6 years old. Since then, he has undergone four operations, with the most recent being last year, to lengthen the straightening rods in his back. His longest hospital stay was five weeks, during which he watched football to pass time and keep his spirits high. 
"I did watch some football videos, and that's what I do anytime I stay at the hospital. Whenever I'm down or feeling a little frustrated about something, it gives me some energy and it cheers me up," Caperon said. 
However Caperon's interest in football is not confined to the walls of his hospital room. He continued to watch the NFL, and through constant consumption of the sport, gained knowledge of how it works. 
"Every day [was] about football and watching games, and so that gave me a little bit of an idea of what football's all about," Caperon said. 
Although Caperon says his condition doesn't significantly affect his school situation, it does add a great risk factor to playing sports. Despite this, he is still determined to be a part of the athletics program.
"Nothing will stop me from doing stuff that I can do," he said.
His love for football remains whether he is on or off the field, so when varsity assistant coach Paul Breitbach suggested he take on the position of team manager, Caperon eagerly accepted. 
Caperon's job consists of holding tees for the kicker, helping with uniforms and equipment, getting game balls ready for officials, giving players suggestions on things such as footwork and blocking and making sure everything runs smoothly.
"Jordan is always a key part of our motivation for games," said sophomore football player Ryan Goodman. "He always made sure everyone knew practice plans through Hudl and gave speeches before the games."
Aside from his responsibilities, Caperon says being involved with the team is like having a second family. 
"My coaches and my football team are … like my brothers," Caperon said. "I love going out there and helping them with everything."
Caperon's friendship with the players has grown closer over time — joking around with his fun-loving teammates is a frequent occurrence. 
"
My coaches and my football team are … like my brothers. I love going out there and helping them with everything.
— Jordan Caperon '23
"My players mess around during timeouts and just laugh at random stuff we say, and it's important to me because that tells me that they care about me and that I'm such an important person to the football squad," Caperon said.
As close friends, Caperon and his teammates not only have fun together but help each other through tough times.
"When we're struggling through something, or I had a rough practice … I might go to him," said Ryne Vander Leest '23, Caperon's teammate and friend. "When he's not able to go to practice or he has a question, he can come to me … so I think that just kind of works both ways there." 
Caperon's relationship with his teammates is also one of mutual inspiration. 
"When you meet Jordan and see how passionate he is about the team, and he can't play on the field, it pushes you to give it your all and play for him," Goodman said.
Head sophomore coach Ty Haren recounts a special moment the team shared with Caperon before a game. 
"We got ready to go through our pregame speech and Jordan came up and said 'I got this,' and [went] into the locker room. We heard him give a pretty spirited pregame speech and the team was fired up," Haren said. "If you know Jordan well, every moment is memorable."
According to Haren, Caperon is a key piece of the puzzle for the team.
"We feel like we're whole when he's there," Haren said. "He is a big part of our team even through COVID, and we feel his presence when he is there with us."
However, like many things this year, Caperon's attendance at practices and games has been curtailed by the pandemic out of concerns of contracting the virus. He's been staying in touch via Hudl, an app used by sports teams for performance analysis and coordination, but says it's hard not seeing his team every day and engaging in conversations about not only football but the ups and downs of life. 
"He's just been texting a lot of us … asking how the season's going and just giving us more motivation to get through it and work harder, and it's just been awesome," Vander Leest said.
Supporting the team is vital to Caperon's position, but his favorite part of the job is the joy of winning. He has had many fond memories as manager, with his favorite being the Trojans' first win over Liberty High Aug. 28. 
"It was the first game of the season, and to be honest, I didn't think we were going to win," he said. "That was actually one of the happiest moments I've had."
When Caperon sees the players out on the field securing a win, he feels proud knowing his teammates are working hard and implementing his suggestions.
"They're showing me what their skills are and what they can do as football players," he said. "They're also showing me [that] in the future, they want to become professional football players."
"
Jordan loves football, and he brings great energy, passion and dedication. He motivates all of us to do our best.
— Paul Breitbach
However, not every game can be won. When the team loses, Caperon takes initiative and pushes them to improve.
"When we lose, I feel disappointed and kind of mad," Caperon said. "They know they have work to get done, and one thing I do to help them improve afterward is just give them advice, and I tell them to practice the plays at home." 
Regardless of the game's outcome, according to Breitbach, Caperon is ultimately the team's strongest motivator and closest friend.
"Jordan loves football, and he brings great energy, passion and dedication," Breitbach said. "He motivates all of us to do our best."
Leave a Comment
Donate to West Side Story
Your donation will support the student journalists of West High School. Your contribution will allow us to purchase Scholarship Yearbooks, newsroom equipment and cover our annual website hosting costs.
About the Contributors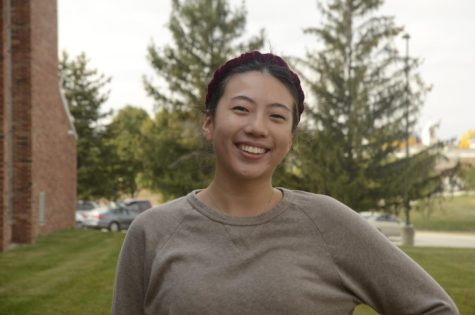 Maya Chu, Print Feature Editor
(she/her) Maya is a senior and this is her third year on staff. She is the feature editor for print and is super excited for another great year. She loves...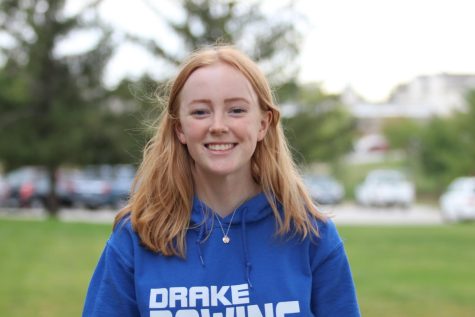 Camille Gretter, Online Editor-In-Chief
(she/her) Camille Gretter is a senior at West High and this is her third year on staff. She is the Online Editor-in-Chief, and outside of West Side Story...